I cannot even believe this weekend. It was ridiculous. I'm looking at the pictures and want to go back and live it all again. But, sadly the real world beckons… at least I have good ol' RER so I can remember it!
First, some context… I was invited to Miami by Nokia. The company wanted to show off the Nokia Lumia. When they emailed me I immediately said 'the one with the 41 megapixel camera!' – out-loud to myself like a loser. This phone has been on my radar for a while. As a blogger who travels a lot and runs half marathons & marathons – lugging around a big SLR is not realistic (or pleasant). But, blogging demands pictures, preferably good ones. So, I take 98% of my blog pictures with my phone. Having a good quality camera is super important to me and I was excited to give this one a whirl.
Back to the story… I met up with the Nokia peeps and a group of social media rockstars to try it out and mostly just have fun in Miami.
After my run and eat on Saturday we headed to a Gator Park for an airboat tour.
I've been to Florida a lot, but never done anything like this! I was not smart though and sat in the very front. I forgot that Florida has massive bugs.
Airboat going fast + no windshield = bugs hitting your face and body!
This is Scarface, the alligator. He came super super close to the boat. Like, scary close.
But, I still tried to duck down and get a selfie with him because I am a martyr doing it all for the blog
Spot the baby gator?
I tried to take a picture of my arm that was covered in dirty splashes and bug guts, but it was a hard angle.
Check out my instagram for a short video of the airboat ride!
We headed to South Beach for lunch. This view. Gorgeous.
Is champagne considered an appetizer?
It there's salmon, I get salmon. It's a thing.
After lunch we had to work off lunch with some swing dancing. We had a quick lesson that was a total blast! I love dancing.
After all that excitement we had a little time to get ready for dinner and relax.
When in Miami, you gotta have a mojito – it's the law. Do it or Pitbull will straight up kick you out.
Dinner was amazing. We went to 1826 – the food, environment and everything in between was amazing. And there was sexy low-light everywhere. Which is great if you're on a date or have a pimple – but is NOT good for food pictures.
But, check this out: this picture is with the Lumia and unedited. Low light food pictures are a food bloggers biggest obstacle. These came out amazing.
Then, I got distracted until dessert which was –  dark chocolate ganache with grand marnier hazelnut ice cream.
And then the place got more crowded and there were rumors that Juan Pablo from the Bachelor was going to show up. I don't watch it, but I was hoping he'd somehow bring Pitbull too. No bueno. It didn't happen.
Of note: My new friend Danny is an actor/model and his fit foot has modeled Mizuno Running Shoes!!!!! Isn't that crazy awesome?!?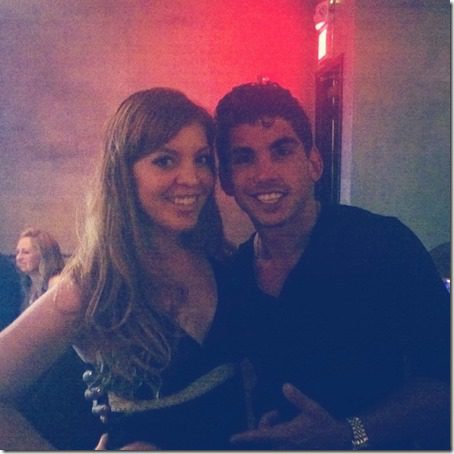 This is his foot!
And that's just Saturday! I will be right back with Sunday fun.
Question: Champagne or Prosecco or Wine? Vote.
Disclaimer: I was invited on this trip by the Nokia Team. All opinions are my own.
Run SMART Goals
Fill out this form to get the SMART Running Goals worksheet to your inbox!