Podcast: Play in new window | Download
Subscribe: Apple Podcasts | Android | Google Play | Stitcher | RSS
It's day 12 of the POTM Challenge!! How are you doing? It's Sunday – are you resting? Are ya racing?? I signed up for a super last minute half marathon that I'll be running this weekend. I couldn't help it – I saw there were 3 races within an hour drive of me and had to pick one.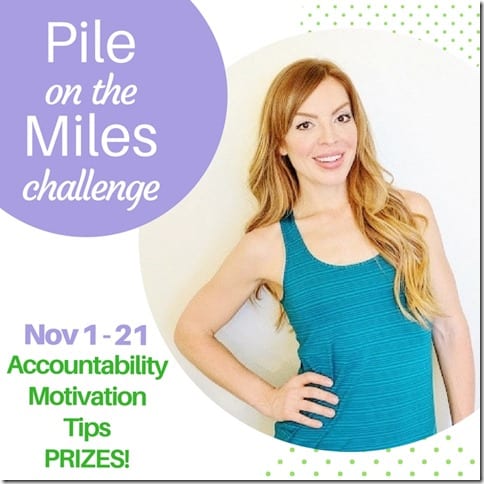 This week we're talking about running form. I'm going to address a different part of your body and how to make sure you have proper running form with that every day this week. If you're running check your form as I talk about it. And check it again periodically as you run to make sure you keep it up and create good habits.
Tips are adapted from a Runner's World  article called  The Perfect Running Form and Chi Running – a book by Danny Dreyer.
Sunday – Head/Neck/Shoulders:
"How you hold your head is key to overall posture, which determines how efficiently you run. Let your gaze guide you. Look ahead naturally, not down at your feet, and scan the horizon. This will straighten your neck and back, and bring them into alignment. Don't allow your chin to jut out. " This tip is from Runner's World.
Look ahead of you towards the ground about 10 feet ahead of you (I've heard to look at the ground in front of you anywhere from between 10 to 20 feet).  Be confident and hold your head up while watching your step.
Um… check out my latest Fall While Running post here.
Runner Tip of the Day
Today's tips come from Anne from @fANNEtasticfood
You can give another runner ONE tip. What is it?
Remember to have fun! Sometimes it's easy to get caught up in all the numbers and comparison – so don't forget that your #1 goal out there should be to just have a good time.
What do you do when you feel like quitting? Have a mantra? Trick?
My "this is hard and I want to quit" mantra is: "I'm doing what I love." Simple but a nice reminder that we're running because we want to, and because we can!
What's your secret to staying motivated?
Running buddies! I almost never run alone – having a buddy to chat with makes the miles fly by, and it's so nice to have undivided time to catch up with someone without distractions. My running buddies always end up becoming close friends!
I went to look up the post where Anne and I ran 10 miles in Miami and ended up finding a bunch of super fun posts from different travels…
That time we met Meb and ran the Beach to Beacon 10K.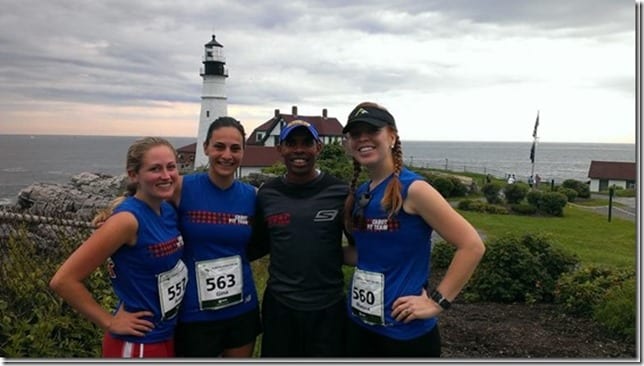 We ran in Ventura, CA and then went on a tour of a Strawberry Farm.
Way  back when we were kids in 2012 we ran Reach the Beach together.
And we ran the Rock n Roll Las Vegas Half Marathon together and it was so much fun!
Anyway. My point is – I got super distracted looking for a picture and got lost running up and down memory lane for 2 hours.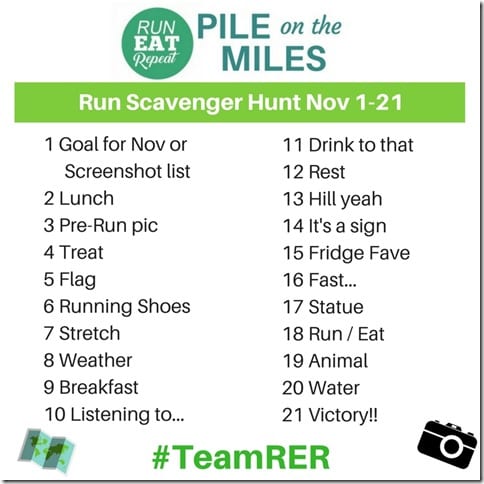 Day 12 – share a picture of REST for today's Scavenger Hunt Challenge and tag @RunEatRepeat and #TeamRER
Got a question about running, food, shoes, orange cats, sunglasses, last minute half marathons or something else?
Leave a message with your question (and name & location) on the Run Eat Repeat Podcast line:
562-888-1644
Pile on the Miles
Check In – What are you doing today? Check in time!
Run SMART Goals
Fill out this form to get the SMART Running Goals worksheet to your inbox!