Hello! I thought I shared this Running Log many moons ago… but I couldn't find it in my posts list. So I'm adding this short post so it's easy to find for anyone in the market for a simple, free Running Log.
This printable was part of the Run Faster 5 Day Challenge guide. So if you signed up for that you should have received it via email. If not… scroll down and grab it! Happy Running!!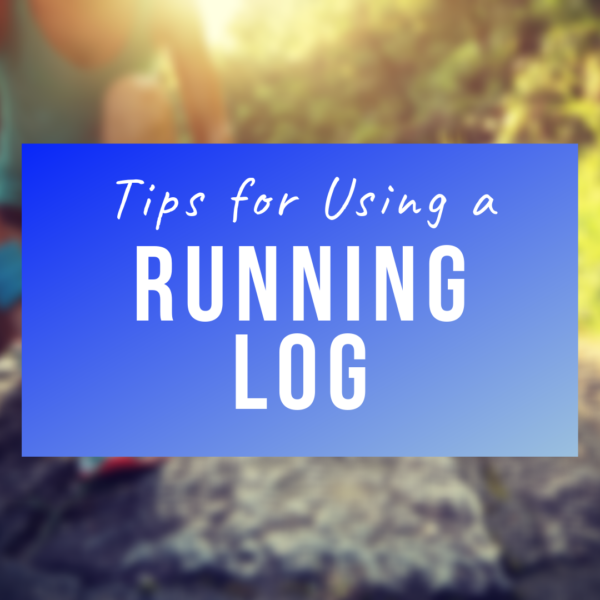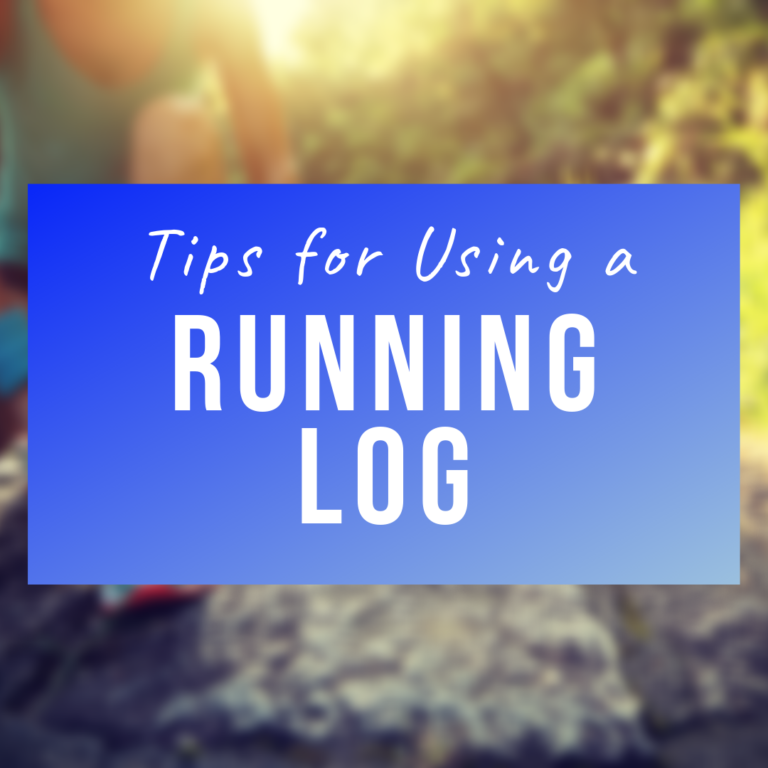 Tips for Using a Running Log:
Be consistent. Take a minute to fill in your workout, how it went and anything else noteworthy right after you're done.
Pay attention to your body. If it's telling ya something – note it. (Then, change your training as needed.)
Learn – don't judge. This is a tool to help you. It's not a form meant to make you feel bad if you missed a workout or feel like you're running pace should be faster. Review it when you're in a good mood and are able to be kind to yourself.
Do you. Set goals and make sure your training is moving in the direction of YOUR GOALS. Don't compare yourself to anyone else.
Note anything that impacts your running. There are obstacles you might dominate and others that are a struggle. Every body is different. So I don't have a complete list but here are some potential factors that can impact your running. Use these ideas to think about what helps you run better/stronger/faster and what hurts your running performance.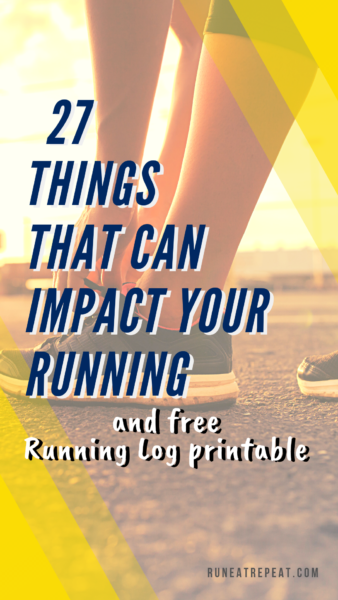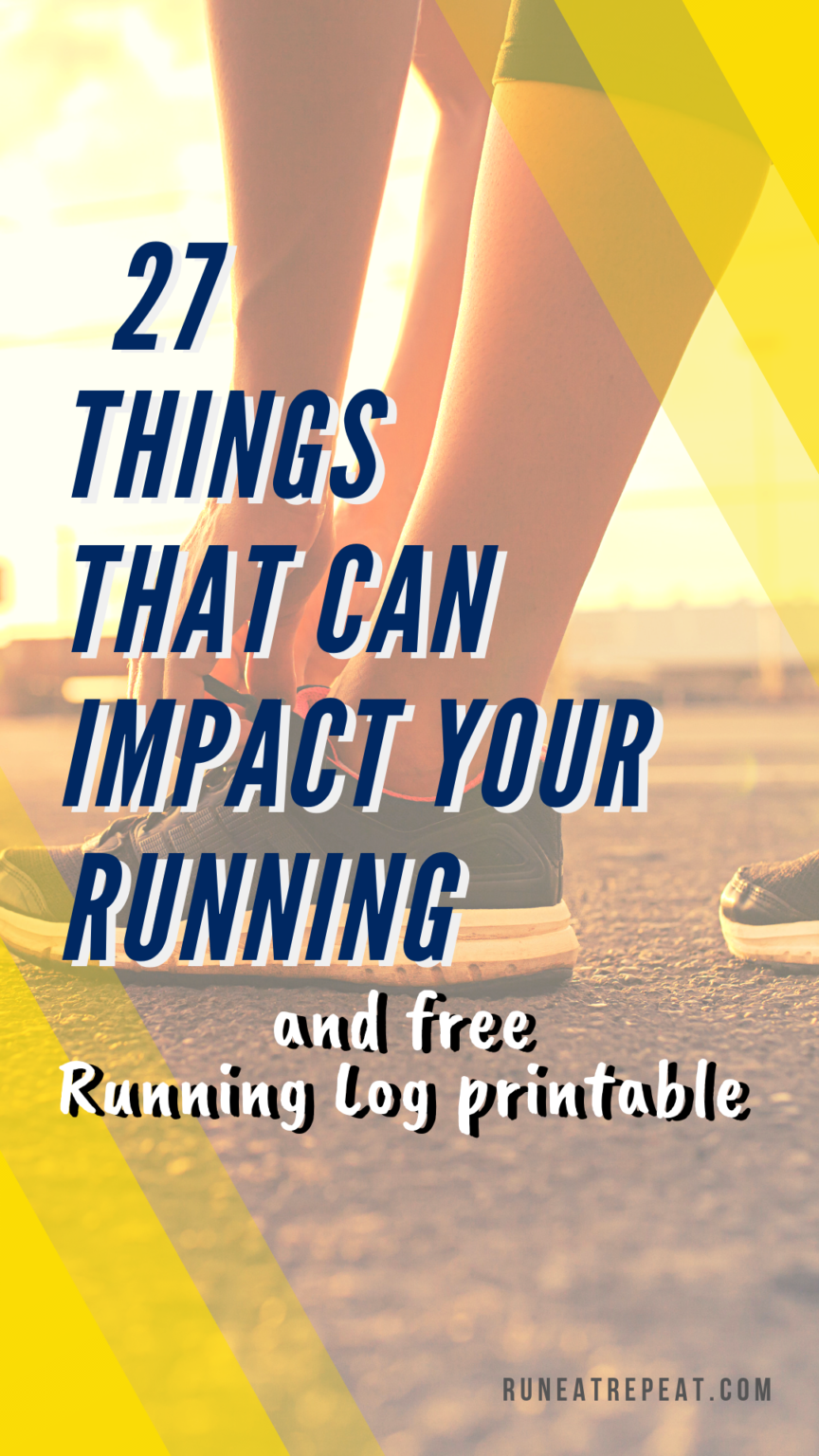 Factors that may impact your running:
Fuel / Lack of proper fuel
Hydration
Stomach / Digestive Issues
Speed workouts
Awesome Runs!
Races
Challenging Weather (heat / cold / dangerous conditions)
Time of Month
Illness
Injury / Soreness / Recovery
Stress
Mental Health
Relationships
Schedule
Work / School / Social obligations
Energy Levels
Sleep / Lack of Sleep
Rest Days
Motivation
Travel
Unexpected events
Gear Issues (improper gear / adjustments / chafing / etc)
Location (rough terrain, elevation, stop lights, hills…)
Safety issues (too dark, unsafe, traffic, animals, etc)
Running buddy (lack of, different goals/abilities/schedules)
Training plan (too challenging, not challenging enough, lack of, etc.)
Spending all day eating watermelon and reading Run Eat Repeat… (oh is that just me?)
Free Running Log Printable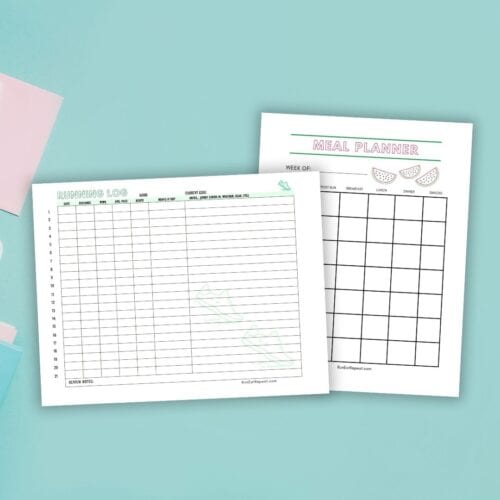 Can you think of any more factors that can impact your running and training?