Hi! I have a great Blue Apron discount offer to share today and also a little story about my life…
I have a really bad memory. Not just like "I have a hard time remembering names…" no, I don't remember a lot of stuff from my childhood and school memories. Well, at least in comparison to my brother and friend. They'll bring stuff up like, "Remember when Mrs. Teacher used to always eat the orange rinds at lunch?!"
And I'm like, "Nope."
I don't remember stuff.
But, I do remember FOOD. Not surprising.
I remember what I ordered at Pea Soup Anderson's on a road trip 4 years ago. I remember what Ben had on our first date over 7 year ago. I remember what I ordered the first time I went out to eat with SkinnyRunner (it was brunch and I had eggs and a pancake instead of toast).
Flashback  to when I was in high-school…
Just like most schools we had a Father-Daughter dance. My dad and I attended, but in true food lovers form we  went to dinner before the event. We went to the North Woods Inn in La Mirada.
The dinner entrees came with some kind of red cabbage salad that I remember fondly. I recall thinking as we packed up our leftovers that I wanted to make sure my brother didn't eat the leftover salad the next day (not usually his thing, but who knows). I'm sure it wasn't healthy (based on how much my 16 year old palate liked it) but it was delicious!
I haven't been back to that place since. I haven't had a cabbage slaw like that since.
So I was very pleasantly surprised when I checked the site before my latest Blue Apron order and saw that one of the options was Seared Steak with Braised Red Cabbage (probably the correct name for the restaurant dish). It looked like the same one I had way back when! I had no idea how to make it but now I'd learn!!
Tip: You're able to log onto the site before your delivery is scheduled and choose a different dish if the ones coming aren't your taste. I have requested "No Red Meat" in my profile but wanted this cabbage dish so I changed it.
I ended up making this meal for my dad. He remembered the Father Daughter dance, but not the food (I'm the only weirdo that has that ability).
Here is my dad and I making tamales for Christmas a few weeks ago…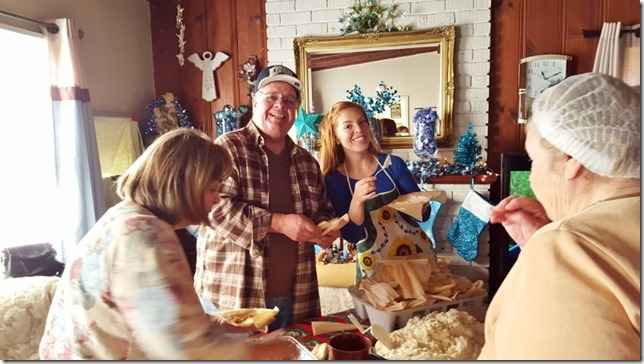 My other dish was just as amazing. Actually, more amazing since it came with a perfectly ripe avocado…
I made fish tacos. They were perfection. The seasoning, the fish, the sauce… I loved all of it.
I've been working with Blue Apron for over a year now and none of the meals have ever disappointed. They are delicious, teach me how to cook something new,  keep dinner interesting and help me with portion control. Every time I cook a meal from the delivery I feel like I want to call up my friend or sister in law or mom and tell them to try it too.
Blue Apron is offering the first 50 RER Readers who sign up 2 FREE Meals on their first order.
Click here and the site will know I sent ya and hook you up with two free dinners. And you can check out their mission page here.
Question: What did you have for dinner last night?