Hello! I'm super excited to announce the best Run Eat Repeat opportunity ever! I'm working with RCUA to organize the first ever RER Relay Race!
It's similar to other relay races – but BETTER because we're incorporating delicious FOOD as part of the challenge.
Runners will run their leg of the relay –> Eat a unique, local or just RER favorite food. (Think iced coffee, watermelon and pizza.)
> Then, pass the baton to the next team member to GO!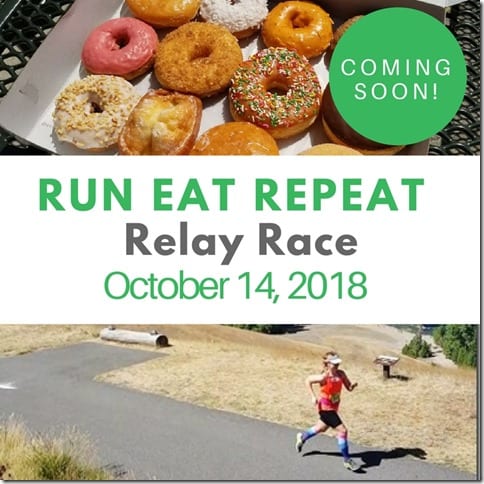 Run Eat Relay Race
When: October 2018
What: Relay race with teams of 5 runners / eaters
How: Teams will travel by van to each check point while their runner is out. (Teams are responsible for their own transportation.)
Register: Registration opens May 1st! Get your teams together now!!
RER Relay FAQs:
Runners with allergies or food preferences that don't allow the chosen relay food can have another team member eat the food at that stop.
Division awards for Male / Female / Co-ed Teams
Rule Book with all the direction information / food pit-stops / safety equipment and more will be available May 1st.
Instagram hash-tag for race is #RunEatRepeat … (for the handle @RunEatRepeat – still keeping it on my own until we transition to someone working on the race's social media)
If you don't have enough to make a 5 person team or want to join another team – a Facebook page will be coming soon to get in contact with other runners.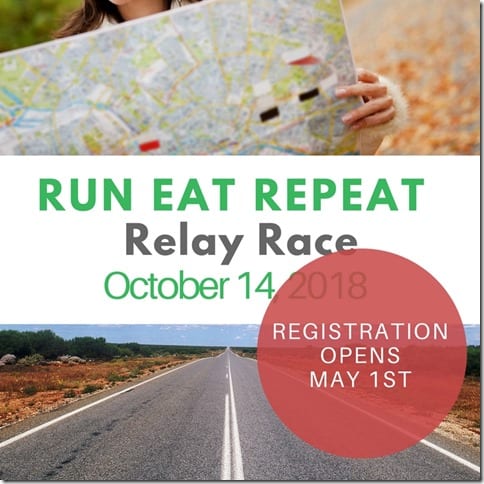 Want in?
Get 4 of your favorite running buddies! (Teams are 5 runners total.)
Pick a team name!
Register May 1st!
Stay tuned for more!!
***UPDATE 4.2.18 – APRIL FOOL'S!!!***
But it sounds like fun, right?