Hello from Ensenada, Mexico!!!
Yesterday I boarded a cruise ship for my friend Susan's Bachelorette Party.
It's a short three day cruise from Long Beach to Ensenada and back. We left Friday afternoon and will get home Monday morning. Ben dropped me off at the Port of Long Beach around 2pm yesterday. I miss him already <3
We were greeted with strawberries and champagne! It felt so fancy!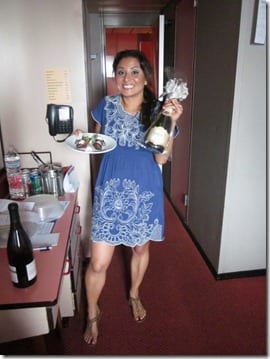 I do have one tiny complaint about this cruise though, Carnival's choice of décor is slightly offensive…
Shortly after settling in we headed to the safety drill. We totally paid attention and did not discuss Most Eligible Dallas
(Did you hear Matt is dating a RHWOBH?!)
Then, we explored the ship. It is a lot cooler than I expected. We'll see if I brave the pool…
Around 5pm I was HUNGRY, but dinner was far off (any time I have to wait more than 5 minutes to eat is far off). Anyways, we got pizza.
I also put together a mish-mosh of hot dog toppings – grilled onions, mushrooms, cole slaw, salsa and potato salad – hold the hot dog
Finally, it was time to get ready for dinner and dancing! We warmed up a bit
Yes, I wear this dress every time I go out. Yes, I own more than one dress. But, I don't own more than one dress I feel confident in, so this is what you have to look at. Again.
Luckily, my friends don't mind I always wear the same thing. They say it helps keep track of me.
Dinner should always start with bread or chips… sometimes both.
I ordered the pumpkin squash and cheddar pot pie. I was beautiful and tasted amazing. Ah-mazing.
It came with a side of polenta. Apparently the chef thinks I'm still carb loading because that's all this meal was! Luckily, I also think I'm still carb loading (any word on what marathon I should do next so I don't have to stop?).
I've been on this cruise before so I know you MUST order the Warm Chocolate Melting Cake for dessert.
We went back to the room after dinner to play a few reindeer bachelorette party games.
I love going out to dance, but rarely do it
I was super excited to get out and move to the music.
And I wasn't the only one excited about dancing…
The rest of the night is blurry. I think there was vodka, mid-night pizza and a few blisters involved. But I cannot confirm
THIS is why Susan and I are friends – we went to sleep drunk after 3am last night and woke up this morning to run on the track.
We didn't get too crazy with it, but it felt good to get out.
We also checked out the gym for some ab work.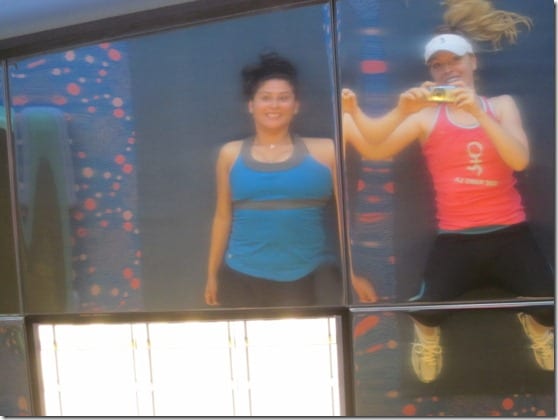 By this time I was starving and attacked the breakfast buffet.
I piled on oatmeal with toppings, eggs, fruit, piece of a cinnamon roll and two boxes of cereal.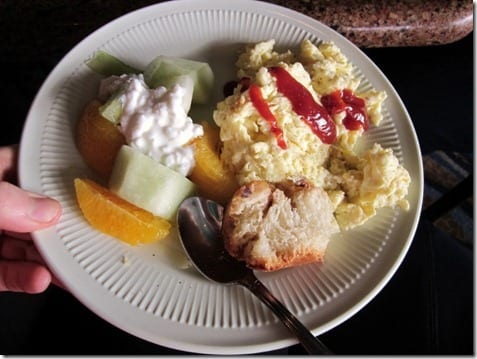 Now we are getting ready to explore Ensenada for the day. Anyone want me to bring them back a sombrero?
See ya in a bit!