Happy Monday! I wasn't supposed to be into work until 9am, but got a last minute appointment for a fitness evaluation at 8 so I had to cut my run to 5 miles. (It was a close call to even make it with that!)
I made the world's fastest pancake for breakfast – 1/2c egg whites with 1/3c pancake mix. Stir, dust with chia seeds. Cook. Eat.
I always consider pancakes a "fancy" breakfast, but I make them so often it's the easier than oatmeal!
I ended up having 15 minutes in between clients and did a quick strength workout.
I don't think I mentioned it, but I started doing the program EVERYONE's talking about Jamie Eason's 12 week trainer in November (I did starting measurements and everything but seriously everyone seems to be doing this, right?).
But I fell off the wagon when we were in Florida for Christmas and am just now picking it back up. I decided to start over from day one since it's easier that way. I really enjoyed it since the first 4 weeks are quick workouts and I'm already at the gym 4 days a week. I think this program is difficult to do without a gym, but I like the forced variety as I tend to favor certain machines and moves.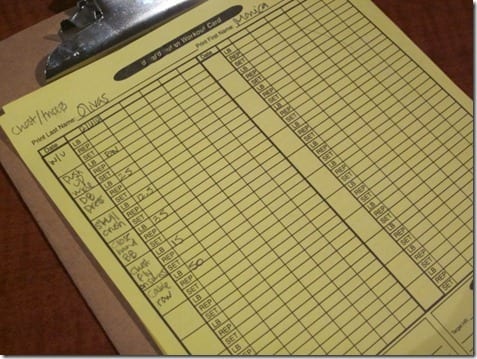 On the way home from the gym I ate a few handfuls of almonds
I have a lot of fruit options right now – cherries, blueberries, bananas, apples, kiwis and I want to eat them all! Instead of having one of each I made a quick fruit salad to go with my nuts almonds when I got home.
Speaking of falling off the wagon…
When I "fall off the wagon" I always want to jump on another train all together. I blame the wagon, the route, the speed of the driver, road conditions…  you get it.
But the reality is, if we were on a good wagon -  we should get back on and hold on better next time. Buckle up. Be prepared.
You don't need a completely NEW AND IMPROVED plan. You just have to stick with the plan you have and keep at it.
Does anyone hear me, or am I crazy? (You can't say yes to both.)