I met my dad for lunch today. He was in town for business and it worked out perfectly that we could hang out for a bit while he is here 🙂
We went to DuClaw Brewing Company. As soon as we got there I knew what I wanted…
Ever since I had my first real crab cake I am obsessed! I had to get a crab cake sandwich. Plus it was on pretzel bread (a new obsession) I was all over this.

I'm so glad I found crab cakes 🙂
I didn't order it without bacon because I figured I was going to only eat half the sandwich and give the other half and extra bacon to Ben. Well, that didn't happen.
I loved it and ate it all! I ended up deconstructing it and eating the pretzel bun and then the crab cake. Both elements were equally delicious.
Sorry Ben. I considered bringing him the bacon (I didn't eat it), but thought that would be lame.
I also started the meal with a salad. I didn't want to order a salad instead of veggies – I wanted both!
My dad let me photograph his lunch too – Chicken Baltimore. When in Rome, do as the Romans do. When in Baltimore, eat Chicken Baltimore…
My afternoon snacks were cantaloupe and cottage cheese with cereal. Straight up in the container – no muss, no fuss!
I don't love beer, but I do love fun coasters 🙂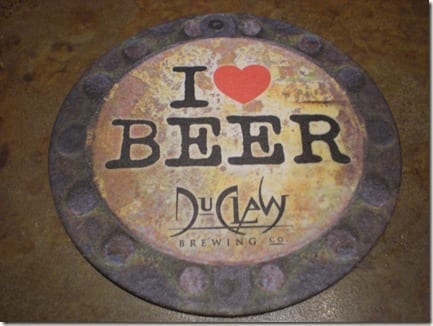 I have stuff to write, fights to fight and Lost to watch.
I'll see you tomorrow….