Hello and Happy Monday! I started my week with an easy 6 miler. My legs felt heavy this morning, so  my planned tempo run went out the window. I don't want to slack off so I'm going to do it tomorrow instead.
Then, I went straight to the kitchen for breakfast.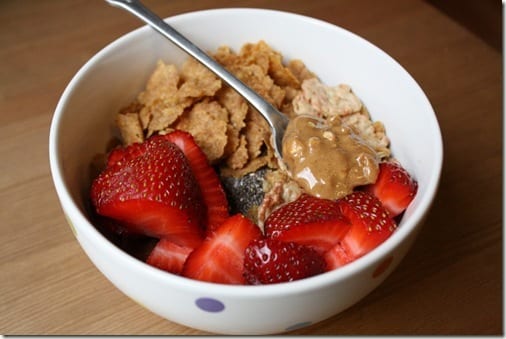 A while back Chobani was on sale big time so I stocked up. But, for some reason I always "save" them and avoid eating it? It's dumb, I don't know why I do that.
I saw that two of my yogurts are past their "Best by" date. Normally yogurt has at least a week of cushion on this date, but the consistency was a bit off (it might have been in my head) so I opted for another cup.
All the cereals in my house are the super healthy and healthy tasting ones right now. But, this morning I wanted a yummy tasting one. Luckily, I got this bag of Yogi Granola Crisps from the expo. Perfect addition to my yogurt bowl!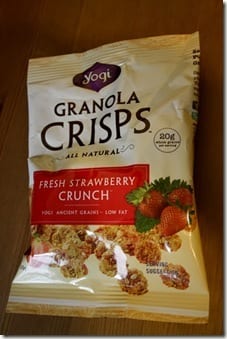 And I used the last of the strawberries…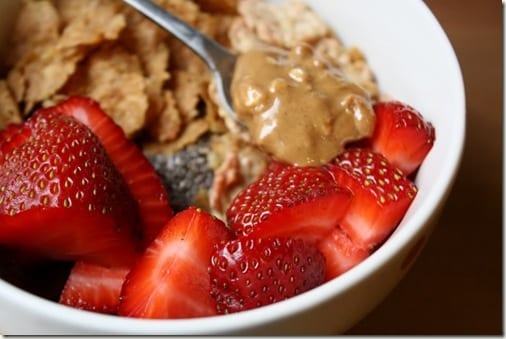 In the mix: Strawberry Banana Chobani, chia seeds, cereals, strawberries and Peanut Butter on the spoon
Monday Mini-Goals for March 21, 2011
1. Get to Kickboxing and Yoga 1x each
2. Close the kitchen after 8pm
3. Listen to my body's hunger, fullness and fatigue
Question: What's your bedtime?
I usually shoot for 10pm, but it's been getting later and later these days – which often leads me to eat at night. Busted. I'm trying to get back on schedule this week.