Here is my Beach to Beacon 10k Recap! Excuse the delay I made a video while running the race and could not fix some of it so the video is still weird, but I'm rollin' with it.
Beach to Beacon 10k is a race started by US Olympic Marathon Goal Medalist Joan Benoit-Samuelson. It is the largest road race in Maine with 6,000 runners! And it's really difficult to get into – it sold out in under 5 minutes this year! Luckily, Cape Elizabeth residents get first dibs and 600 spots are open for them the day before registration opens for the general public.
Benoit-Samuelson is a native of Cape Elizabeth and founded this race 16 years ago. She actually trained for the Olympics on part of the course – isn't that awesome?!
The race also raises money for a local charity each year. This year's beneficiary, The Opportunity Alliance, will receive $30,000 from the TD Charitable foundation.
Oh, and some of the BEST runners in the world are invited to race this 10k. The line-up was amazing and included a lot of Olympians from around the world, including US runners Deena Kastor and Meb Keflezighi.
I ran the race with the Cabot Fit Team.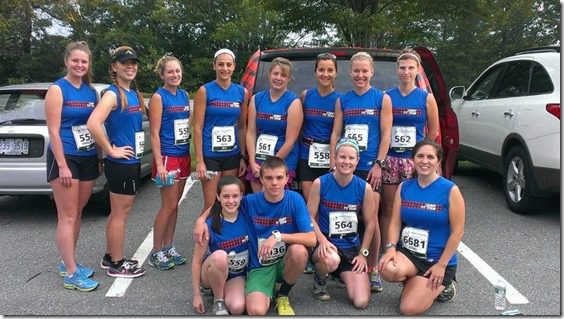 The other members of the team included:
There was pre-race coffee, water, oranges and bananas. Porta-potty lines were long, but like usual.
The starting line before the crowds started coming…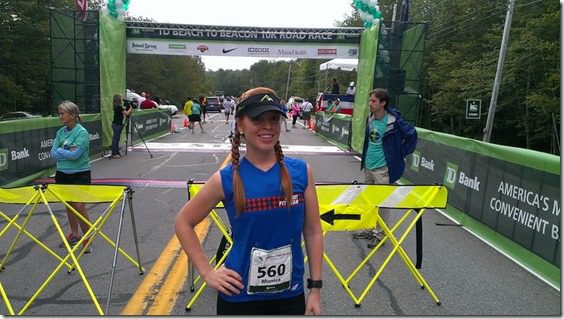 I left the start to hit the bathrooms and came back to this – thousands of people ready to run! There were corrals but it was difficult to get into some of them. I lined up between the 8 and 9 minute mile corrals.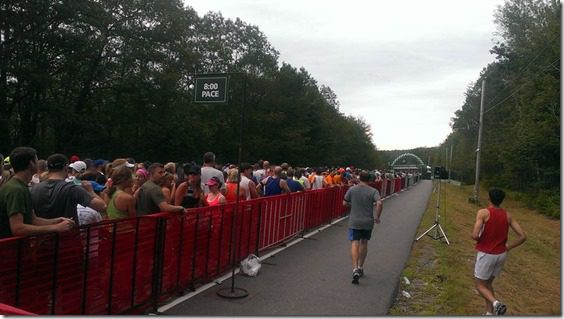 The course: Rolling hills. There wasn't one big hill that killed, but two close together around mile 5 that were challenging. It was a very pretty course too! Very green. Supportive crowds. Good aid stations. The last stretch of the course was a little narrow and windy which made for a few bump-ins.
Beach to Beacon 10k Finish Line:
I have never done video while running before (hence the sideways FAIL) and decided to try and figure it out just as I crossed the starting line. So, I didn't start my watch until a few paces past the start.
10K Official time: 49:36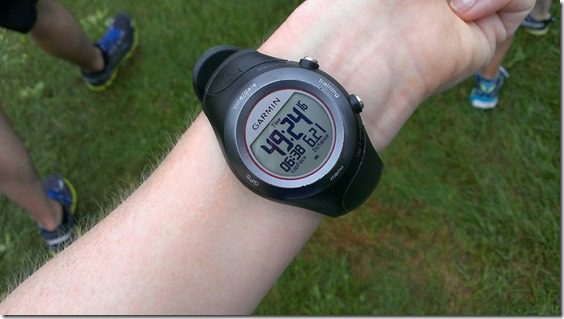 This is also my new 10k PR since I've only run one other 10k in my life a million years ago!
Race Winners:
Women's winner: Joyce Chepkirui from Kenya in 31:23.2
Men's winner: Micah Kogo from Kenya in 28:03.3
Deena Kastor placed 1st in the Master's division with 32:28.3
Meb K placed 5th, Ryan Hall placed 10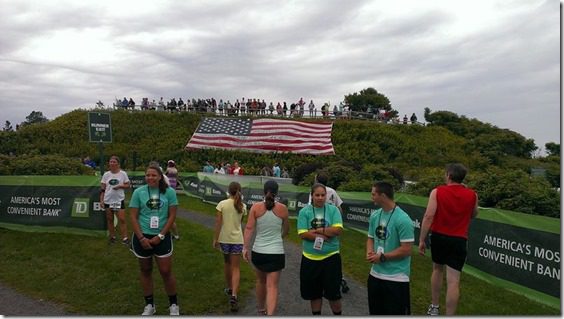 Anne and I went to check out the beacon!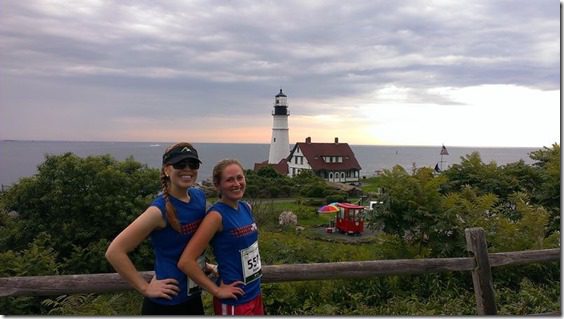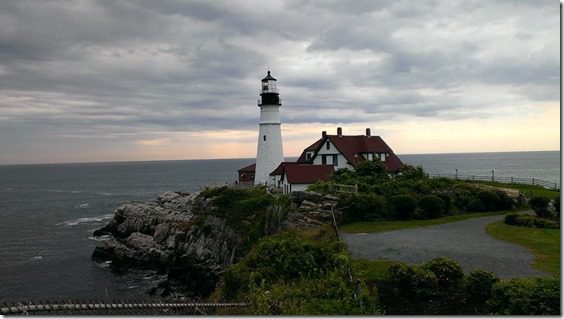 While we were taking pictures I noticed Meb run by! I freaked out to the girls and waited for him to run back around. I have a clip of him coming back in my video below! <- That is the reason I am still posting the video despite the flaws.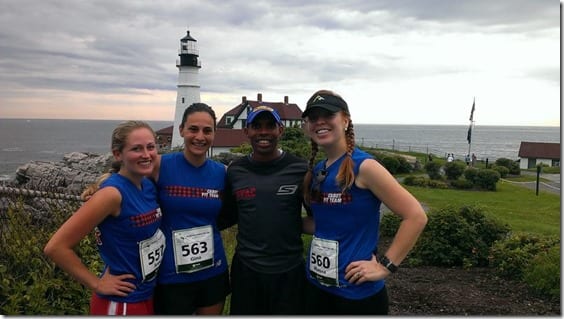 The one negative of the race was that it's a point to point course so you have to take a shuttle back to the start where you parked. The shuttle lines were VERY long. Luckily, volunteers were walking up and down the lines handing out ice cream!!!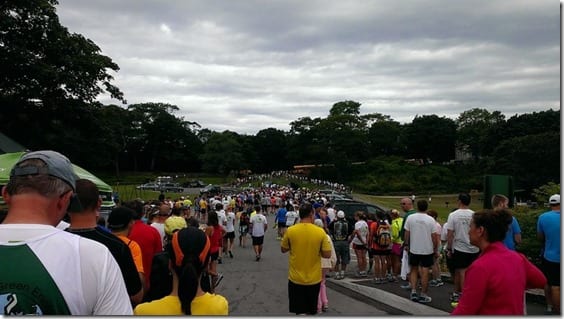 Post-race eats! After the race I was on a mission to eat lobster. I had a Maine lobster salad…. ahhhh so good.
Here is my video. It's a bit awkward because I need a new phone and need to learn how to shoot while running. But, it's worth it because Meb waved to me.
Overall: I give the entire experience ten runner's toes way UP! I had a blast. I met celebrities. I ate lobster. I fell in love with Maine. The end.
Question: Meb was super friendly so it was easy, but what are you supposed to say to celebrities when you meet them?
"I'm a big fan!!" or "IloveyouwillyoumarrymeCanIhavealockofyourhairComelivewithmeplease."