Hello! How are you? I'm good and busy getting ready for a Thanksgiving style dinner. My family is having a re-do since not everyone was in town on the actual holiday.  I'm cooking up a few things I'll share later. But first I have tips on what to know before you buy someone fitness gear as a gift.
I am all about new fitness clothes. So I've loved working with Danskin Now this year. They sent me a gift certificate a few times this year to pick out gear that fits in with what I'm doing and the season. I'm not a brand whore and I don't usually pay attention to what brand I'm buying – but it was kind of funny to see I already had a lot of Danskin running shirts.
(This running top is from last winter. The workout capris are from this year.)
A few weeks ago I got this "Atheleisure" sweater from their line. It was in the workout section of the store but looks more like casual clothes. It's meant to be something you can wear from the gym to dinner (gym eat repeat?).
I got a lot of compliments on it. And since it was getting close to Christmas I noted compliments from anyone who might like one. Boom.
I also asked a few questions about their thoughts on the color or cut so I knew their preference. Today we're talking about what you should consider before buying someone fitness gear.
What to know before buying someone fitness gear
1. What cut / style of tops and bottoms they wear.
– Observe what they wear when they work out. Tank tops? Capris? Running shorts?
– This is easy to note if they take pre or post-workout pics and post them on Facebook or Instagram. Look at what they usually wear and stick with that style.
I always wear shorts that are at least 6" long. I don't feel comfortable in anything else so as much as you may think you found a super cute pair of running shorts, if they aren't the cut I wear I can't really use them.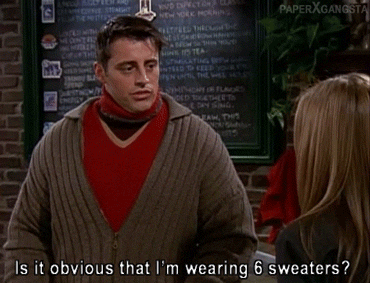 2. What do they do (to workout).
Most workout gear can be worn for any kind of sweat session, but some tops or bottoms are better for certain activities. Super sweaty workouts require wick-wear material clothes. Zumba fans can wear skirts with coins on them, but that isn't going to work for zen yoga.
– If your BFF is obsessed with Spin class she might not ever need long sleeve workout tops (it gets super hot in there and it's inside).
– If your girlfriend works out with her boss after work she might not want a super sassy slogan on her tee.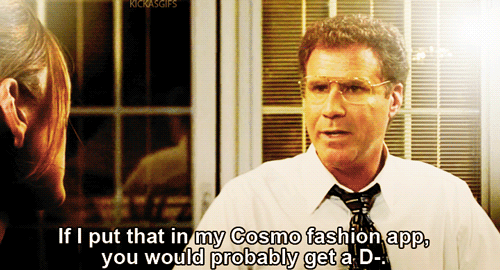 3. What colors they wear (and what they would NEVER wear).
I don't think I look good in purple, so I usually avoid it. But – that was the only color in my size for the sweater I mentioned above. When I got a complement on it I mentioned the color so gauge what my friend thought of it, "Thanks! I never wear purple but it was the only one in my size. They had a dark grey one too …"
– Does your Secret Santa person always wear black? Have an entire wardrobe of pink? Match everything perfectly?
– Stick with their favorites to be sure they wear your gift!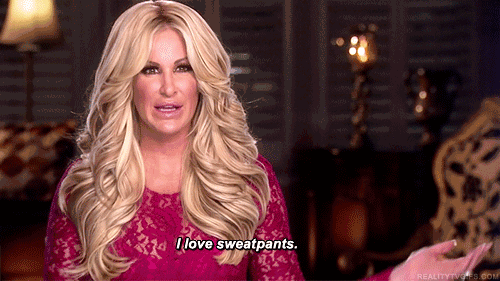 4. What size they are.
If you want to keep it a surprise  I just say to try and peek at their clothing labels if you can. Snap a picture of the tag so you know the size and brand (since some sizes vary by brand). And you'll have it in your phone when you go shopping.
I also mentioned the size of the top when I was talking about it with my peep, "This is a medium but it's a relaxed fit and so comfy…(and let her chime in with her thoughts on that)"
By the end of our lil convo I knew that she likes to wear purple and prefers relaxed fit tops that aren't tight on her mid-section.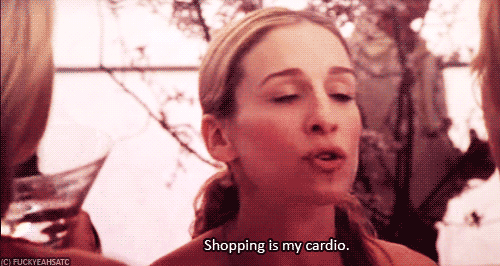 Basically, stick with what they like and wear now. Don't try and buy your favorites or something that would be a big change.
Workout gear preferences are important and unique because it's based on what makes each person feel good, confident and able to move around while exercising. This isn't the time to try and change someone's style – give 'em new versions of what they love.
1. Active Cowl Neck Hoodie w Thumbholes
3. Danskin Now Performance Short Sleeve Tee
5. Danskin Now Women's Athleisure Sweater
Question: Is fitness gear on your wish list or do you buy yourself stuff all the time?
I buy myself stuff often, but I wouldn't turn it down!
Disclaimer: This post is in partnership with Danskin Now. All opinions are my own.