Hello! Today I'm sharing some great ideas on how to eat more fruits and veggies. It's part of my partnership with Align Probiotic. We're working together to give you info on how to keep your tummy happy year 'round!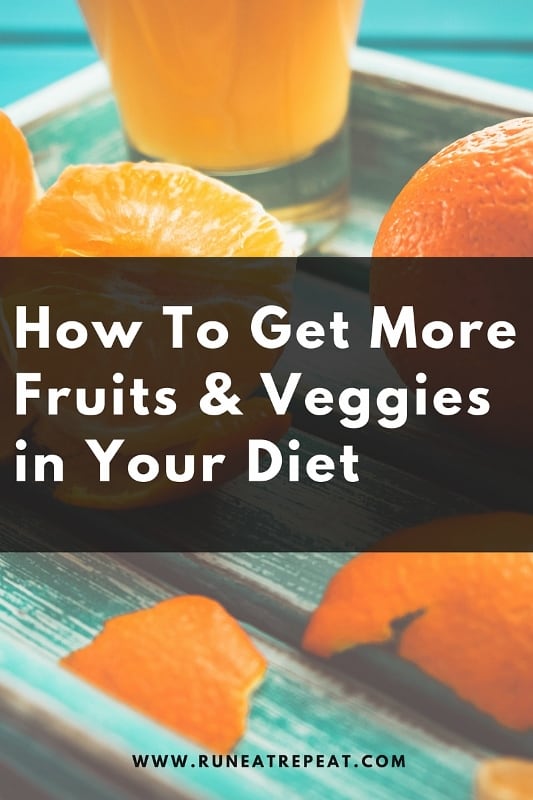 I love summer for all the usual reasons – warm (okay HOT) weather, BBQs, longer days, vacations, margaritas (more than usual) and because all the best fruits and vegetables are in season (see: my watermelon obsession).
If you have a hard time getting fruits and vegetables into your diet this a great time of year to squeeze in some more because so many delicious options are in season = they are more flavorful and cheaper than usual.
Here are some ways to get more fruits and veggies if that's an area you need to work on right now…
Top Ways To Incorporate More Fruit and Vegetables into Your Diet
1. Try having some vegetables with breakfast. Having a big salad for lunch or a side of carrots with dinner is common, but eating veggies with breakfast might not be a part of your current routine.
Have some vegetables with breakfast by cooking up onions, peppers, mushrooms or your favorite with eggs.
Blending spinach or kale in your smoothie or protein shake.
Sneak in some sweet potato or butternut squash into your oatmeal.
Top your toast with smashed avocado and sliced tomatoes
Add salsa and beans to your breakfast burrito
Check out these veggie packed recipes: 
Make a Frittata with veggies like tomatoes and onions. Try this Broccoli Cheese Frittata from PB Fingers
Flourless Zucchini Muffins from Eating Bird Food
Easy Breakfast Potatoes from Carrots N Cake
Smoked Salmon and Veggie Egg Casserole via Fannetastic Food
2. Snack on veggies or fruit first.
When you need a snack ask yourself if you want an apple (or your fruit of choice). If the answer is no you might not be hungry and just 'snacky' or bored. If the answer is 'yes' go for it and have some fruit.
Keep your fridge stocked with your favorite fruits and vegetables AND keep them in an easy to grab place. You're more likely to choose a piece of fruit if it's in your line of sight in the middle/front of the refrigerator or on the counter.
3. Fill up your plate – but make sure half of it is vegetables. 
During lunch and dinner divide your plate in half and make sure it's half veggies. Your plate = your choice of vegetables, but make sure you're getting enough with this simple way to 'eyeball' it for each meal.
4. Find YOUR Favorite.
It's okay to have a favorite indulgent food (like pizza) but you should also have a favorite fruit and vegetable. Don't be someone who hates all green foods – find a veggie you like and a way you like it prepared.
If you don't have a fave right now try a few until you discover something you really enjoy and don't just have to tolerate.
Ideas: roasted brussel sprouts, stir-fry with tons of bell peppers, raw sugar snap peas, carrots with guacamole…
Along with a healthy diet full of plants you might want to try a probiotic. Align makes a gluten free probiotic to fortify your digestive system with healthy bacteria*. Diet, exercise and stress management all work together to keep your belly happy. Taking a probiotic can help too.
-> Get a coupon for Align here. <-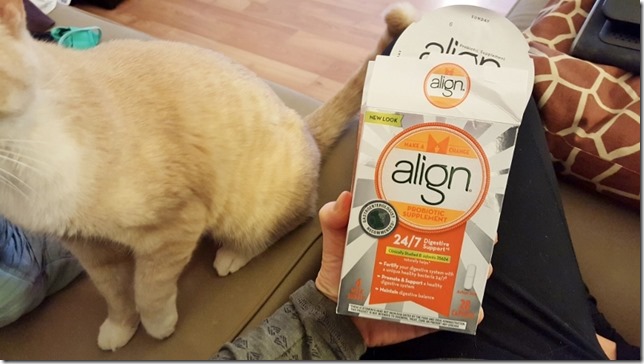 P.S. – Check out my previous post – Flat Belly Tips For Traveling – if you're hitting the road or sky for a vacation this summer.
Question: What is your FAVORITE fruit or vegetable right now?
Me: WATERMELON!!!! Always and forever. 
*These statements have not been evaluated by the Food and Drug Administration.
This product is not intended to diagnose, treat, cure, or prevent any disease
Align partnered with bloggers, such as me, to get the word out about its great product benefits. As part of this program, I received compensation for my time. Align's policies align with WOMMA Ethics Code, Federal Trade Commission (FTC) guidelines and social media engagement recommendations.