This Overnight Oats recipe is different from the usual oats soaked in yogurt or nut milk. It's more of an overnight cookie recipe topped with sweet berries to make a delicious whole grain, protein packed breakfast.
It's a fast breakfast that packs sweetened oats it into a cake / cookie crust so it's thick and chewy. And it's easy to prep the night before you want to eat and go.
I topped it with blueberries so it's like pie. The best part is it's 'overnight' or 'no-bake' so it's a piece of cake to make (or should I say piece of pie?).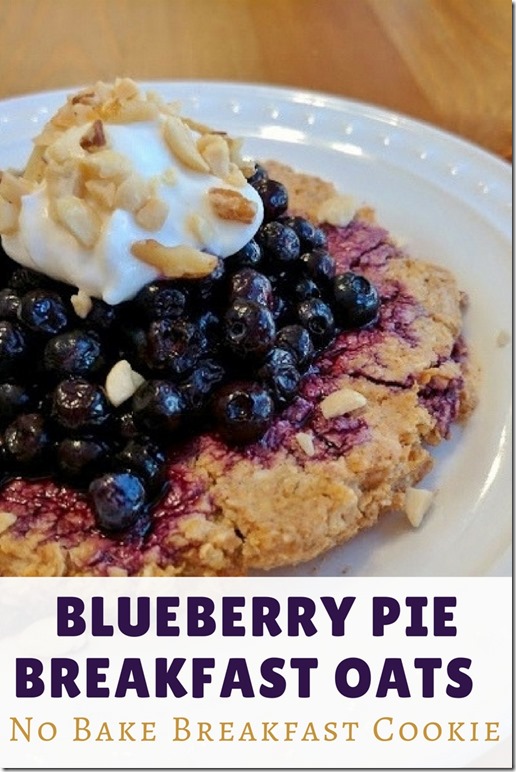 This Blueberry Pie Breakfast Cookie is as good as pie but a lot healthier than the original. Use stevia or cut back on the sugar and use nut butter instead of straight butter in the crust. Boom.
Whole grains. Healthy fats. Anti-oxidants.
And we're eating pie for breakfast!
Blueberry Pie Breakfast Cookie Recipe
Ingredients for crust:
1/3 cup quick cook oats
1 TB. nut butter, softened
1 packet sweetener (I used stevia)
1/4  cup* vanilla OR honey Greek yogurt
dash: cinnamon, salt, vanilla extract
Blueberry 'filling':
1/3 cup frozen blueberries
1 packet sweetener
Toppings:
Vanilla yogurt, nuts, seeds, fresh blueberries, whipped cream, ice cream, cherry on top, nothing…
Directions:
Put oats, sweetener/salt/cinnamon and nut butter in a bowl. Smash together to form crumbly texture and mix. Add yogurt, mix. It should form a thick crust but add more yogurt if needed.
Form oats into a crust on a small plate – the smaller you make it, the thicker it will be.
Cover and let it set in the refrigerator overnight.
Tip: You can also let this set while your run or workout – just make sure you leave it in the fridge at least 2 hours.
How to Make the Topping: 
In a separate bowl – combine frozen blueberries and sweetener.
Let set overnight in fridge to thaw.
In the morning – stir blueberries.
Place thawed blueberries on top of oat cookie crust.
Top with your favorite fruit and enjoy!
You can also add Greek yogurt and nuts. I highly recommend it!
Enjoy!
Question: When is the last time you had pie?
Me: I think this counts so I'll say yesterday!
You might also like: