I drove up to Santa Barbara on Thursday for a "Fall into Fitness" event with Omron. SB is about 3 hours north of Orange County, long drive but totally worth it.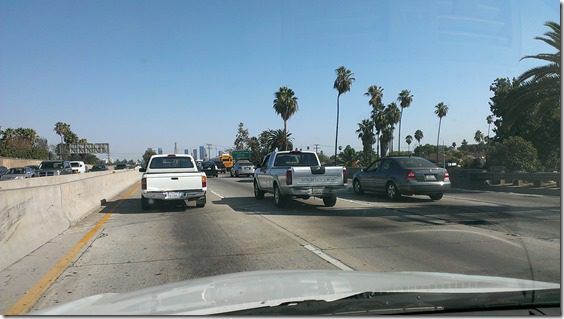 The event was at an amazing hotel in Santa Barbara. I was amazed by the grounds – gorgeous and super zen. Loved it.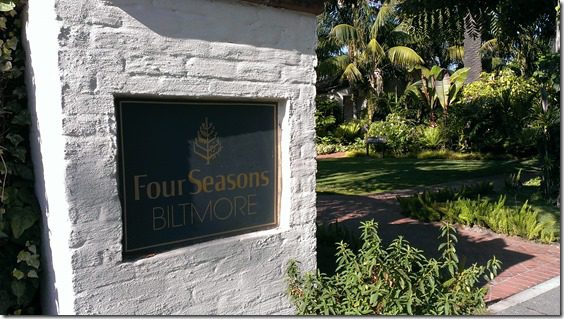 We started with a short sit down with Bob Greene. Everything he said felt like it was just for me. He talked about how most people want the quick fix and avoid things that are hard for them. (ME!) And the things we are avoiding because they're difficult are probably the things we need to do most (Me me me!). I slouched in my seat so he couldn't see my guilty face.
Then, we hit the beach for a power walk.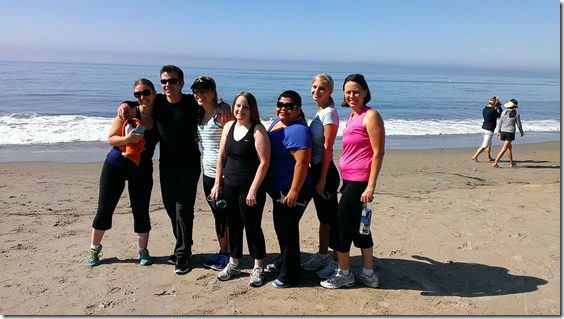 I busted out my Omron Activity Monitor to track it.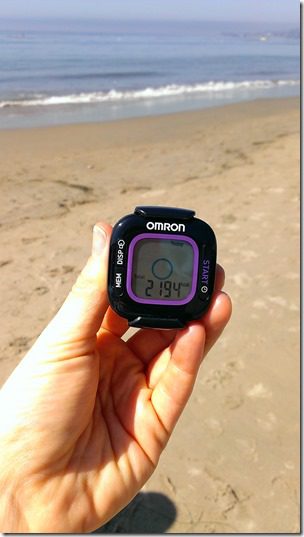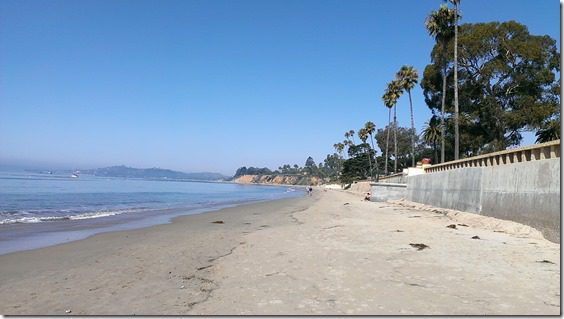 After the walk we did a quick wardrobe change for lunch.
I was so excited to hang out with Leah from Mamavation! She is my sister from another mister and lives north of LA so I only see her at events. She told me all about deodorant cleansing and raising chickens and other hippy stuff. Now I'm researching the deodorant thing, so you've been warned.
Lunch highlight: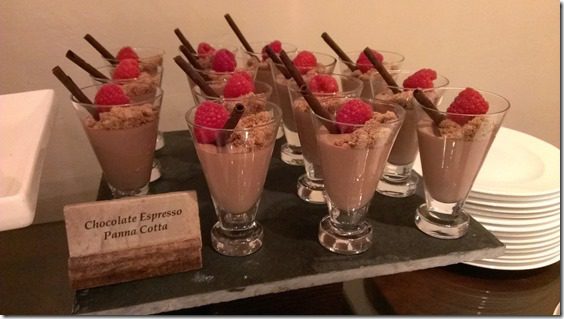 Then, I had the opportunity to sit down one-on-one with Bob Greene for an interview. I asked him about running and eating of course! Sadly, I was so excited about the run/eat talk I didn't ask him anything about OPRAH!!! Fail of America.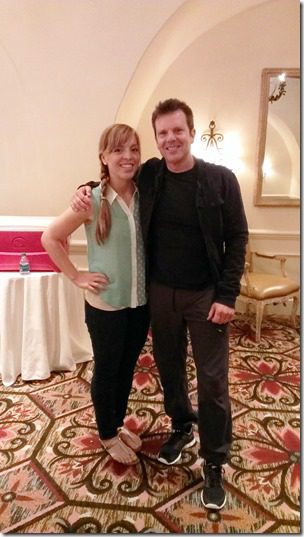 Bob Greene Interview
RER: You mentioned training marathon runners earlier. What is your approach?
Greene: I say never more than four  days of running. On those off days transition from running to something else that increases aerobic capacity but uses complimentary muscles to running so they would avoid overuse injuries.
RER: What do you suggest for those?
Greene: Elliptical is good, it's a little close to running but takes the pressure off your knees. Believe it or not, I love the treadmill – walking a top grade. Even better, if you can find one that is 30 degrees. I don't' care who you are, if you do a tough walking speed at 30 degree incline it's a great workout.
RER: Where do you think strength training comes into a distance training program?
Greene: Is this while you're training for an event? 18-20 months is where you can be more aggressive with the weight training. Your long runs technically are a little bit lower in mileage unless you're year round.
Really important – if you have any knee issues? Use of ice is essential for a marathoner. Move it around, it's a ritual every night or every other night. It reduces inflammation which you have to have with that kind of mileage.
I am a big believer with surrounding that knee if you don't have any knee issues – pointing the toe in while doing an extension. Play with extensions and leg curls.
RER: What is your thoughts on Green Coffee Bean Extract and other new breakthroughs?
Greene: There is nothing you are going to eat or drink that is going to radically change your life.
It's what you consistently do. It's either healthy or not so. It's what you do constantly.  We were meant to do a variety of exercises and we were meant to eat a variety of foods. Some have extra anti-oxidants, but none of them are going to change your life.
RER: What do you eat on an everyday basis?
Greene: Very moderate in eating. There is nothing. I eat dessert, I love a good dessert – I do it in moderation. The closest way to describe my eating would be a traditional Mediterranean style diet. Good amount of fish, 2 = 3 times a week. Beans I think are a super food and I have them 3 times a week. Whole grains. Very rarely do I have something that's not a whole grain.
I think white bread is no different than soda. There's no nutritional value in it. If you love it that much than have it and call it a treat. There is such great  whole grains out there. Half of my diet is vegetable or fruit based.
RER: What do you snack on?
Greene: Here in California we're spoiled, snack on fruit, snack on great vegetables. I love whole grain crackers. One of my favorite things people don't think of as a snack is soup. It's comforting. We don't even realize how comforting the warmth is. Even nuts in moderation are an amazing snack.
————————————
Did you catch that "there is not one food that is going to change your life" part? YES! So true.
We are constantly told "conventional corn is going to give you cancer!" or "kale can cure your pimples!" and "a green smoothie will make your mom love you more!!" – but there is NOT ONE FOOD that is going to cure or kill you. Relax. Try your best to eat and move in a healthy way.
Winner of the Omron Activity Monitor and Pedometer Giveaway is :
Omron is offering RER readers a sale price of their Activity Tracker and Communication Tray. <- Use that link (I don't get compensated for it, it's just the special sale link.)
Question: Do you think I'll ever be able to forgive myself for not asking him about Oprah?
Doubt it.
Disclaimer: I'm being compensated to write this post by Bookieboo LLC in a blogger campaign with Omron Healthcare. However, the thoughts and opinions expressed in this post are my own.