Hello! I am alive! I did it – I ran 30 miles yesterday!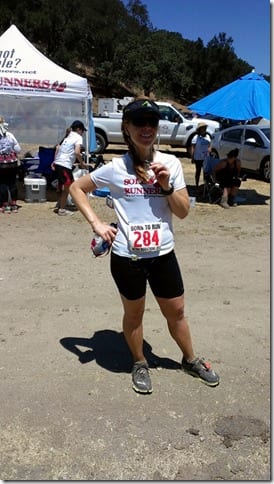 I ran the Born to Run 50k yesterday. And it was quite the experience.
I wanted to run this race for several reasons…
1. I LOVED the book Born to Run
2. Tarahuarmara, the group the book is based on are from Mexico just like my great-grandparents.
3. The race is in Los Olivos, CA – hello I am Olivas. It's fate, right?
So Friday night I packed up my stuff and headed to Los Olivos,CA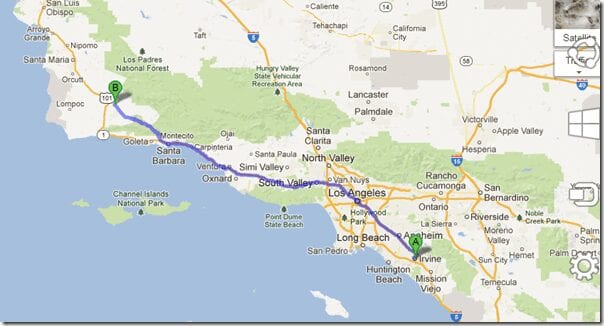 We made it around 10pm on Friday night and it was pitch black. You had to open the gate to drive in and there were cows just standing right there staring.
I made camp and then hit the sack.
4:14am – Wake up to gun shots!
4:15am – Mariachi Music starts blasting.
Guess it's time to get up.
There weren't a lot of porta-potties considering people were racing and camping there, but it worked.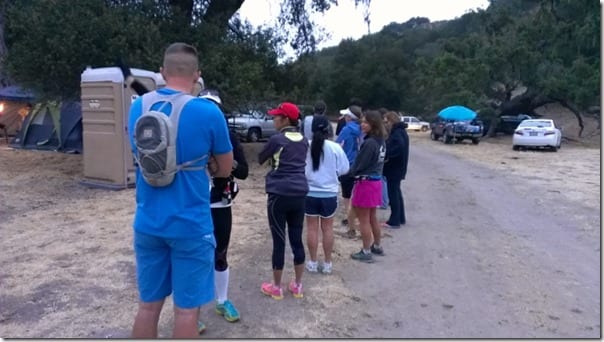 I walked over the grab my bib – this was one bonus of staying on site. Super easy.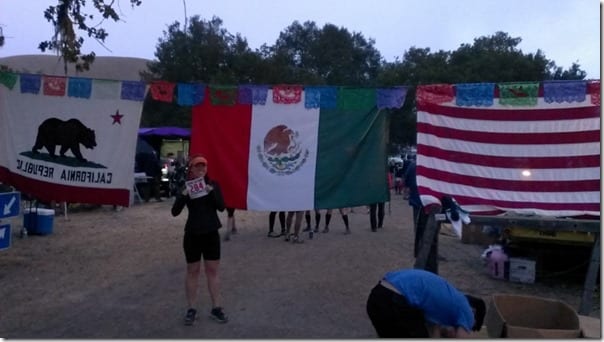 Then, we were off!
This wasn't just my first trail race it was my first trail RUN.
And it was 30+ miles of trail. I ran the first hill and 99% of the other people were walking.
Then, I was slow coming down the hill because of all the rocks (downhills are usually my thing).
Around mile 3 I realized…
I have no freakin clue what I'm doing!!
So I told myself, "You are going to have your ass handed to you today, get ready…"
Luckily I stuck to my "If you think you're going too slow, slow down." plan.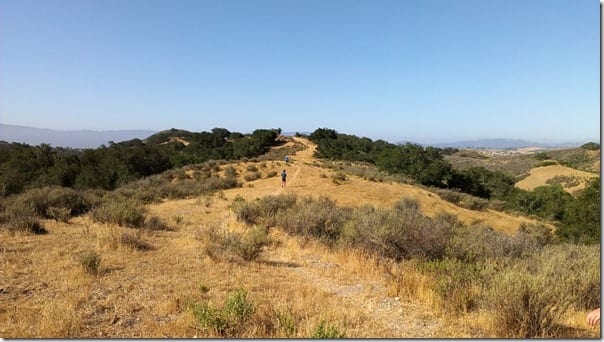 I almost got lost once but someone behind me yelled at me that I started to go the wrong way and I got back on track. '
There were pink and yellow ribbons on trees that you were supposed to watch out for every half mile or so.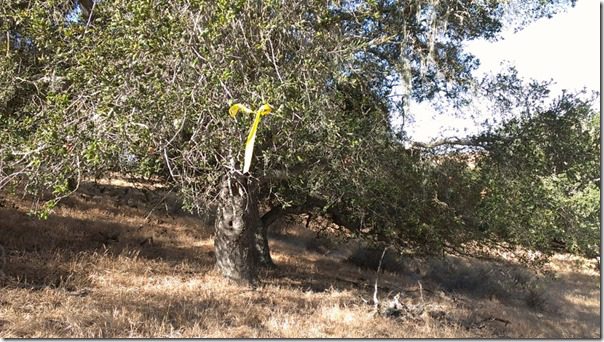 I ran solo the first couple of miles until Steve and two of his buddies caught up to me. I stayed with them for the first 10 from there. Steve told us when to run and when to walk the hills.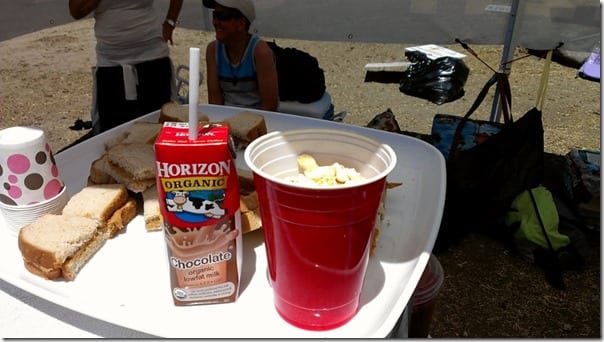 Ultra-marathon aid stations are very different from half or marathon aid stations in that:
1. There is a lot of "real food" not just gels and energy drinks.
2. People stop and eat, drink, hang out for a bit.
This was odd to me because I have mastered the art of running through an aid station.
3. The aid stations are very spread out / there are less of them.
*Fuel fail – I didn't take any fuel with me for miles 10-20. NOT good.
On the next loop out I lost Steve and his peeps so I was solo. At this point runners are very spread out so I went for a while without running near anyone else.
At Mile 19ish at the aid station I caught back up with Steve and we ran a mile together.
Finally at this point I got some fuel and dipped a potato in salt for sustenance.
Then, I took off – I found my 3rd wind and felt great!!!
I ran past 3 guys who were pretty spread out on a long flat stretch. I was feeling amazing until mile 24 when I started to get stomach cramps. I took a little of the gel I had at mile 25, but just couldn't do it.
I tried to make myself run as much of the flat sections as possible, but my stomach hurt until the end. I even walked the last half mile-ish and kinda hate myself for that.
Once I crossed the finish line I didn't even get my 'medal' – I walked straight to the porta potty line and my friend Russ was yelling at me, "Come get your medal! Where are you going?"
Finally, I went back to the finish.
New PDR (personal distance record)
Official time was 5:45:21 – I stopped my watch during my 2 bathroom breaks out of habit.
The 'medal' is actually a handmade amulet! And when the guy puts it on you he says a little speech about it being lucky. I'm not normally a jewelry girl, but I never want to take this off!
At the end I was filthy and stiff. But I was also really happy and proud of myself
After the race we took a drive to Los Padres and I went in the river as a makeshift ice bath! So glad I did that.
Then, we went into town for food. There were cupcakes…
and Sangria.
Then, more sangria back at camp.
We just hung out from there…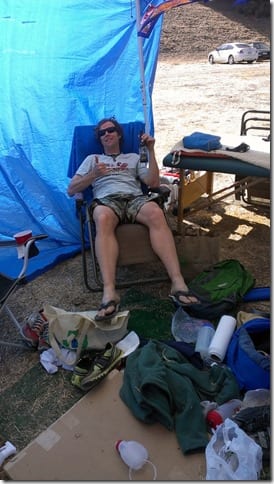 One of my peeps, Hector was running the 100 mile race! He is the best. We cheered on the other runners as they came by and it was really inspirational.
Huge thanks to Leann from the Sole Runners for putting so much work into organizing everything!
Overall thoughts…
It was rough. I had NO idea the art of trail running or ultra fueling or ultra pacing. I have a lot of learn. But, I do kinda want to learn so I think I might maybe do it again at some point in the distant future. But that's not my focus as of right now.
Most importantly – I had a BLAST!!! I went into it knowing it would be an adventure and it was.
I made a video of my experience…
Born to Run 50k
Question: What was the best thing you at this weekend?
I'm going with the loads of kettle corn I ate.