The time has finally come to prove whether or not I am a true descendant of the Tarahuamara. The Born to Run 50K is tomorrow!
When I first decided to run the race I was super scared and pumped about it. I intended to get fully prepared and do a whole training plan and blah blah blah. Then, I got a ton of travel opportunities aaaaand I remembered that I never stick to a training plan so that all fell by the wayside.
Moral of the story: I am not fully prepared for this.
It will be my first:
distance more than 26.2 miles

trail race

camping experience in years
I made a race day strategy based on some ultra running advice I heard a while back that stuck with me…
"If you think you're going too slow,  slow down."
So – this is the plan…
1. Go SLOW. SLOW. SLOWER. Okay good.
2. Eat per usual marathon strategy and eat more 'real' food if I can. <- Since I never did this distance before I don't really know how I'm going to feel.
3. Walk the ridiculous hills.
and finally
4. Don't try to be a hero.
Sure, I didn't stick to a training plan for the ultra but I did make sure to fuel up like I was a bear about to go into hibernation today…
Watermelon. Of course.
Rice…
Krispies eaten as cereal and treats. Hey, it is rice.
I'm a very salty sweat-er so I always eat a lot of salty foods leading up to a race. This is what works for me, do you.
Then, I packed up and headed out…
What food does one pack for an ultra trail race?
Beer, chocolate milk and watermelon, obviously.
My patas and THE 5 freeway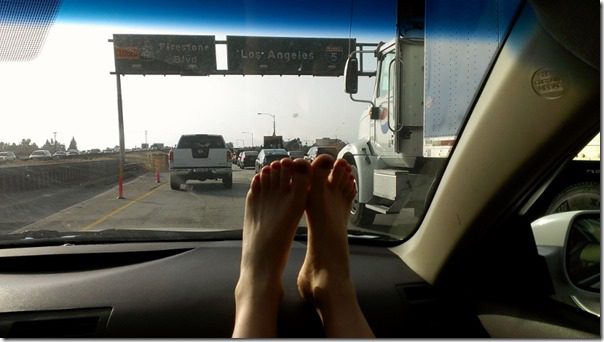 Pit stop for food. I packed a big salad and stole a bite of the Cool Ranch Dorito taco. It didn't change my life, but I'm not their target audience. <- please note this comment for future use.
I had to print out the waiver to take with me and it's scary! It seriously says, "If I get hurt, lost or die it's my own damn fault."
See? I'm scared.
If I die I want to leave Run Eat Repeat to a LOUD red headed Mexican in love with watermelon and manatees.
Readers can vote if there is more than one. Thank you for honoring my request.
Question: What are you doing this weekend?
*I'm not going to have the best reception/wifi tomorrow so I'm going to take the day off. If I can, I'll say hola via twitter but maybe not.