Hello! I finally have my Boston Marathon race recap post ready! This took longer than usual because I took videos as I ran and wanted to have the final recap via vlog for ya. If you ran Boston this year or in the past feel free to link up your recap so we can chat about different perspectives and experiences and results.
1. Scroll to the bottom of this post for my Boston Marathon video!
2. Link to your Boston Marathon recap below!!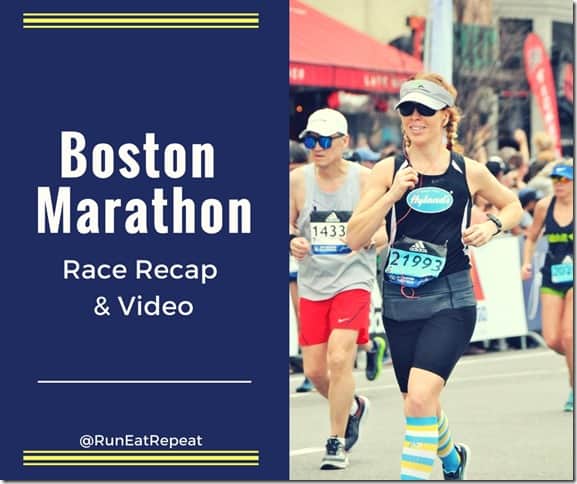 Boston Marathon Recap and Results
Pre-Race Boston Marathon…
The race starts in Hopkington and ends about 26.2 miles away in Boston. That means it's 'point to point'. So, you have to take a bus to the starting line. It starts relatively late for a marathon – my start was 10:50am. Runners wait in the Athlete's Village until it's time to head to the start.
Me: "You brought pizza?!"
Him: "Everything tastes better in a pizza box!"
We had a lot of time to just wait for the race to start and hung out on the bus. I brought oatmeal, a banana, cereal in a baggie and Spark to fuel before the race. I also brought the Boston Marathon race guide, sunblock, a throwaway shirt and tons of nervousness.
Once I was nice and nervous it was time to head to the start line!
Boston Marathon Starting Line & Athletes Village
It was hot this year so having something to wear before the race wasn't as important as other cold weather years. But you get to the start so early it was chilly. The organization donates all the clothes left at the start.
I was excited and nervous! There was such a buzz around the entire city all weekend. Being at the start took it to another level.
Time to start the Boston Marathon!
Boston Marathon Race Course
I heard a lot of warnings and suggestions about the Boston Marathon race course. It was very intimidating.
Things I heard about the race course before race day:
It's downhill the first 6 miles
Wellesley is around mile 12 – tons of girls from Wellesley College come out to CHEER
Mile 16 to 21 are rolling hills – make sure you have something left for this part
Heartbreak Hill is at mile 20/21 (this varied from person to person)
Boston Marathon Finish Line
The last mile is amazing. I was really struggling in the last few miles. I walked some of the hills. My neck and shoulders were aching so bad. I didn't want to walk the last mile but wasn't sure what I had left. But the crowds were so loud and just being on that legendary course pushed me to the finish. I ran the last mile with a big smile. It was so special and awesome and I tried so hard to try and remember it.
* Boston Marathon race recap and course information video at the bottom of this post. *
Boston Marathon 2017 – finish 3:58:10
Boston Marathon Post Race Party with Hyland's
Check out the post-race party fun here.
Hyland's Powered Boston Marathon Team
Huge THANK YOU to Hyland's for putting this team together and supporting our journey! The 12 ladies on the Hyland's Powered Team are super amazing and inspirational.
The Hyland's Team for the Boston Marathon included:
Dorothy – Mile Posts // Jessica Leaonard  // Court – Court Ney // Beth – Mellebeth //  Candice Huffine // Run Like a Hijabi // Alison Desir // Ilene Fabisch //  Miss Lesley Runs // Moyenda Knapp  // Nancy Heydinger – and check out this awesome story about her journey here
AND Jessica's boyfriend proposed at the finish line of the Boston Marathon!!!
Boston Marathon Recap & Results VLOG
Boston Marathon Race Recaps 
If you ran the Boston Marathon – this year or in the past- and want to share your recap you can link it here. Click on "Add Your Link" in the blue box…
Question: What is your dream race or activity??