Podcast: Play in new window | Download
Subscribe: Apple Podcasts | Google Podcasts | Stitcher | RSS
Hello! I have an awesome giveaway and some Boston Marathon tips, course thoughts, pre-race reminders, packing list and more coming soon! I'm excited because the race is next week and it's bringing back a lot of memories of running it and all my training updates with Powered by Hyland's!
Last year I ran the Boston Marathon with Hyland's Homeopathy's team aka Powered By Hyland's. It was an all female team in honor of the anniversary of Katherine Switzer's famous run – she was the first female with a bib to officially finish the race.
This year Hyland's chose a team of teachers from all around the country to train for the Boston Marathon and share their story during training and the race. I met with two of the teachers recently to answer their training, pre-race and race course questions. It was super fun – I can talk about running all day (shocking, I know).
I noted some of their questions to answer here. This is a list of tips for traveling to the Boston Marathon – the Marathon / Half Marathon packing list apply to any race you're traveling to. But some of the race morning tips are exclusive to Boston. Why? Well…
Boston Marathon – Packing and Travel Tips
1. It's legendary. The Boston Marathon is the world's oldest annual marathon started in 1897
There's a buzz all around the city race weekend and it makes you excited (and nervous).
2. The race starts late in the day compared to most races. You have to plan your fueling accordingly.
3. Even though it starts late you must be at the athlete's village before the race pretty early. So, you'll be waiting around for the race to begin for hours. Again – plan accordingly.
4. It's on a Monday – always on Patriot's Day and a lot of Bostonians get the day off
5. The crowds are amazing and super supportive.
6. Heartbreak hill is difficult but not crazy super high or steep – but it comes at a time in the race when you're already tired and it's a fairly long hill so it feels very hard (some would say heartbreakingly hard).
7. The last mile of the Boston Marathon will make you feel like an Olympic athlete racing for the gold. The crowds on the last mile cheer so loud it will drown out any pain or fatigue and you'll be able to use their energy to fly to the finish. (it's science)
Traveling for a Marathon Packing List
Check out this checklist for race day. Double check it and add anything additional that you need to have the BEST race.
Marathon or Half Marathon Packing List:
Head to toe clothes/gear for the race:Hat/Visor, Sunglasses, Headphones, Sports bra, Top, Bottoms, Underwear, Socks, Shoes, Belt / Armband, Watch, Rubberbands/Clips
Throwaway gear
Gallon sized bag for your race morning kit
Pre-run fuel x2 (whatever you usually eat before a race)
Fuel for during the race (gels, chews, electrolytes)
Post-race gear (for your checked bag)
Sunblock / Anti-Chafing / Medication / Toiletries
ID – to pick up race bib / packet
Tips for Boston Marathon race day morning:
1. Lay out all your clothes the night before. And include anything else that will be on your body – sunblock, pace band, running watch, fuel belt…
2. Pack your pre-race fuel and anything else you'll be taking with you to the starting line (athlete's village). See: Boston Marathon Race Day Must Haves List.
3. Plan and communicate race day logistics with your spectators. Plan where you will meet after the race, how you'll connect, if you need them to know/bring anything.
4. Remember you'll be waiting for the race to actually start for a few hours. Factor this into your race day gear/throw away gear, fuel, cell battery, sunblock, feminine items, etc.
Download the Marathon – Half Marathon Packing List here
Boston (or New York City) Marathon Race Morning Must Haves:
1. Running Gear.
Plan what you'll wear to the race from top to bottom according to the weather.
2. Pre-Race gear to throw-away.
Check the weather for the time you'll be headed to the race AND for during the race. Pack pre-race gear that will keep you comfortable / warm / cool / dry / other according to the weather.
Remember : You'll be waiting for the race to start in the athlete's village for a few hours before the race.
(Races will often donate 'throw away' gear so you're not actually throwing it away but donating it.)
From the Boston Marathon race guide: "Additional layers of clothing may be worn on B.A.A. Shuttle Buses and in Hopkinton for warmth before the race. Clothing that will not be worn during the race must be discarded in Hopkinton and will be donated to a local charitable organization."
What I ate before the race:
Oatmeal (I brought oatmeal packets from home)  // Almond Butter  (get packets for that too)  // Banana // Spark in Mango Strawberry **
Plus extra packets of Spark to add to my water.
Pre-Race Fuel x2.
You'll probably need more than what you usually eat before a marathon because there's a lot more time before the race.
Bring: What you eat before a marathon and either double it and/or bring extra food and water too.
These are the official rules on this from the Boston Marathon guide:
"A one gallon clear plastic bag to carry food items or sports drink only. This bag is subject to search. (only one clear plastic bag pack per runner). This clear, one gallon plastic bag will be allowed on the official buses to Hopkinton."
4. Sunblock and any other personal care items you need
You'll need to reapply since there's so much time from leaving home/hotel to the start. And remember any other personal care items or medication you need. Examples: tampons, anti-chafing balm, medication…
From the race guide: "Fanny pack (no larger than 5 inches x 15 inches x 5 inches) to carry food, nutritional products, medicine, identification, cell phone, home/hotel key or other similar and necessary small items (only one fanny pack per runner)."
5. Rain poncho.
You can wear it to keep warm/dry, sit on it, use it as a tent to pretend you're back home under the covers, fashion a hat if you get bored…
6. Extra charger.
If you're bringing your phone for social media updates, pictures, texting your crush, music, etc – you have 2 choices:
a.) Try not to use your phone that much before the race so you don't drain the battery before you even start.
b.) Bring a mobile charger that you're willing to throw away or carry with you for 26.2 miles.
Tips – make sure it's already charged or charge it and make sure you have the right cords for your phone.
Get a portable iphone charger here.
Here's a solar powered charger for your phone.
This portable charger should work with android and google pixel.
7. Your 'A' Game.
This is it! You're running the Boston Marathon. Show up with your best.
*Check the official Boston Marathon participant guide for all the rules and regulations.*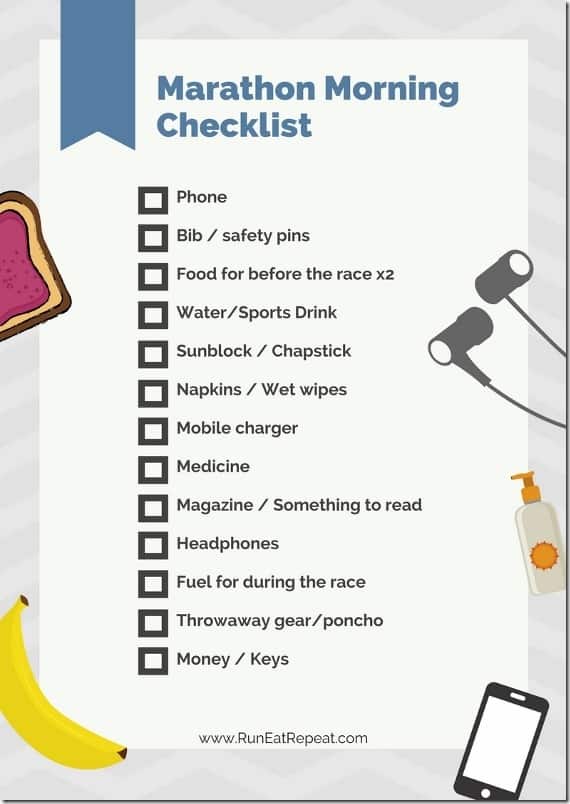 Download the Marathon Morning Checklist here
Pre-Race Kit for Boston Marathon morning:
Food to eat before the race
Water/Drink
Sunblock
Napkins
Portable charger
Medicine / pain / blister helpers
Magazine / Something to read
Music
Headphones (disposable if you don't want to listen to music while running)
Fuel for during the race
Throwaway gear
Post Marathon Bag Packing List:
Comfortable change of clothes
Socks and shoes/sandals
Plastic bag for sweaty gear
Toiletries / Make-up
Brush/Comb
Keys/Money
Awards:
I scored a Boston Marathon jacket at…
If you have a question for me – leave a vm on the RER line 562 888 1644 or email [email protected]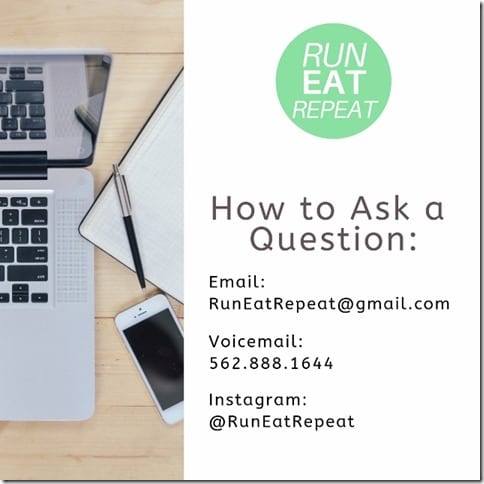 Follow me on Instagram and tag @RunEatRepeat with what you're doing while you listen!
Keep Going with these:
Race Day Morning Prep and Checklist printable pdf