Hello from the Catalina Express! I'm on a boat headed back to the mainland and trying to wrap my head around this amazing weekend.
Let's start at the middle and then go back to the beginning and then give you a snippet from the end to tell the story…
Friday night I took an hour long boat ride to Catalina Island. The 7pm sail time was perfect timing to catch the end of a gorgeous sunset.
Hello Queen Mary, how are you this fine evening?
The party had already started when I arrived so I jumped in fast at The Lobster Trap.
Friday night was all about hydrating and carb-loading
I finally got my sweet potato fix!
The Catalina Marathon is on Saturday morning. There are a lot of logistics to take into consideration for this race because it's on an island off the coast of Southern California and the race starts on the other side of the island from where most of the rentals and hotels are.
Basically – you need to get to the island Friday (or earlier if you want a longer stay).
Stay somewhere in Avalon – there are hotels and Air B&Bs.
Race Day morning – take a ferry to the other side of the island where the race starts.
Race finish – the race ends in Avalon!
So, we were up at 4am to catch the boat to the start by 5am. Luckily our rental house is only a few blocks from the dock.
All the runners staying in Avalon take an hour long boat ride to the other side of the island where the race starts in Two Harbors.
Some people slept on the ride over, but I just kinda hung out getting nervous. The combo of pre-race nerves AND being on a boat made me feel even more nervous than usual. Plan accordingly.
I wore my Mizuno Wave Riders – I don't wear these to run usually, but Steve said I should wear shoes with a little more cushion since the trails are rocky. Plus – ProCompression compression socks!!
Both my shoes and socks are FILTHY now, but the combo worked great for this trail marathon!
Catalina Marathon Race Recap
This is a small race so it was easy to get my bib and hit up the restroom before the start.
Catalina Island is awesome for 86 reasons, but one of them is that there are BUFFALO on the island! Rumor has it a few were brought over to film a western movie back in the day and they left them here. The buffalo flourished and now call Catalina their home!
There were three just eating breakfast about 50 yards from the start.
Hector has run more than 100 marathons and keeps coming back for more!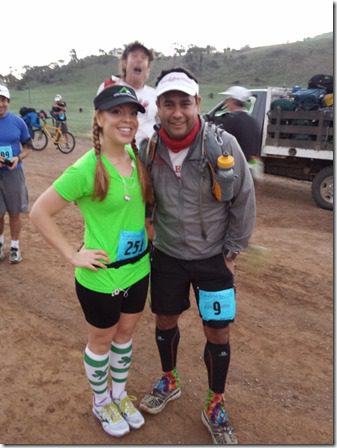 The Catalina Marathon is a trail race and very hilly. I knew this going into the it and just wanted to have fun and not hate running by the end of it.
Even though I knew that, I got frustrated right away that it was sooooo steep and I had to walk before mile 3. But, I reminded myself that trail running is a different sport from road running and I had to deal with it in a different way. I kept telling myself, "You can't go fast, so just have FUN!"
The key to trail running (for me) is to let the course come to you – run when you can run, walk when you need to walk and try not to fall!
I almost ate it so many times and almost rolled my ankle a few too – that would be the worst!! So, I kept an eye on the ground ahead of me and just kept chugging along.
The great thing about the Catalina Marathon is every time the course gets tough you are rewarded with the most gorgeous views when you get around a bend or to the top of a hill. So many times I just wanted to stop and take pictures and breathe it in.
Fuel fail – the one thing I did wrong was take fuel like it was a road race marathon instead of a trail marathon. Trail races take me (and most people) a lot longer than road races. So, I was out running almost an hour longer than usual. I needed extra fuel for that, but failed to bring enough.
Luckily, the aid stations were stocked with water, gatorade, M&Ms, gummi bears and pretzels. Plus they all had either gallon jugs or big coolers where you could fill up your water bottle. At the last minute I decided NOT to take my new hydration belt and just held a small bottle.
The best aid station was the ranch! They had it stocked with goodies, including beer. It was fun to see so many people walking away from that station a little happier, beer in hand
I took my fave Mocha gel at mile 18. And grabbed watermelon at a station around 20.
Then, at mile 23 it was all downhill from there!! Finally. It was actually so steep  and my quads were completely shot by then so I couldn't fly down the hills as much as I wanted. I did make up a lot of time there though!
I pushed it to finish in 4:34.
It was probably the hardest race I've ever done. But, it is also the most gorgeous, no contest.
I got mad at Steve around mile 4 because I was dying and he was so happy and loving it. I told him I'm not running with him again. But by the end I changed my mind – I had a BLAST!!
At the end my quads were screaming so I walked past the finish straight into the Pacific Ocean for an ice bath….
I was talking to a runner I met Friday night about the course and he said, "That was stupid hard." Ha!
We all agreed, but at the same time everyone was already talking about going back next year. It's a great time and you cannot beat the scenery.
The rest of the weekend was probably harder on my liver than the hilly terrain was on my quads. And that's saying A LOT considering I woke up with very sore quads
To Be Continued…
Question: What did you do/eat this weekend??
Disclaimer: The Catalina Conservancy gave me a bib to run this race. All opinions are my own.