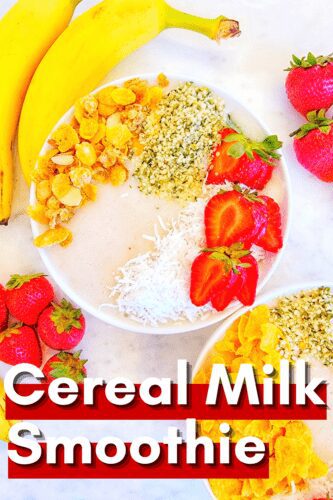 I probably had a bowl of cereal with milk every morning before school from growing up. My mom is a teacher and our school started 15 minutes before hers did – so mornings were often rushed as my mom, brother and I got ready, ate and dashed out the door with seconds to spare.
Luckily, a bowl of cereal is an easy breakfast and I loved it (actually, I still do!). At the time I just loved how it tasted. Now I appreciate that a serving of milk with whole grain cereal provides a great combination of protein and carbohydrates to keep you full till lunch.
And today I'm sharing a fun twist on this classic breakfast with a Cereal Milk Smoothie. I'm using Real California Milk because it's sustainably sourced and comes from California dairy farm families.
The first step is to make the Cereal Milk. It's the base of this smoothie recipe, but you can also use it in other recipes, lattes or just drink it. 
How to Make Cereal Milk
Cereal milk can be made with most corn flake or wheat type cereals. The classic version is made with corn flakes, but I've also made it with a random mix of leftover cereals and it works great. Basically, use whatever cereal you have on hand.
We often had a few boxes of cereal with less than a serving left or a lot of crumbs… so we'd push it to the back of the cabinet (sorry Mom!). This abandoned cereal would end up getting stale and thrown away. 
Now you can use it in this recipe. I love finding delicious ways to avoid food waste. 
Okay… let's make cereal milk!
Cereal Milk Recipe
Ingredients:
3 cups Real California Milk

2 cups corn flake cereal (or your choice)

1 Tb sugar

¼ tsp salt
Directions: 
Toast Cereal: Pre-heat oven to 300 degrees. Spread cereal on a baking sheet. Toast on the middle rack for about 10 minutes.

Allow to cool completely.

Milk mixture: Mix milk, sugar and salt. Combine with cereal. Set: Let milk and cereal set in refrigerator for 30 minutes. 

Use a fine mesh strainer to remove cereal from milk. Push down on cereal to get all the milk out. Refrigerate milk until ready to use.
Tip: Make your cereal milk ahead of time so it's ready to go for a quick breakfast smoothie. Just keep it in the fridge and give it a good stir before using it in a recipe.
Cereal Milk Smoothie
Cereal Milk Smoothie Recipe
Ingredients:
1 cup Cereal Milk made with Real California Milk

1 frozen banana

6 oz strawberry banana Real California yogurt

1 Tb peanut butter

¼ tsp cinnamon

Ice
Directions: 
Combine all ingredients in a blender and blend thoroughly. (Add more ice for a thicker smoothie.)
Serve in a bowl and top with your favorite cereal, fruit and nuts.
Enjoy!
Remember to look for the Real California Milk seal to support farm families. I really appreciate that California dairy farmers are world leaders in sustainable farming practices. 
You can learn more about Real California Milk Sustainability on their site here. 
Visit the Real California Milk site for more RECIPE INSPIRATION here.
This post is in partnership with Real California Milk. All opinions are my own.
You May Also Like: