After breakfast and a shower I went to get my bib for tomorrow's half. The race expo was part of a bigger community health expo so there were a lot of booths – but not the usual race themed ones.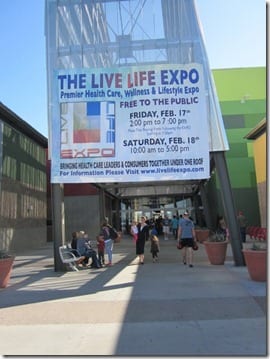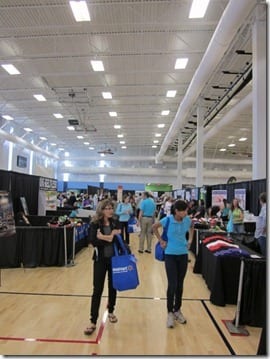 Need some medical care? Go to Mexico!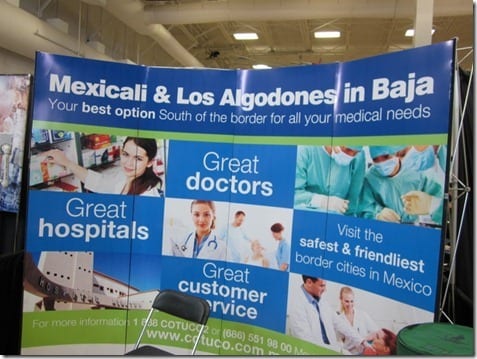 I didn't spend too much long here, just grabbed my bib, walked through the giant colon and was on my way.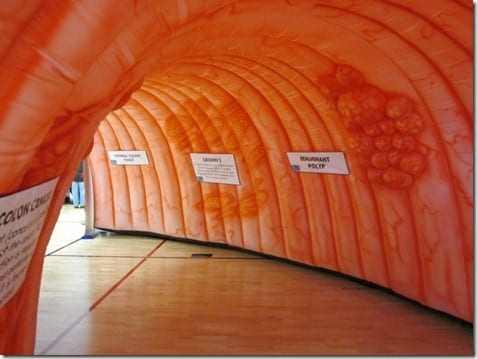 We had grand plans for lunch so I tried to keep my mid-morning snack light – cheese stick and celery. What? It's not normal to pull a stalk of celery out of your purse?!? Too bad.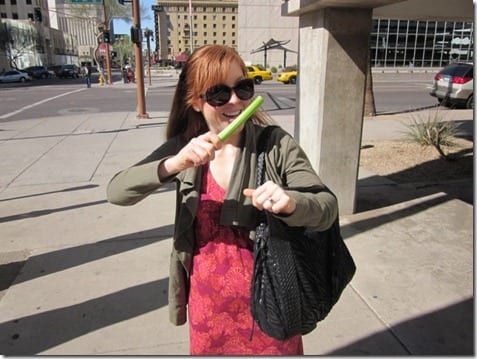 Ben and I spent some time walking around downtown Phoenix just enjoying the sun and sights.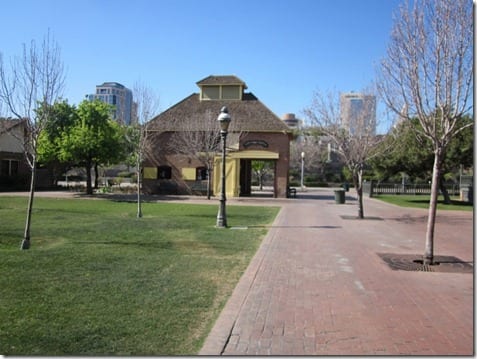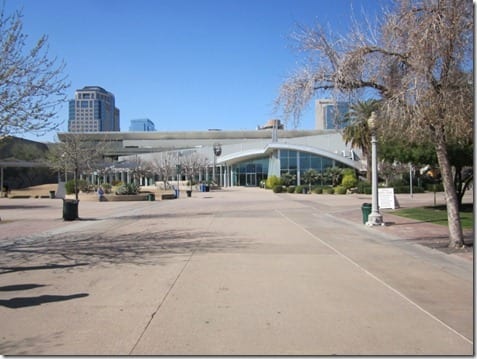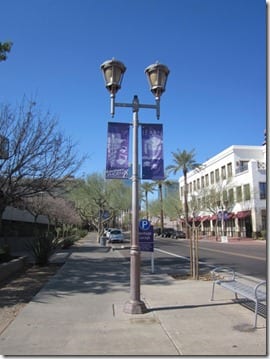 The weather was perfection and even though we have pretty good weather in SoCal we don't enjoy it enough!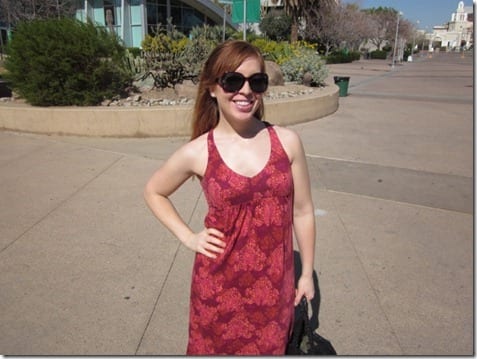 I'm partial to orange animals so I had to say hi to Vegas' long lost brother sleeping on the porch of a restaurant.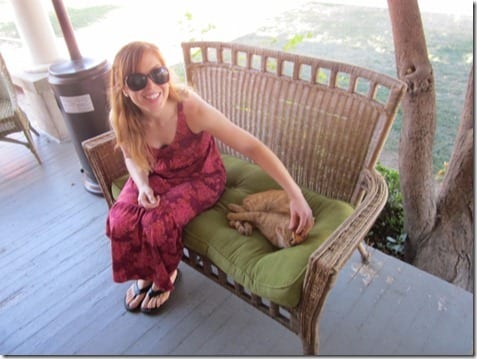 Touristy times call for touristy pictures, right? This centipede was super hot and Ben almost burned his leg!
My scorpion was in the shade so he didn't get me.
Ben got a snack that I stole a few sips of at some point…
We walked up and down the streets for a while before deciding to head to lunch. Ben was on a mission to hit up a Triple D establishment and printed out a whole list of options! We ended up at Chino Bandido
This place is a Mexican – Chinese restaurant. You pick your own combination and can eat a quesadilla with teriyaki chicken and fried rice. It's really random, but delicious!
Look who we found (a picture of)!
The options are almost overwhelming! Luckily, the employees were super patient and helpful (we were not the only ones that looked like deer in head food lights). I went with a combination – jade red chicken, salad, black beans and rice
Here's my combo plate…
Here is Ben's fried rice, refried beans, jade chicken and some kinda Mexican pork
And the cherry on top that made me fall in love with this place… every order comes with a free cookie! You have a choice of chocolate chip or snickerdoodle. Even though I'm a chocolate chip girl I realized they are known for their snickerdoodles so I went with one of each.
This is THE BEST snickerdoodle of my life. It was thick, chewy, buttery, sweet and magical. Seriously. I intended to share it with Ben but he barely got a crumb.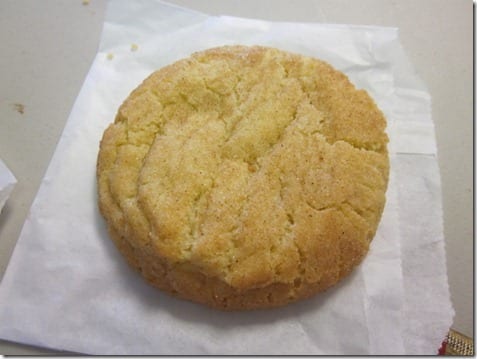 Here is the Diners, Drive-ins and Dives Chino Bandido episode:
We spent the rest of the afternoon exploring the area some more and ended up at an outdoor mall.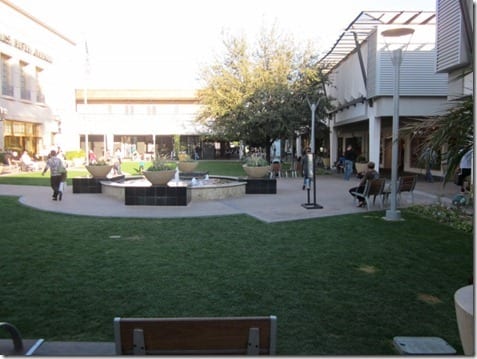 We wanted to sit down and relax before dinner and ended up at a bar. Ben got a margarita.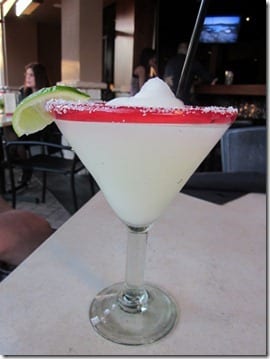 I stuck with water because of the race tomorrow.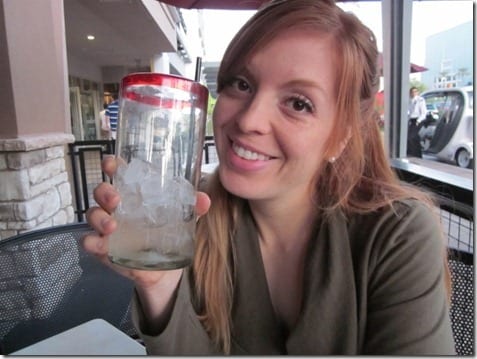 He was so happy with his drink I stole a few sips
And the next thing you know I ordered my own with strict instructions that he had to help me with it. See the waitress even brought 2 straws!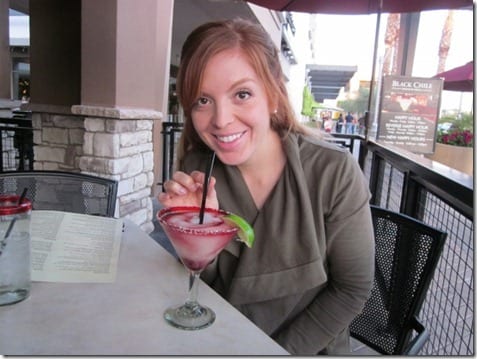 No one likes to drink alone, so I kinda took one for the team?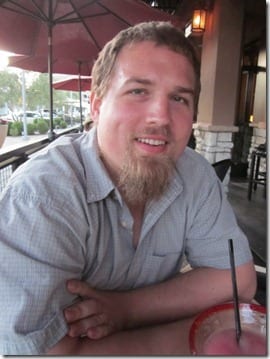 Finally we hit up a Panera knock off for dinner. I got a Thai Chicken salad
And Ben's sandwich came with a cookie so we had PB Chocolate Chip, again Ben only got a crumb. My new nickname is Crumbly.
My life's mission to find the perfect chocolate chip cookie continues though
Chino Bandido's was too crumbly and thin, Paradise Bakery's was not sweet enough and the chips weren't good quality chocolate. My "Goals for Life" list is not getting any shorter – I better find that cookie soon!
Oh, I have a race to run tomorrow! I better organize my stuff and get some sleep!!