Even though I only had to wake up at 5:30am (not early by race standards) I still cringed when my alarm went off this morning. Reluctantly, I rolled out of bed and did all my pre-race rituals – bathroom, change, eat
Luckily, our hotel had a full kitchen so I was able to toast my bagel. It makes all the difference.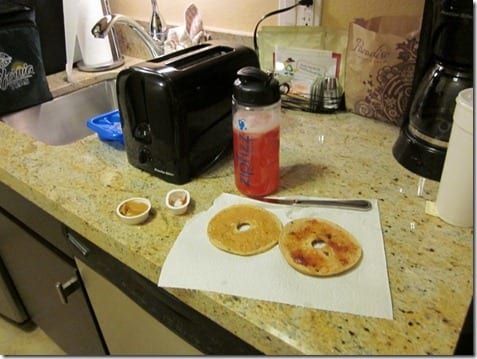 And I broke the #1 rule of racing – Don't do anything new on race day.
I've had a new container BCAA mix for a week and decided to pack some to drink before the race. It was tasty!
Before the race I stalled as long as possible in the car before finally getting out with my space blanket from the Tinker Bell Half. It really wasn't that cold, but I'm a wimp.
The race was pretty small and even though I was near the start line I couldn't hear what the announcer was saying. It came as a total shock when the gun went off and people started running! People around me kind of looked at each other like, "Oh?! We're starting!" I quickly tossed my space blanket, turned on my music and got running!
I wanted to stay near an 8 minute/mile pace. I usually got out too fast and then slow down A LOT. So, I was shooting for fairly even splits.
I felt really good the first 7 miles and kept it around 8:06s.
There was a hill right after mile 8 and I took a Gu at that mile, which slowed me down more. Mile 9 was slower and then it stayed slower because I suddenly felt like my heart was beating way to fast (racing, if you will).
The hypochondriac in me immediately thought I might start hyperventilating or that I was having a heart attack. Fantastic.
Well, it would be an appropriate way for me to go, right?
Finally, I realized it might be my body getting a little too excited about the BCAAs and I wasn't going to meet Jesus today.
Either way, I felt out of breath and tired and my time started slipping. I pulled out my new "Never give up" mantra and kept going. I should have just pushed more because I'm disappointed in my splits now.
I'm not going to stress about it and just be honest with myself -  I really need to actually train for half marathons if I want to PR. What a concept.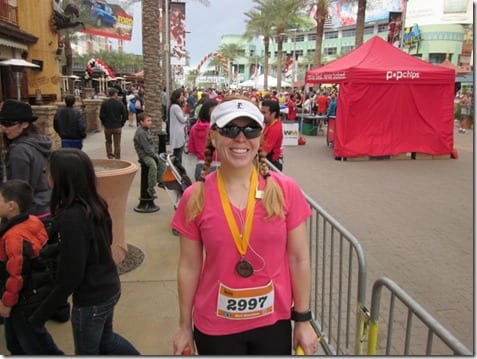 13.39 miles – 1:49:11
Average pace – 8:09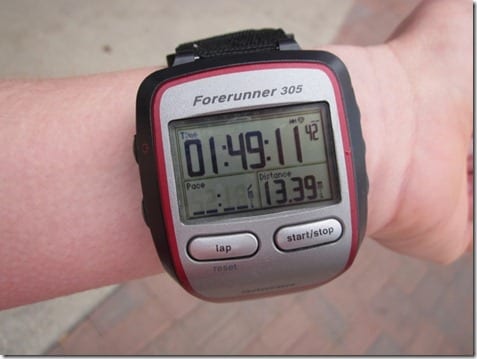 My splits:
Mile 1: 8:01

Mile 2: 8:06

Mile 3: 8:03

Mile 4: 8:07

Mile 5: 8:02

Mile 6: 8:07

Mile 7: 8:10

Mile 8: 8:08

Mile 9: 8:20

Mile 10: 8:13

Mile 11: 8:17

Mile 12: 8:20

Mile 13: 8:14

Mile .39: 7:53
The race ended at a mall, which would have been great if Skinny Runner was done at the same time. I missed her because she was busy running an AMAZING full marathon and I had to get back to our hotel to check out.
Good job SR!
Yeah! It's over!
Ben got me at the Finale Finish Line and we headed back to our hotel to shower and check out.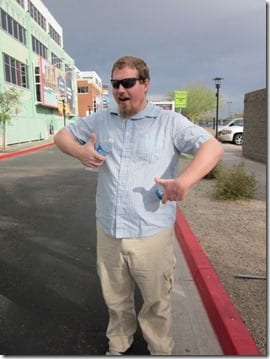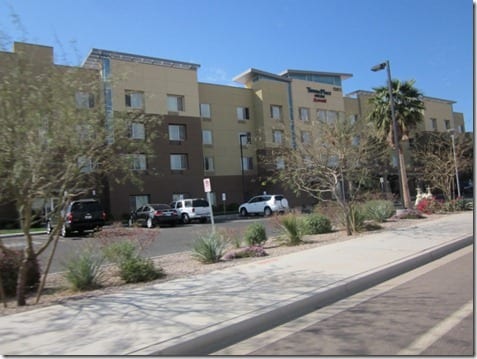 Ben wanted to hit up another Triple D place, but I didn't want to worry about a wait so we ended up at The Black Bear Diner.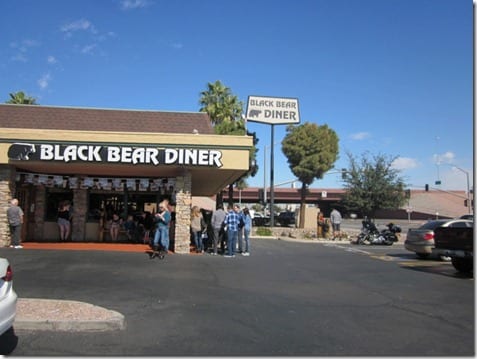 It was packed and the wait was 45 minutes so we opted to sit at the counter for immediate food consumption.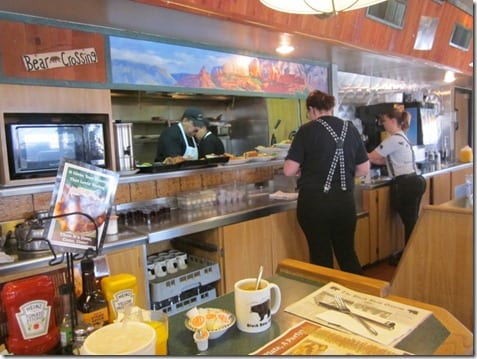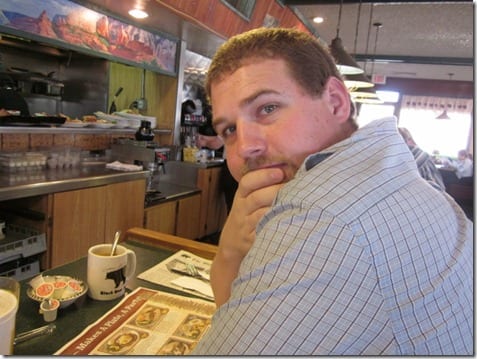 I didn't realize but they have a lot of locations around the west. The menu is on a newspaper.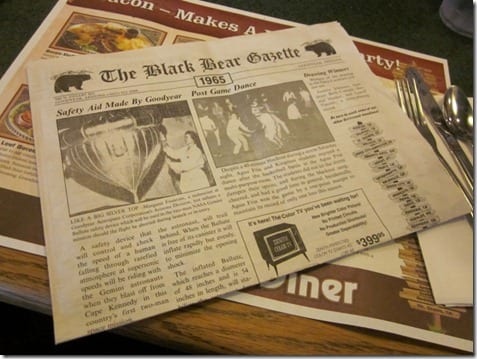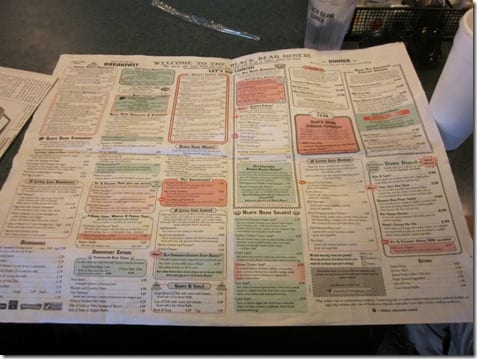 For all you bacon fans out there – they have a couple of plates that are a bacon party.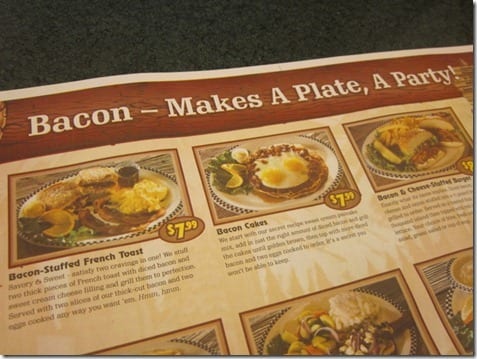 I wanted a pancake, but knew a stack of carb cakes would just make me hungry again in 10 minutes.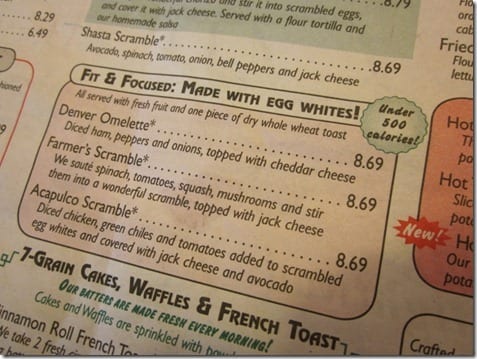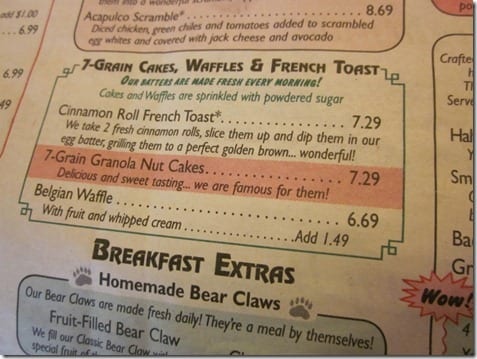 So, I got the Farmer's Scramble and granola pancake instead of toast.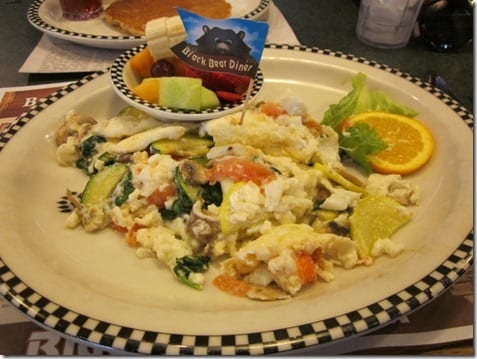 Yes, the pancake was amazing and had crunchy nuts in it. So good.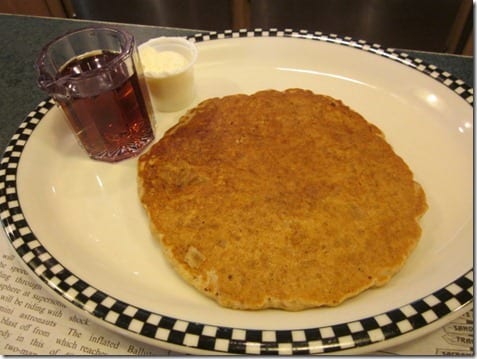 Ben got the tri-tip omelet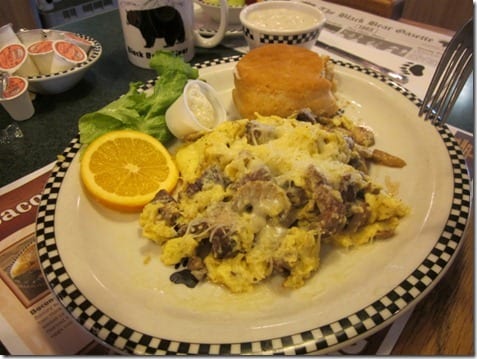 Post race plate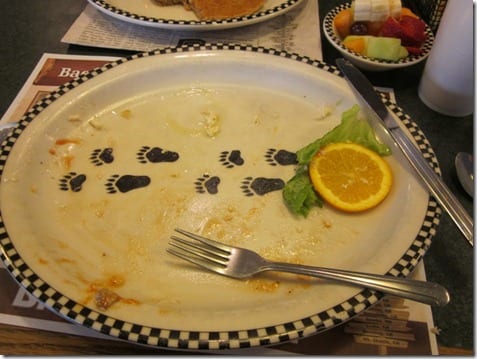 Now I'm blogging from the car on the way back home. See ya later!