Ben and I have so many different kinds of chocolate right now we decided to do a tasting after dinner…
We recently bought a MASSIVE bag of different types of dark and milk chocolates from Costco, and my mom sent us chocolate for Easter so I wanted an excuse to eat them all at once. I mean, I wanted to compare them…right.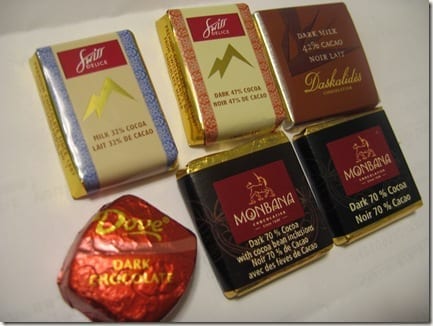 Ben let me blindfold him for the test…Sweet Dreams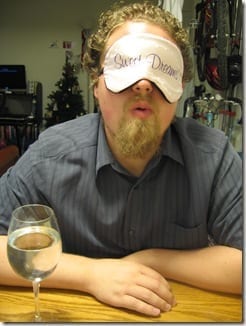 *Notice how we still have our Christmas tree up in the background because we thought it would be funny. Now it's less funny and more tragic. #fail
I was trying to get him to figure out what is the percentage of cocoa in the Dove promises. Since all the other chocolates are labeled we took bites and then compared.
We figure it's about 50 to 60%. Ben found this site that backs up his conclusion and shares a lot of info on the health of dark chocolate. Now he thinks he's some chocolate connoisseur. (Added info: Ben spelled "connoisseur" for me out loud without hesitation. Does anyone else think this is impressive?)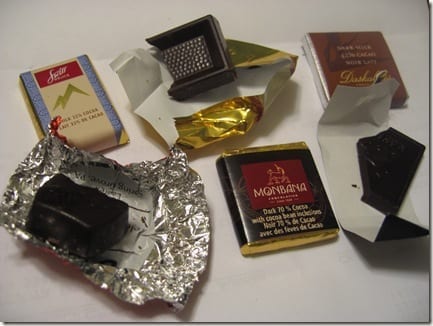 My afternoon snack was a mango half eaten at the counter where I cut it because it was the best mango of my life. Then, I ate the rest of the mango with pineapple, cottage cheese/yogurt blend and topped with Kashi Crisp (the best granola sub ever).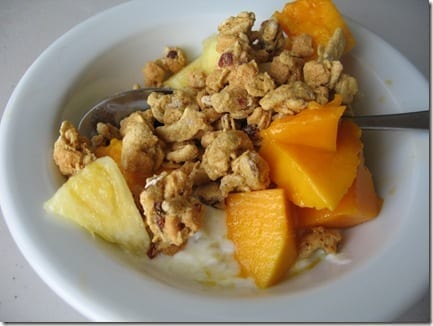 The highlight of dinner was roasted brussels and mushrooms. I had never roasted 'shrooms before and they are good! I think I only want to eat my veggies roasted or grilled from now on! Love it.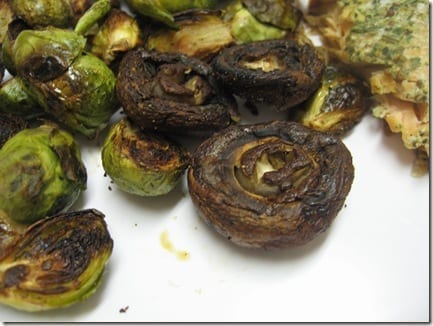 I've been reading old blog posts and thinking about life and my journey to becoming healthier. There are some mistakes that I've been making repeatedly for the last two years. I think taking an honest look at that has been enlightening today.
Getting better from binge eating or food issues takes a combination of therapy, support, being honest and accountable and taking action. I think I did one or two of these in the past, but never fully committed to it. It's a waste of time to drive yourself crazy if you're not going to truly make a true effort to fix what's broken.