Here is my OC Marathon Recap!
The OC Marathon starts at 5:30am so I had a super early wake up call and met up with Skinny Runner and Kristina to taxi to the start.
It was still dark and we did the whole porta potty stop and got in line.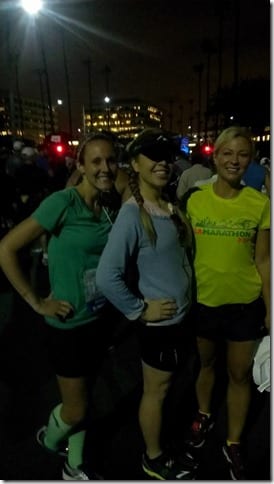 I keep saying I don't have any friends, so I've been making efforts to make more… Tip – this is not an effective way.
When you go to a race with people you should share your race day plans and discuss whether or not you want to run alone or together. The girls both PRed last weekend in Eugene so they were running conservative. But their conservative pace is still more than 30 seconds faster than my best pace so I was going to run alone. Deal. Done.
I went out a bit too fast per usual but then got into a rhythm. I tried to stick to my marathon race plan but didn't need to walk through the aid stations after all.  I broke down the race in my head a little bit more for pacing <- more on this soon since I'm getting a ton of questions!
Anyway. I was sticking to the plan and saw the girls at a turn around. Well, a couple of miles later around mile 20 they turned back to come run with me. Thanks. <- sarcastic at the time.
SR asked me what pace I wanted to keep. I said 8:20s. And then it was on.
They actually made me stick to that! The girls and I kept the pace and SR yelled at me when I seemed to slow down. I yelled back with words that would make a sailor blush, but kept running.
During those last 6 miles I broke up with running, broke up with SR and considered an exit strategy to ditch the girls, call a cab and drink my sorrows away.
In the end I stuck with it and ran a
New marathon PR =
3:36:23 Pace: 8:16
I am so happy!!! I can't believe it! AH!
But it was NOT easy. It was hard and unpleasant and immediately after the race I was an unhappy lil bear.
Now I am SO HAPPY and proud of myself.
Then, I ate a box of candy. And all was right with the world.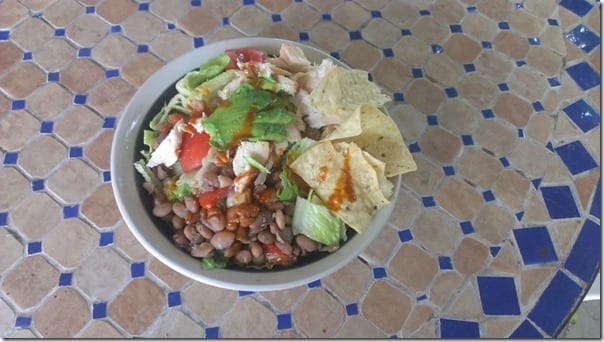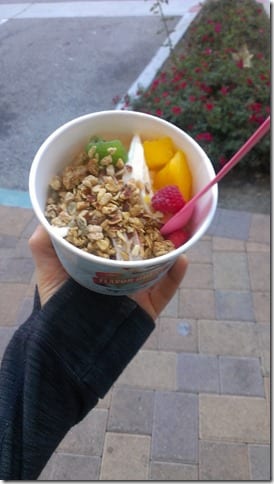 Thank you for all the well wishes and support. I am very lucky to have so many friends and readers and strangers that care about me and my little running endeavors. I really do appreciate it!
If you have questions on my racing strategy or pace or whatever please leave them in the comments or email them to me. I was NOT following a specific training plan so I don't have tips on that, but a post on my marathon race approach is coming soon.
Question: What was the best thing you ate this weekend?