I am running the OC Marathon tomorrow so today was all about Rest and Eating. #RestEatRepeat is the new #RunEatRepeat
I started my day with an easy walk and pancakes. New pancake product giveaway coming soon!
Then, I headed to my CPR/AED and First Aid Class. I passed the RRCA test last week and this is the final step to be an official RRCA certified coach!
I got a little fresh with this guy…
Hollywood blood aka ketchup.
Done and done. Now I just need to submit my forms and I can feel all fancy like
*More info on 'what now' coming soon.
OC Marathon as a Training Run

I am running the OC Marathon tomorrow. It is my last long run for the Born to Run 50k. Since this is a training run NOT goal race I am going to try and maintain even splits and conserve energy in the first half.
Running a marathon as a training run is ridiculous. Yes. I totally agree. But running a 30 mile race is also ridiculous, which I am.
Running a race during training can be a good idea if you're not an a-hole about it. Read: Stick to a pace plan and don't be dumb.
My plan:
Don't go out fast – keep the pace slower in the first half.

Hydrate and fuel at 5, 10, 15, 20

Walk through aid stations since it's going to be hot (water/sports drinks)

Finish strong

Pay attention to when my body starts to break down and why.
BTR 50K is only 2 weeks away so I cannot kill myself out there on Sunday.
Yesterday Skinny Runner and I hit up the OC Marathon expo and had a little fun playing in the sand.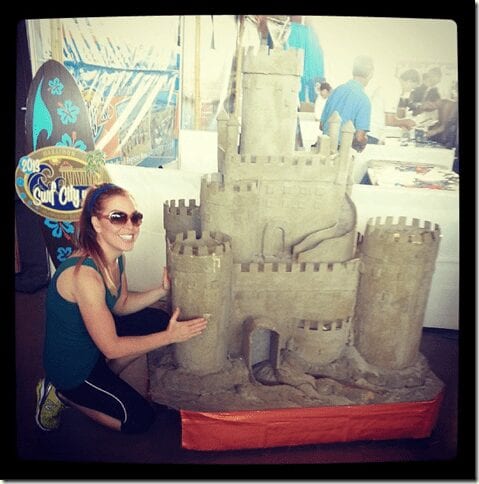 We also scored free Biscoff and I ate all of it already. Okay, not all of it but a lot.
There was a line to get in, but we got through it pretty quickly and picked up our stuff. But I just realized my old laptop's auto fill had my information remembered wrong and my name is spelled wrong! #FAIL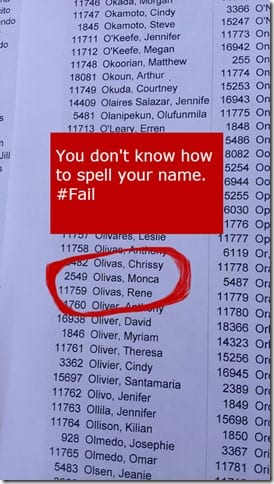 Since I realized this I double checked this lapper's auto-fill,  but it's wrong on a ton of forms and things I've already done! This is so tragic. I mean, I know I didn't go to Princeton but I should know how to spell my own name!!
It's Monican Olivas.
We didn't spend too much time at the expo just enough to say "Hi" to ProCompression and grab all the Biscoff I could fit in my purse.
Now I had to figure out what I'm wearing and eating tomorrow! See ya later!
Question: What are you doing this weekend? Have a Watermelon Margarita yet??