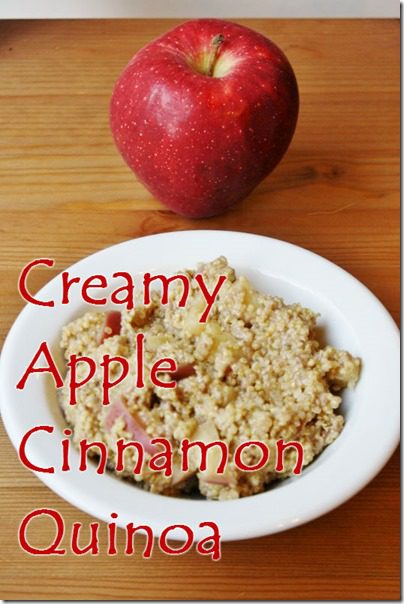 This morning I was craving pumpkin oatmeal, but I remembered I was all out of pumpkin pie spice (because I dropped it in the garbage disposable last week all classy like). So, bright and early I took a walk to the store to grab some. I'm taking a day off from running after the marathon so I figured this was a perfect little morning stroll.
Except when I got home I realized that I only had crumbs of oats left?! #Fail
And that's why you make a list.
I looked around my kitchen for inspiration on another option for breakfast…
And decided to use up a few ingredients that I have in surplus – apples, almond milk and quinoa.
Apple Cinnamon Quinoa Recipe
1/2 cup diced apples

1/2 cup quinoa

1 cup Silk almond milk (or apple juice)

1 Tb. chia seeds (I used white ones so they blended)

cinnamon, salt, sugar or stevia to taste
Directions: Combine all ingredients in a sauce pan. Bring to a boil, stir. Lower heat and simmer about 10 minutes or until all liquid is absorbed.
Fluff with fork when done. Top with raisins and/or nuts. Enjoy!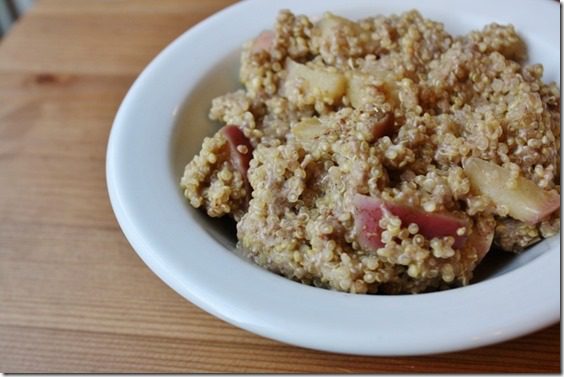 Speaking of apples…
I do! I love apples!!
I am trying to drink the Apple Cider Vinegar cocktail most mornings. A few have asked "why the heck?".
Well, because that's what hippies do and I'm trying to be all hippie-like at this point in my life.
Plus I've heard it's great for detox, helps with blood sugar levels, helps with pH levels in your body (not everyone has an issue with that but I kinda eat a lot of basic foods ie coffee, wine). Most importantly = I'm trying it out for a bit to see if I feel better. If I don't feel a difference I'll stop. The end.
For now my version is:
1 Tb. ACV

1 Tb. lemon juice

stevia

cinnamon

1 cup water
Time to set your MONDAY MINI-GOALS!!!!
Mine are:
1. Do yoga Monday – Thursday this week.
2. Get 7 hours of sleep every night.
3. Eat clean.
What are yours?
Disclaimer: I am not a doctor or acidologist. Don't just try ACV because some girl you met on the internet told you to buy stock in it. Ask a medical professional before changing your diet or exercise.