Marathon #5 for the year is done (Long Beach)! And I'm very glad. Considering I've done so many of these this year they still kick my butt every time!
Let's start from the wee-hours of the morning. 4am wake up call. Out the door by 4:38 am.
We made it super quick style and I had time to take a pic.
Then, I made it to the starting line. The race was delayed about 15 minutes and they didn't explain why. It was kind of random, but better be safe than sorry so I'm not going to complain.
Okay the race…
I have heard and really believe that 55 degrees is the ideal temperature for a marathon. Yes yes yes. If you're not a little chilly at the start, you're probably going to be too hot. So, as soon as I realized it was going to be a hot race I knew I should just take it easy.
I wanted to bring the last 6 miles in at GP, but just didn't have it today. Boo. But, I haven't been training for it either so I can't really complain.
I didn't hit my "A" goal = last 6 at GP at all.
I did hit my "B" goal of a sub-4 hour marathon.
I also hit my "C" goat = just finish so you can eat a lot of food after.
Winner winner Sizzler Dinner.
Long Beach Marathon finish 3:46:59 (Last year 3:55:03 so even though this isn't good for me, it's great considering how far I've come in one year.)
I made a mini-video of my Long Beach Marathon day
Then, I ate a lot of food. I didn't take pictures of most of it because I'm trying to enjoy my life.
Also stopped by Tierra Mia for a "beans and rice" frappe – horchata and coffee beans!
And I gave the dogs a BIG treat too!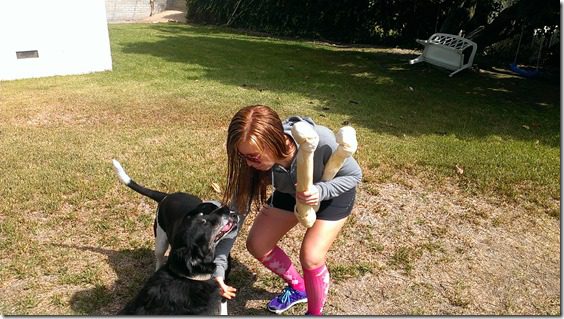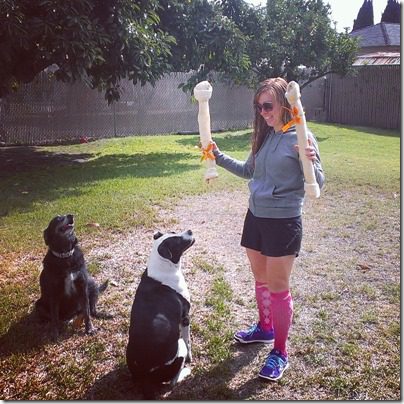 Thoughts on the Long Beach Marathon…
Disclaimer: I love Long Beach in a first love kinda way so my view of the race is always rose colored <3
I love the first half of the course – especially running along the bike path. The second half is rough. I consider Long Beach very flat, but the second half the course near Cal State Long Beach is hilly around mile 17-22. This part sucks and kills me EVERY YEAR. And some how every year I forget and show up thinking it's amazing and then I remember there is a reason I am no longer in puppy love with the LBC.
Overall: I love Long Beach. Always and forever. But the course has some hills when you're already tired/close to hitting the wall. You have to plan for that. If was trying to rock it I would definitely suggest training with the Sole Runners half or full marathon training group because they run parts of the course every weekend. (They just finished this session, but will be training for LA soon.)
#Proof = Sole Runner Mireya PRed today!
Question: How was your weekend?