Yesterday wasn't my best race. But it wasn't my worst either. I have said I'm a bad "racer" or racist as the term may be, so I made one of my 2010 goals to run 5 races (of any distance). My IT Band injury put a damper on that, but I did end up running 5 races over the last 5 months.
Running races more often has helped me deal with my race day nerves, bathroom rituals, carb-loading, pre-fueling and more.
It has also taught me how to better deal with Bad Races. I'm not a natural runner so bad runs happen to me pretty often.  I  have said, "All the stars need to align for me to have a good run." True, very true.
They can't all be winners or I should say, they can't all be PRs (as my name isn't Kara Goucher and I'm not winning anything unless I put on a Betty White costume and try for the Senior Olympics).
Winner and girl crush:
Me:
(source)
So, we know we can't win PR them all, but what do you do when you are at mile 2 and realize – "This is going to suck."?
The short answer is: "Keep going." ?
The long answer is…
Yesterday I had to deal with a "bad race" in that my stomach felt off and my legs felt tired. I didn't have any fire in my belly to push myself either
Does anyone else notice how you know if it's going to be a good run within the first couple steps?
As soon as I leave my house for a long run I can feel it. I know if it's going to be a good run or a bad one. Now I need to work on coming back from a bad one if that's the case.
Yesterday I knew it was a bad race before the 1 Mile Marker. When you're doing a 5K that's not so bad. But when you have 12.1 more to go…then you're in for some trouble.
How to Deal with A Bad Race:
1. Assess why you're feeling bad.
Is it a legitimate injury? Is your body telling you it's hurt or needs attention?
If so: Slow down or stop and assess the situation. It is NOT worth risking a worse or long term injury for one race. There are thousands of races every year, you can find another one when you're better. Don't risk it if you are truly hurt.
If not: If it is a stomach issue like I had or something less serious: Assess the situation… Do you have a blister? Are you going to poop yourself?
No? Okay, just keep going but slow down. Take walk breaks as needed.
Yes? Find a porta-potty ASAP or realize this will be the race you forever refer to as, "That time I crapped myself in public." Your choice.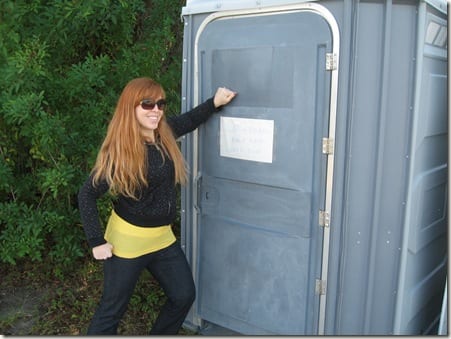 2. If it is not a serious problem figure out a plan of action for finishing the race.
You may need to accept that you'll need to walk or go to the bathroom or stop at the First Aid station for a band-aid.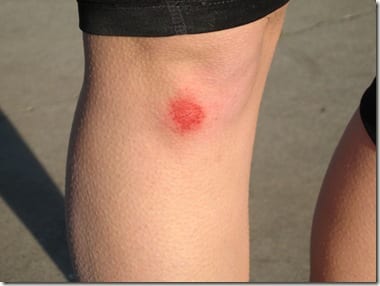 I fall a lot.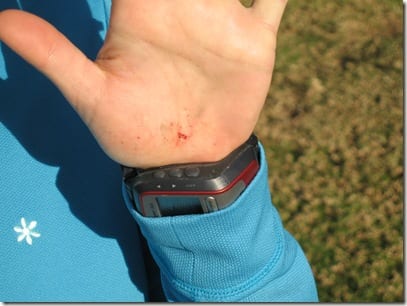 If your non-serious issue is clothing or surface wound related (like a blister forming) stop and try to fix it instead of fussing with it miserably for an hour.
I realized my stomach issues were painful, but not serious. I slowed down a bit and realized I would not PR today. I also gave myself permission to ignore my Garmin. It was tempting to see my pace drop and want to speed up, but I knew I couldn't maintain a faster rate.
Also – I opted not to take GU at mile 6 like I normally do in Half Marathons. I wasn't sure how my tummy would react. I stuck with Gatorade and water. This hurt my energy and endurance, but might have helped me avoid the ol' "So I can't control my bowel movements…" story.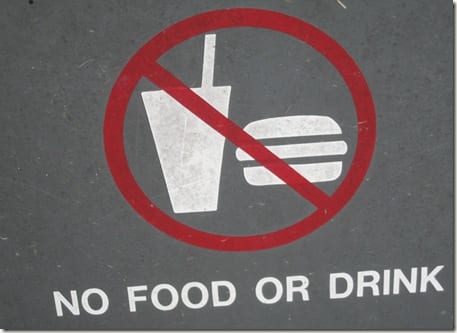 3. Remember it's supposed to be fun.
Races are supposed to be FUN! Even if you're having a bad day, make the most of it and enjoy the experience. You spent a lot of money and time training to get there, so don't a bad situation affect your mood too.
Once I realized I wasn't going to PR and the lack of GU was making my legs feel like lead (better my legs than my stomach) I took time to enjoy the spectators and their signs.
Talk to a fellow runner or walker at your pace. Take pictures Make friends. Make memories.
During yesterday's half  I really wished I had running buddies to do fun races with. I need running buddies that don't just meet up once a year!
4. STOP do you don't Drop.
If you are seriously hurt then it's okay to Stop. Professional runners often take a DNF (did not finish) so they don't "waste" their legs on a race they can't win. Apparently, it's not that big of a deal.
Walking in races is okay! I walked through a few aid stations to get water yesterday. And on hot race days – I make it a point walk through stations when I feel that I might become dehydrated.
During the Long Beach marathon I hobbled over to a lamppost at Mile 23 to stretch out my hamstring. Do what you gotta do.
Finally, the good news is – you get a special super hero cape at the end of the race, so you'll be able to fly home if necessary
Question: Do you have any tips for dealing with a bad run or race?