Podcast: Play in new window | Download
Subscribe: Apple Podcasts | Android | Google Podcasts | Stitcher | RSS
Today I'm talking with Health Coach Brittany Mullins from Eating Bird Food.com. I'm asking her all about how she got started eating healthy, what 'clean eating' means to her, tips on how to eat salads in the winter (doesn't it seem like a summer food?) and more!
Warm up…
Do you. Do you. Do you. This is my mini-rant on using common sense before following any new diet or exercise program.
Listen to your body and do what's best for you.
Triangulate your data… In the social sciences, triangle is often used to indicate that two (or more) methods are used in a study in order to check the results of one and the same subject. from Wikipedia
"If your mom says she loves you… check it out." – This is my favorite quote from one of my college journalism classes. Basically – check and double check everything someone tells you. Verify what you hear. It's obviously an exaggeration to make a point – hopefully you don't have to verify that your mom loves you!! But you should consider asking yourself if someone makes sense and/or is coming from a good source before just believing or following along.
Podcast Interview with Brittany Mullins from Eating Bird Food
Winter usually has us craving warm, comfort foods. So it's hard to swap hot chocolate for green juice when you want something delicious and filling.  I'm chatting about ways to eat more veggies – even salad in the winter and still feel full and satisfied – with  Brittany Mullins from Eating Bird Food. I ask her for tips on eating healthy right now, what 'clean eating' means and more! Then, we go off on a tangent about our favorite granola…
Brittany Mullins is a healthy living blogger, recipe developer and health coach living in Richmond, VA. She lost 20 pounds in college and learned how to exercise and cook in a way that nourishes her body. Now she shares amazing healthy recipes, tips and more on her website Eating Bird Food.com.  (Fun fact… her Holistic Health Coach certification is  from the Institute of Integrative Nutrition – the same place I got mine from.)
I'm a big fan of salads year 'round but I know that's not for everyone so I'm asking her for tips on how to eat healthy in the winter, eating clean, when she is okay with treats and more.
Oh and… before we did this interview we had been talking about a new breakfast combination she recently posted about – Oatmeal and a runny egg in the same bowl. It seems weird but I'm intrigued so I told her I'd try it soon. I'll let ya know what I think!
**Update! I tried it!! Check out my instagram for my thoughts!**
Eating Clean … What does it mean? :
Shop the perimeter of the grocery store where the produce and protein options are.
Fill up your cart with 'real food' = fruits, veggies, grains, legumes, protein.
Read the ingredient labels.
Try to choose foods with 5 ingredients or less.
Replace one meal a day with a salad.
Brittany does #SaladADay to make sure she is getting a lot of vegetables in one meal. It's an easy way to make sure you are filling up with healthy foods.
How to Make Salads more Satisfying in the Winter:
Salad soup… What? Yes … Take all the ingredients you'd put in a salad and make a soup out of it. Example: Things you'd put in a Greek Salad and adapt it for a soup.
Salad sauté… Cook up your favorite salad veggies in a sauté.
Top your salad with a warm protein like grilled chicken.
Make sure your salad has fat, carbs and protein to be filling.
How to make roasted broccoli from frozen broccoli:
1 bag frozen broccoli florets – toss with 2 tsp olive oil and salt & pepper
Bake at 400 degrees for 30 minutes, tossing once during baking.
I'm super excited to try this! I love roasted broccoli!!
Contact Brittany Mullins:
If you want to check out Brittany's recipes, contact her or follow her on social media go to > > > EatingBirdFood.com  or…
EBF Instagram // EBF Facebook // EBF Twitter
If you're interested in the Health Coaching certification from IIN click here for more information or email me with any questions.
Podcast Awards for this week:
1. The granola I mentioned… Bunches of Crunches Dark Chocolate Sea salt Granola. Ah-mazing!!
2. My new fancy Glass Tea Pot… heats water super fast! Is super pretty too.
3. Candles…  I just finished a delicious smelling Pumpkin Spice Candle and realized I have more ready to go! Light 'em up!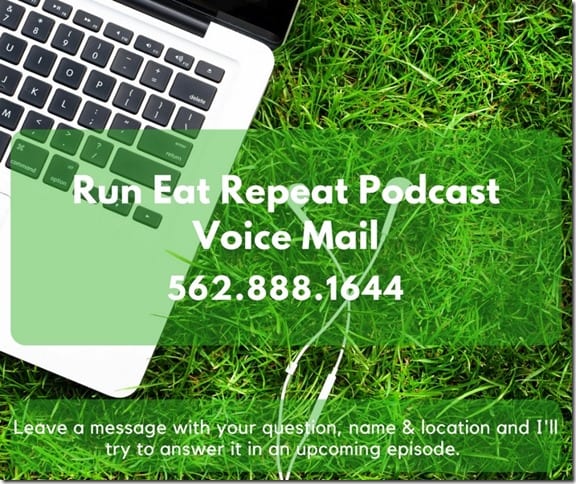 If you have any questions for me… email me at [email protected] with 'Podcast Question' in the subject line or leave a voicemail on the RER vm line at 562-888-1644
And please subscribe to the show so you never miss an episode!
Thank you! Have a great run!!
Question: Would you eat oatmeal with an egg on it? Have you??