Hi! I was recently contacted to screen 'From Fat to the Finish Line' a new motivational film coming out August 2nd. It documents a team of 12 runners doing the Ragnar Relay in the Florida Keys. But, these aren't just any runners – most of the team members have lost 100 pounds! All of them are either done with or on an amazing weight loss journey.
So there is a ton of inspiration and motivation to go around in this film – their personal stories and their running stories are really awesome.
From Fat to the Finish Line Movie
As each runner is tagged in to run their first leg of the relay you're introduced to them and hear a little about their life and weight loss successes and challenges.
(via instagram)
Most of the runners are also bloggers! I loved that because I'm always curious to learn more about people in documentaries and feel like personal blogs are the best way to get to know someone. I don't think anyone's blog was actually named except for Runs for Cookies though. I wish they would have listed each person's running or weight loss blog at the end of the movie in the credits.
The team came together from all over the US to run Ragnar Relay Florida. I'm pretty sure they all met online (just like you and me!).
The film wasn't super dramatic or 'nail biting', but realistic – this is what it's like to run a relay race. It's awesome and tiring and scary all rolled into one. I felt like it was really relate-able in following everyone on each of the legs of their race because I've been there. Sometimes you're super pumped and sometimes you want to quit and sometimes both of those in one mile!
I'm a big fan of movies that document … um, I don't know how to say this… real people? normal people? people-y people? running. The vibe at the end didn't seem as triumphant as Spirit of the Marathon but it was still super motivating – both for the weight loss aspect and the running success of each team member.
And they threw in some eye candy for fun… I mean, they interviewed Runner's World editor David Willey as he is a very  credible resource in all things running and racing.
There are a lot of great things about running a relay but one of the best is seeing everyone's team name. They are funny and creative and sometimes crazy.
I completely appreciated that one of the runners said the night run was scary. I know! That's something no one talks about when training for a relay race!!
I'm having flashbacks!! Ahhhh! I can't handle it.
Overall: I liked it! But I like running and I like documentaries, so I'm the target audience. I'm not sure if my non-running peeps would like it. But I think you might since you read RER and might like stuff I like too.
And this movie totally made me want to run another relay! I'm all pumped and stuff (at least right now). I know I shouldn't since I get too scared but I want to kinda sorta.
Speaking of relays…
My first relay was Reach the Beach. We actually had a camera crew following us around too.
And I completely lost my shlt during the night run and vowed to never run a relay again.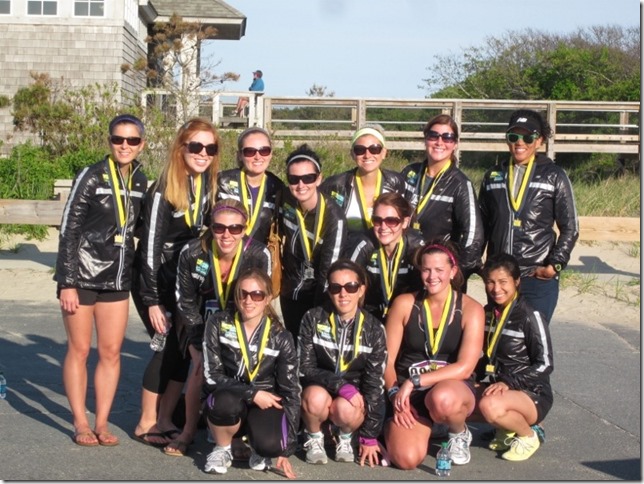 Then…
I did the Ragnar Relay in SoCal as a last minute add-on a few years ago when one of their runners got injured right before.
And…
Hood to Coast was amazing! It was beautiful and fun and epic with Bart Yasso and tons of Runner's World staffers on the team!!
The moral of the story is I am all warm and fuzzy about doing a relay race now. But, don't actually invite me to be on your relay team because I am scared of the dark. And bees. And a whole list of other stuff. The end.
If you want to see From Fat to Finish it is available now (updated).
Question:  What is your favorite running movie? What is your favorite documentary??