1. Since breakfast is the most important and most delicious meal of the day…  50 of the Best Breakfasts Around the World
2. Orange County based Lime Truck won the Great Food Truck Race on the Food Network. Go OC Go!
3. Restaurant in New York serves vegetarians and meat eaters their preference – but it looks exactly the same! (From NPR)
4. Worried someone will get into your Ben and Jerry's?! Get one of these locks! (Can't find image source, please advise.)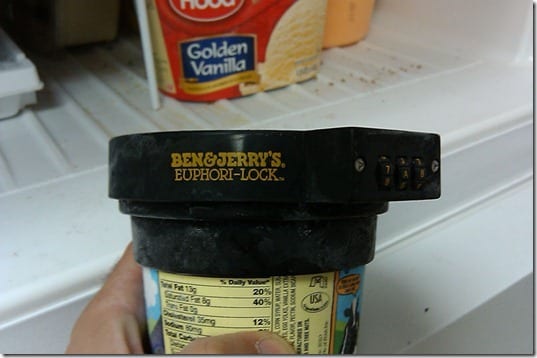 5. My afternoon snack wasn't my favorite. Thanks for the suggestions, but I'm going to keep shopping around… I want something I don't have to cook, is satisfying and will keep me full until 7pm.
On the up side, I've been getting onion rings so much lately (twice in one week!) I have a few extra containers of "real ranch" dressing. I would dip anything and everything in that stuff
See ya later