Fun Run Challenge! This month's Running Calendar is all about how to make Running FUN again. 
Everyday there is a simple photo prompt, tip or mini-challenge to do on the run. 
Do it, take a pic and share your photo on Instagram with the hashtag #RunEatRepeat to connect with other runners!
This will be the motivation YOU need to get out of your run funk!
Get Fit and Have Fun! 
October Running Calendar – Fun Run Challenge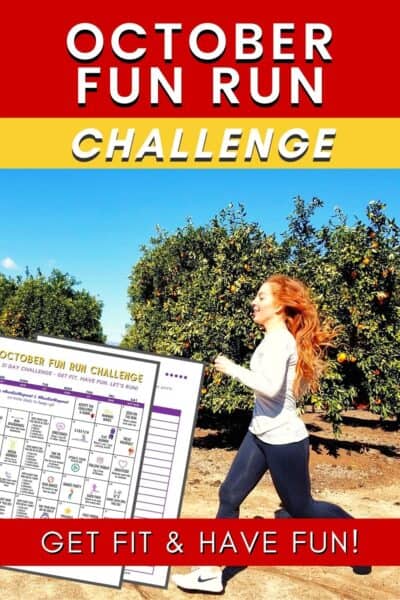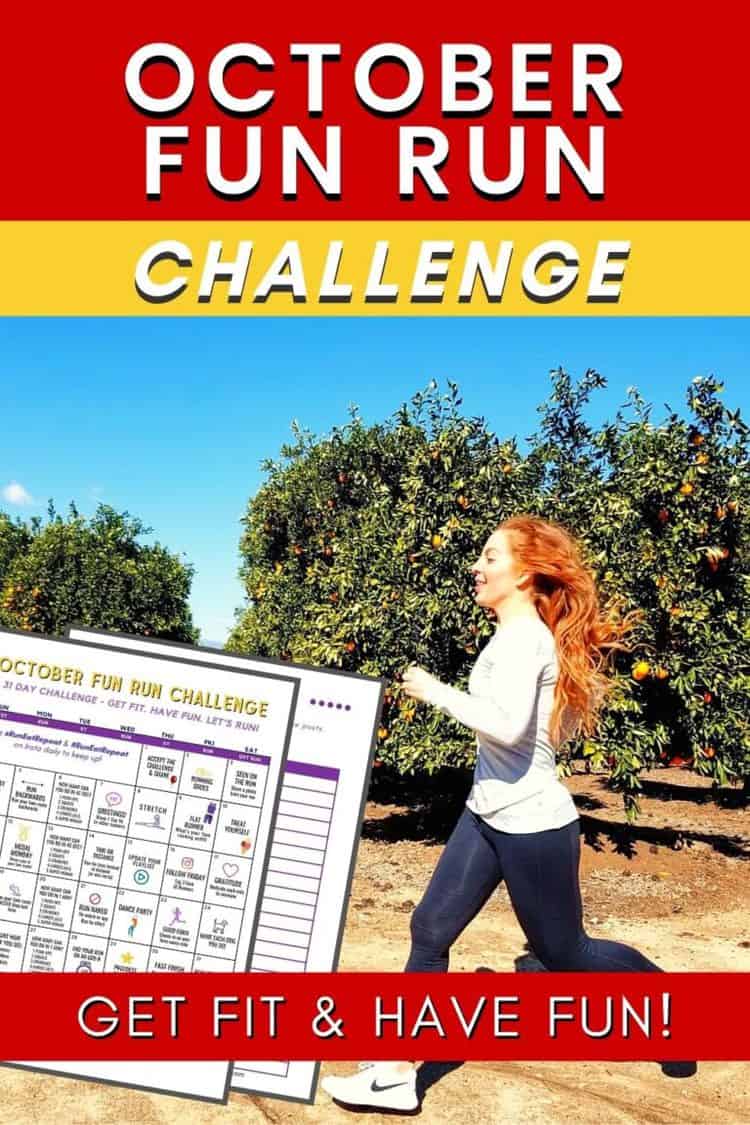 How To Join the Fun Run Challenge:
Print out the October Fun Run Calendar [ Click here to get the printable ]
Follow @RunEatRepeat on Instagram and chime in each day with your run, workout, rest day, etc. 

Each day = Complete the prompt and post it on Instagram using – @RunEatRepeat and #RunEatRepeat. 
You don't have to run everyday. You can use your own workout plan and incorporate this with it. 
The plan is written for 3 Runs a Week // 2 Cross Training Workouts // 1 Rest Day + an optional Run if you want to do more. 
Suggested Weekly Running Plan:
Monday – Run
Tuesday – Cross-Training
Wednesday – Run
Thursday – Cross-Training
Friday – Run
Saturday – Run (opt)
Sunday – Rest
Monday / Wednesday / Friday: Run 30 to 60 minutes depending on your schedule and current fitness level. The theme this month is FUN RUNNING – so try to enjoy it.
Tuesday / Thursday : Cross Training – Do your favorite strength, yoga, cardio KB, etc. OR try the suggested Body Weight Strength Challenge on Tuesdays.
Tuesday's Workout on the Calendar is a challenge to see how many reps you can do of each exercise – with good form. It's similar to a 'AMRAP' (As Many Reps As Possible) workout where you go by time and don't have to count how many you're doing.
Then, note how many you can do of each exercise in the time suggested and see if you can do more (again, with good form) the next week.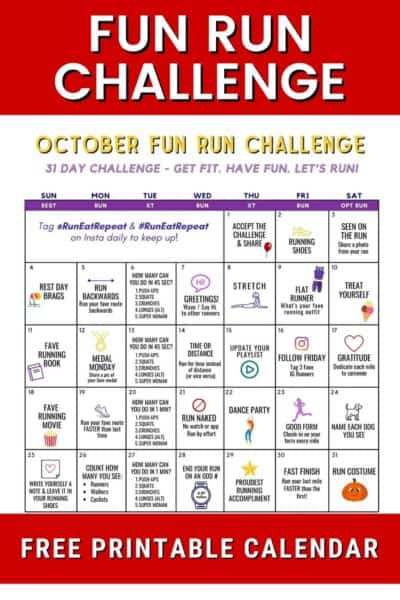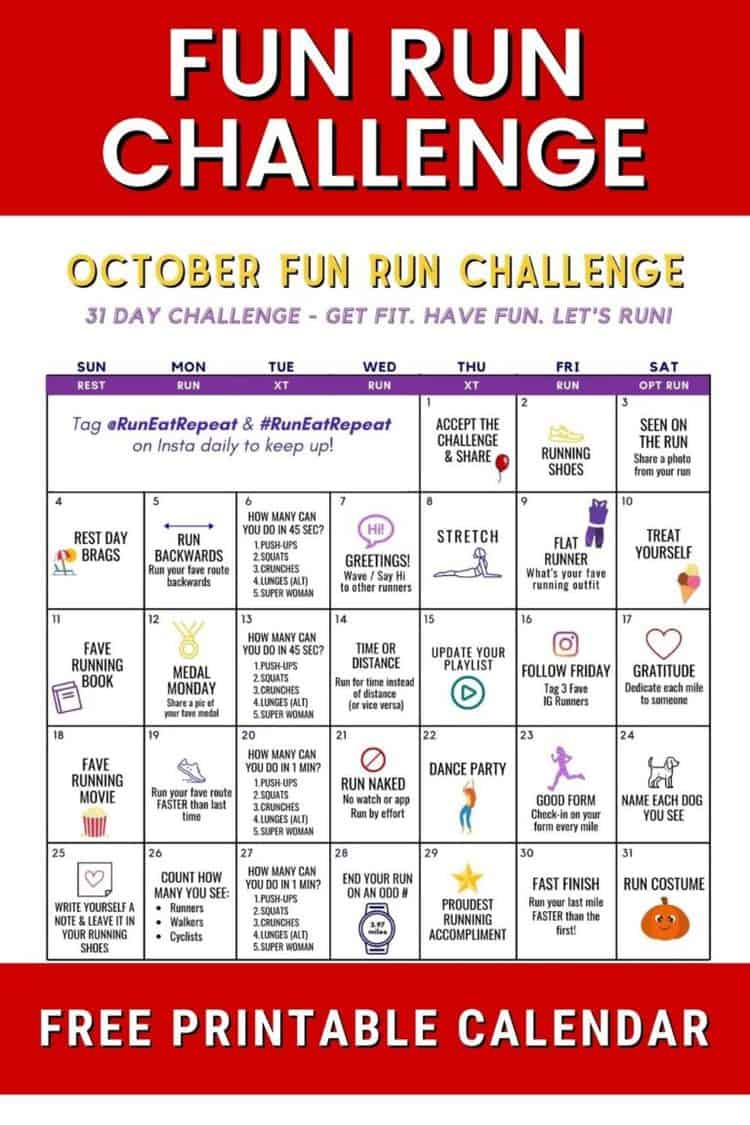 I'd love for you to join us and Take the RUN for FUN Challenge this month! 
Fun Run Challenge Calendar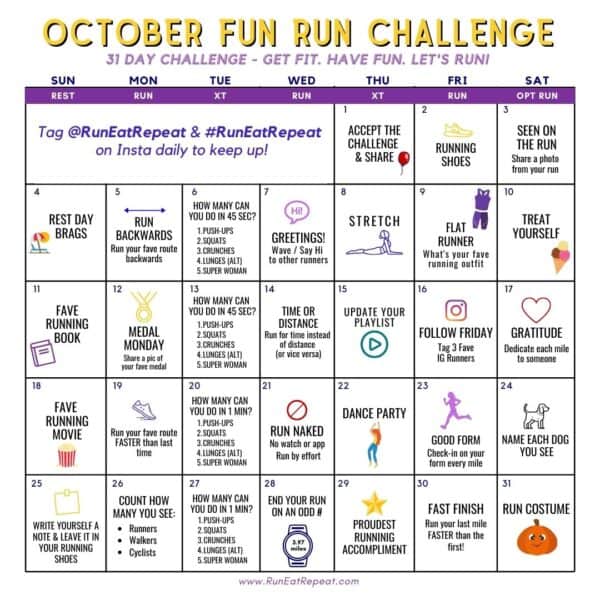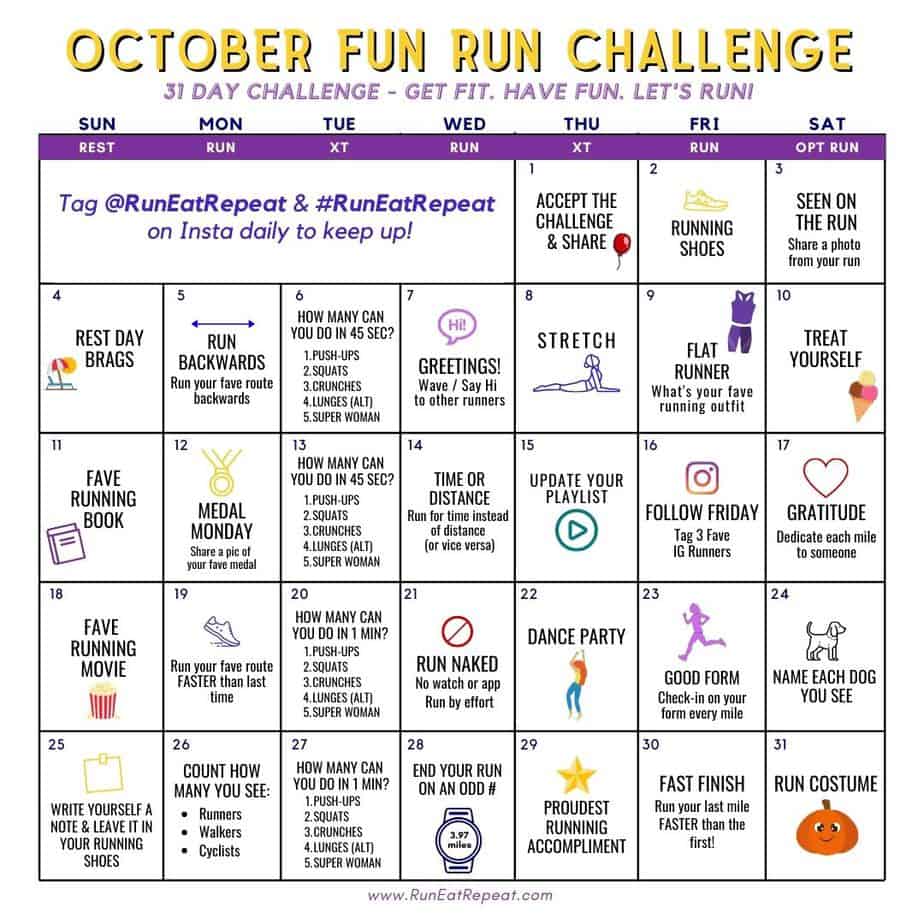 Share the Fun Run Challenge on Instagram and Facebook
Please share this with your friends, enemies, pets, etc… on social. 
You can screenshot the calendar here or on Instagram and invite your friends to join!
This will be the motivation YOU need to get out of your run funk!
Get Fit and Have Fun! 
PLUS – the Annual Pile on the Miles Challenge is coming up next month. 
That's our big challenge to focus on RUNNING more miles and staying fit as we get into the holidays. It's a hard time to stay on track! Follow along with this month's running calendar to build that momentum and get fit this month!
Please share this on your blog, social media or sandwich board sign that you wear on your runs (optional)!
Link to share: http://bit.ly/OctFunRun
Are you in? 
ALWAYS check with your doctor before trying any diet or exercise plan.