Happy Monday! I did an easy 2 miler 'shake out' run after boot camp to see how my legs were feeling. My legs feel fine, but my motivation needs a little push
Some business: I changed how RER looks on phones thinking it would be better, but I kinda don't like it and have had a few people comment on it as well. If you read RER on your mobile, do you prefer it this way or the old way?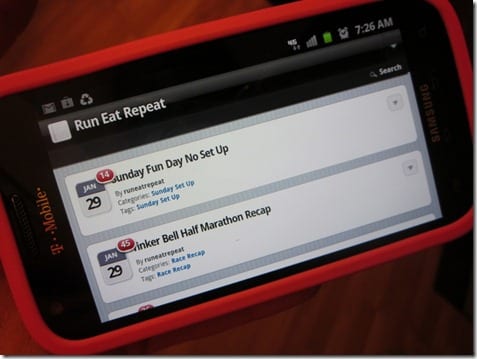 My walk/run was anticlimactic, but breakfast was delicious enough to make up for that – eggs, toast topped with PB&J, ICBINB and a fun sprinkle mix Phebe sent me with the shirt.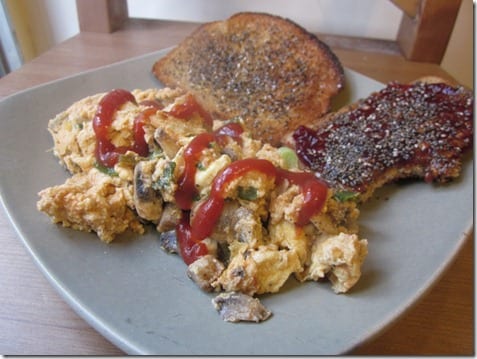 Then, I headed to work to train a client. I was hoping to get in a strength session, but the gym was oddly crowded plus co-workers kept chatting with me. After getting nothing done in 20 minutes I gave up and went home. Bah. I need to hit up our other location to get a workout.
Yesterday I picked up the latest Prevention magazine with Alley Sweeney on the cover. There was a really good article about SNACKING – aka my worst habit.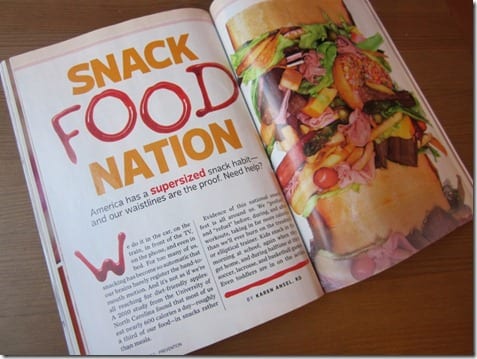 The article said Americans eat up to 600 calories a day in snacks. a few of my favorite points…
"Think back to when you were a child and asked your mother for a snack before dinner. She didn't treat it as if it were some kind of crisis. She simply said no and wanted you against spoiling your appetite."
The article went on to point out that foods are now manufactured to be "'hyper palatable' and hijack our brains the same way nicotine and alcohol do." (Prevention 1/12 Karen Ansel RD)
Even though I'm doing my Smart Snacking Challenge and trying to limit my snacks to 2 – 200 250 calorie snacks a day it's really hard when I choose snacks that trigger me to keep wanting to eat (like cereal!).
I'm going to refocus on snacks higher in protein and foods in their natural state.
When I came home from the gym I was tempted to grab a granola bar, but knew I needed something a little higher in protein. So, I dug into the massive stash of soufflés Garden Lites sent me!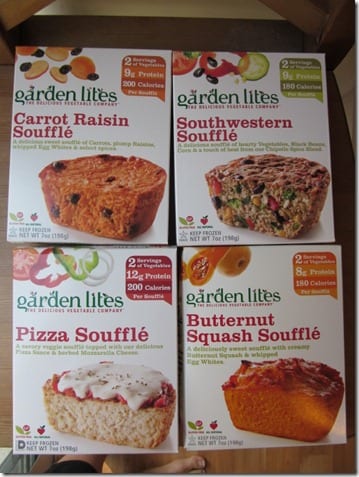 I went with the Pizza Soufflé and was pleasantly amazingly surprised. This was delicious! The nutrition stats are delicious too…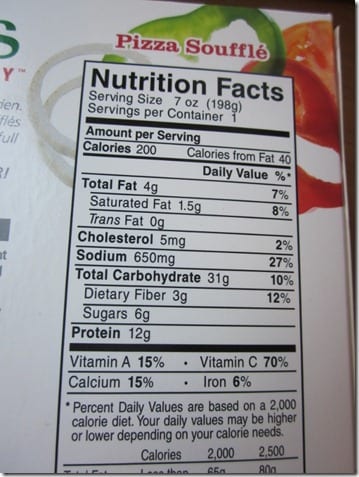 The savory soufflés have a lot of ingredients, but you can recognize all of them.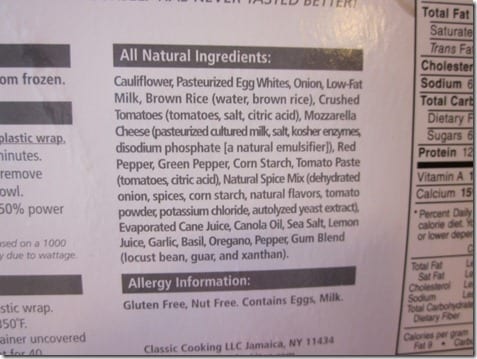 The real deal are the sweet soufflés – carrot raisin and butternut squash that only have a handful of ingredients.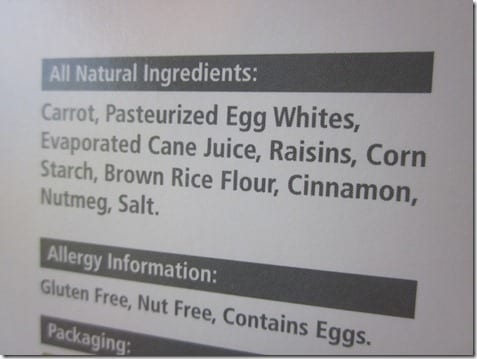 The Garden Lites team is giving away a stash of frozen meals to one RER reader!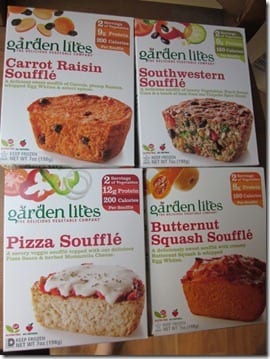 To Enter: Leave a comment with your favorite HEALTHY snack.
*Open to residents of the US only. Contest closes 1/31/12 at 12pm PST