One of my big dreams in life is to get a magic Subway card that allows you to eat for free at any Subway for the rest of your life. (I heard a rumor that superstar athletes get them, but this could be entirely made up. By me.)
Anyways, I have always been a big big fan of Subway. I even ate it in Panama because I needed a meal that didn't include fried chicken for once that week.
I'm also a huge fan of Jared Fogle. While in college he lost 245 pounds in one year on "the Subway diet". I love Jared because he grew up chubby, continued to get heavier until he decided to make a plan that worked for his life to lose the weight. As a chubby kid myself, I relate best to other former chubby kids who figured out changes that work for them.
Today I was invited to a blog event to have lunch with Jared. I've interviewed him on the phone before, but was super excited to meet him in person!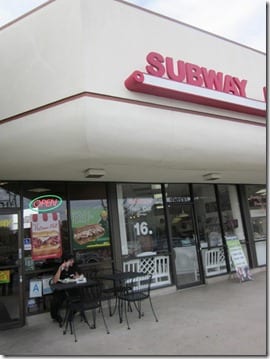 He shared his weight loss story and how his life has changed since then. Jared says he used to eat about 10,000 calories a day. Then, one day it just clicked and he realized he could use the calorie information printed on Subway napkins to create a diet for himself.
He ate a sub for lunch and dinner (as a typical college kid, he didn't wake up till lunch time!). After losing the weight a friend who worked on his college's newspaper did a story on him. This got picked up by local media and spun into a nationwide story!
Eventually Oprah had Jared on the show and the entire world decided to eat Subway that day. Subway jumped on this weight loss success story and Jared has been their spokesman ever since!
The event was north of LA so Skinny Runner and I carpooled to help save on gas emissions. Oh and utilize the carpool lane.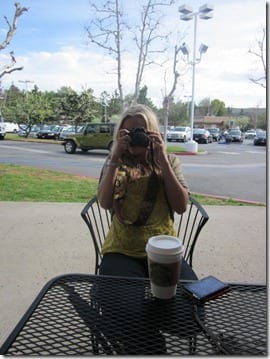 Bobby came too!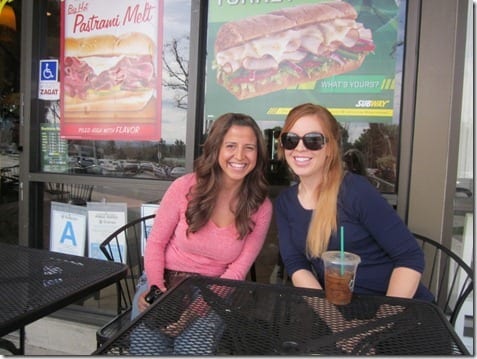 My personal favorite red headed blogger, Leah Segedie was there too! I write a weekly running blog for Leah's site Bookieboo – an online community for moms.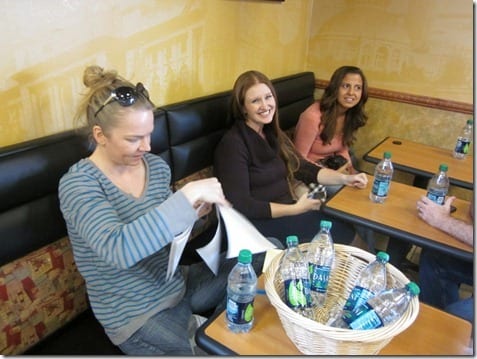 Of course we ate Subway for lunch. We all pre-ordered our sandwiches and I ordered a 6 inch tuna with 1 scoop. But there was a mix up and I got a 12 inch turkey with one scoop tuna. At first I was going to just take the turkey out, but it ended up being delicious!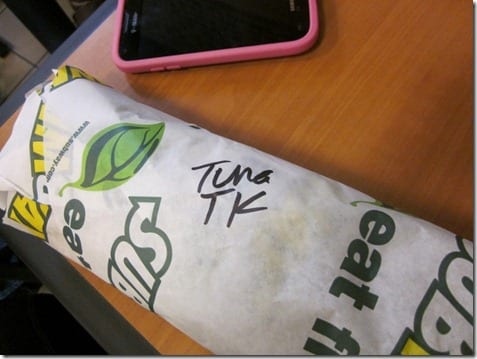 This might be my new favorite thing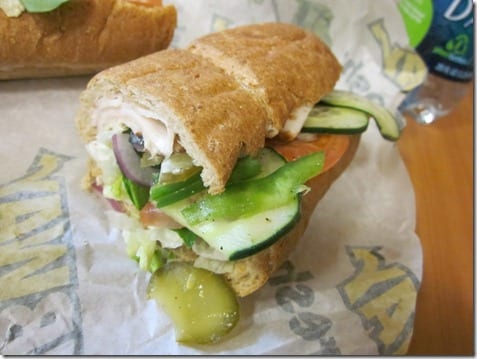 Jared was super down to earth and nice. He's been famous for 13 years, but he's the most humble and sweet celebrity I could imagine.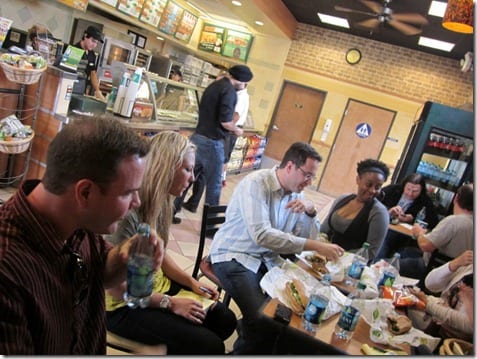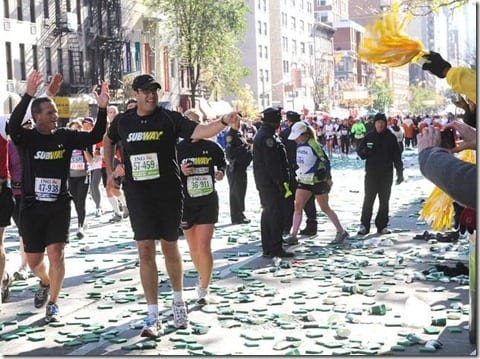 (image source)
I interviewed him before the NYC marathon and asked him about it today. He will not be running another mary, "One and done. No part of me is made to run 26 miles," he said.
I get that. I'm right there with ya, Jared.
Jared said keeping the weight off is the hard part and he still loves food. He said he'd still eat 10,000 a day if he could. I get that too
Jared brought us his old pants he used to wear before his Subway diet transformation. I have fat pants too! See, the similarities are endless!!
Jared facts:
He skips the tomatoes and onions on his subs

He has met former President Bush and President Obama

He says the first month of his diet was the hardest and he literally had to white knuckle it sometimes

He travels over 200 days a year and works with a personal trainer when home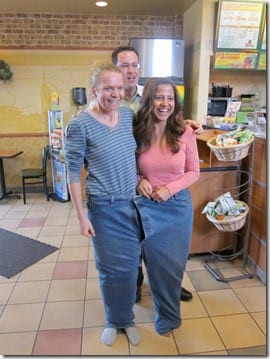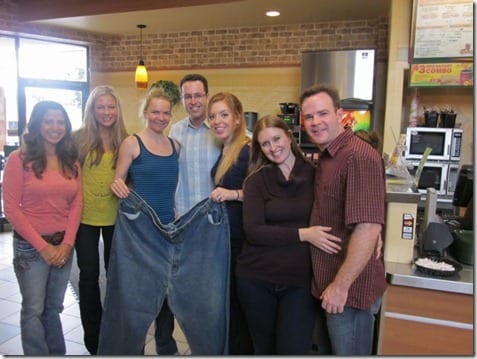 I asked Jared if I could borrow his pants the next time I'm feeling bloated, but apparently the Smithsonian wants to buy them or something. Darn.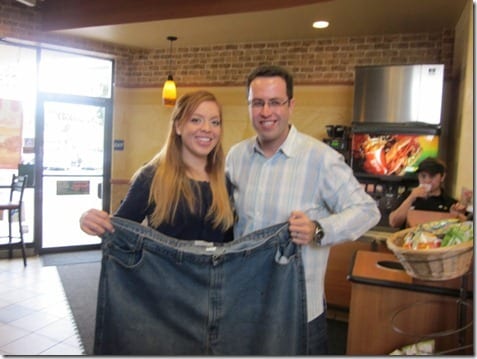 One of Jared's favorite Subway sandwiches is the Sweet Onion Chicken Teryaki – I propose Subway rename it the Sweet Onion Jaryaki.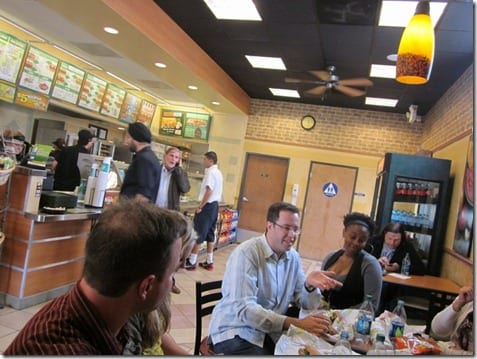 C'mon forget the tea party, join the sub party and support this cause with me! I'm ordering it that way the next time I hit up Subway…