This is a sponsored post written by me on behalf of The North Face. All opinions are 100% mine.
Hello! How's it going? This is super super weird, but it's actually raining in Orange County. What?! The sky is falling!!!
So Vegas and I are chilling at home. He likes when I stick around so he can ignore me.
Since it's rainy and I have a long run tomorrow I decided to workout from the comfort of my living room. I'm bad about cross training (see Why Runners Are Lazy post) so I need to make it as easy as possible to do something other than running.
I've heard some great things about the North Face Mountain Athletics app. Unfortunately, it's not available for Android phones yet. But all the workouts are available on the North Face YouTube channel –which I can still check out from my phone!
I liked this Leg Lactate workout because it involved lateral moves which is a good switch up for runners. I don't have a sand bag so I just jumped over my foam roller (across the skinny part so I wouldn't trip).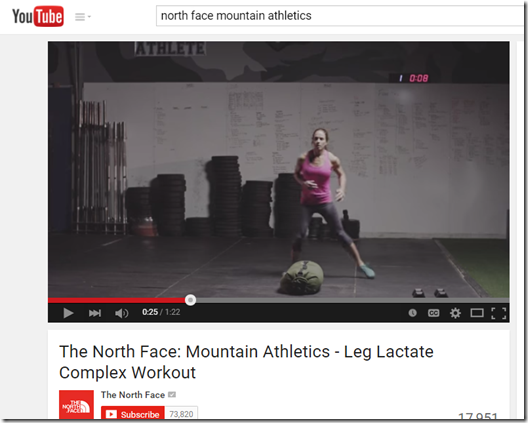 This was a good Core Circuit too.
Download the Mountain Athletics App
Check out Mountain Athletics from The North Face online to gear up for your workouts. Check out The North Face, Facebook for even more! Make sure to follow The North Face on Twitter and use #ITrainFor when you tweet.
You can still enter to win the $500 North Face gift card here:
The North Face Mountain Athletics Collection Give-Away!
Do you workout at home or on the street or at the gym or at your neighbor's house when they are at work?