I am a pancake fiend. I mean, anytime I can start my day with a dessert that masquerades as breakfast – I'm in. But it's even better if I can manage to make a decadent meal healthy. And I love that there are tons of ways to make pancakes "healthy style" (as my family says).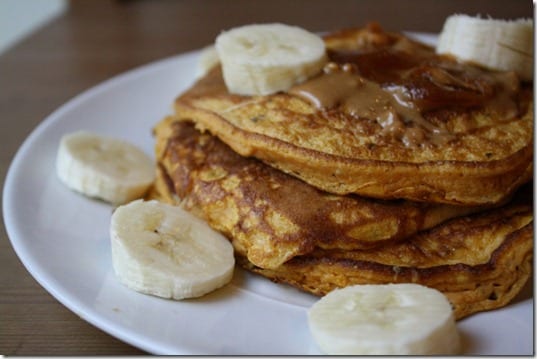 I'm not on a gluten free diet, so I didn't specifically make these Pumpkin Pancakes g-free, but it's just a happy bonus that they happen to be celiac safe
Now, I love garbanzo beans so I was very excited to use garbanzo bean flour (Whole Foods find). Cooking with a new ingredient is always fun. But if you don't have the desire to eat bean flour you can use any flour option.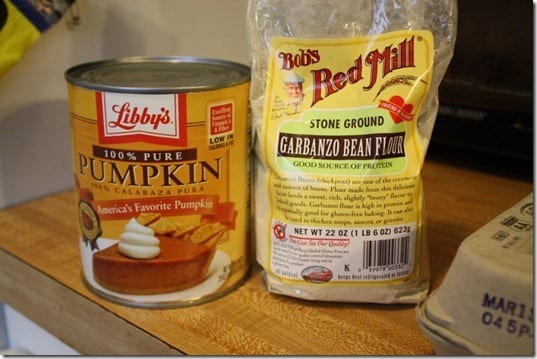 Gluten Free Pumpkin Pancakes
Ingredients:
1/2c egg whites (or 2 eggs)
1/4c pumpkin
1/4c garbanzo bean flour (or flour of your choice)
1/2 tsp. each: pumpkin pie spice, stevia, baking soda, baking powder
dash o' salt
1 tsp chia seeds (optional)
Directions: Mix all ingredients. Grease hot griddle well – since these 'cakes don't have oil in them they tend to stick. Cook. Top with syrup, peanut butter, bananas, olives, whatever. Eat.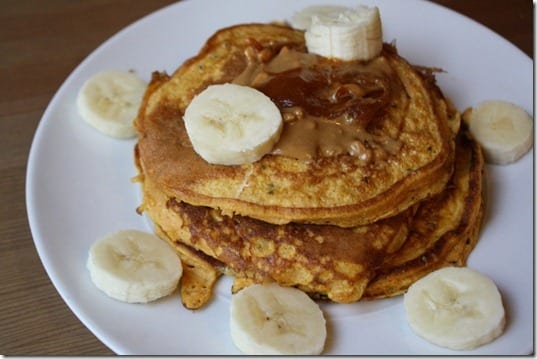 Today's toppings of choice where peanut butter, bananas and pumpkin butter. Sadly, I'm out of syrup.
I usually try to get 2 or 3 pancakes out of this batch. Cooking one massive pancake works, but is a daring feat to flip!
Do you have a killer Gluten Free Recipe?
Udi's Gluten Free Living Community is hosting a Gluten Free Recipe Contest!
The grand prize winner gets a trip to California! And um, it's going to be 77 degrees today and 82 tomorrow – so I think you might want in on that.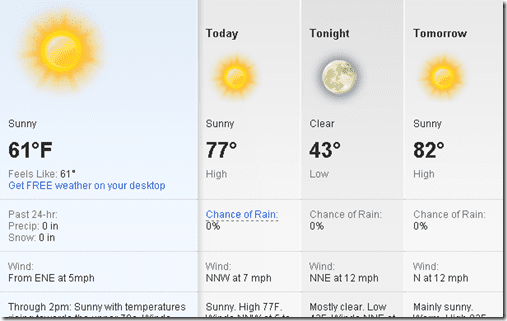 The company also has a Gluten Free Community site for support and info if you're g-free.
This is a sponsored conversation written by me on behalf of Udi's Gluten Free. The opinions and text are all mine.
Question: Do you seek out new ingredients to cook with or eat? What new ingredient/ food  have you tried lately??