Hello! Today I'm celebrating Meatless Monday by cooking up a frittata with a little help from Vegas. And I'm also sharing a giveaway from United HealthCare – fill out the Quick Care Quiz and you can enter to WIN a $100 Amazon gift card!
Vegas is not eligible to enter because he's family.
My frittata is made with stuff I randomly had and tried to get creative with – quinoa, beans and cheese. I mixed it all up with some eggs and spices. Then, baked it until set and just hoped for the best. It actually came out great!!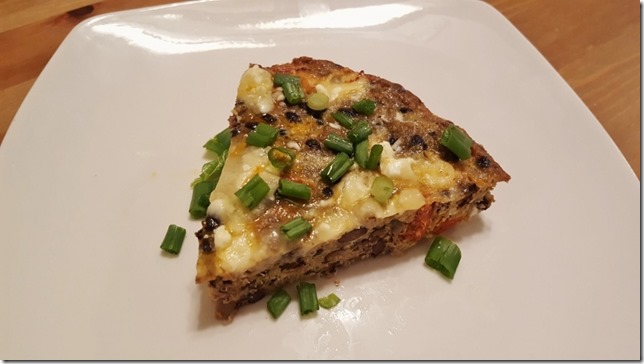 Also great right now… persimmons. They are only in season for a short time so get 'em now!
Holiday cups are in season right now too. I live super close to a Sonic, so this counts as buying locally and seasonally – right?
Quick Care Quiz and $100 Giveaway
I am working with United HealthCare to share this Quick Care Quiz. Fill it out and then come back here and type 'done' in the form and you are entered to WIN.
The Quick Care Quiz helps you find out what you know about your options for medical care.
From the ER to your primary care doc to a nurse line and more – there are several different ways to get help. And it's good to know what is your BEST option based on the medical issue you're facing. Going to the right place first can help save time and money.
Check out this run-down before taking the quiz for a little info session. It gives examples on when to go to the ER vs. Urgent care vs. call a Nurse line and more.
As runners we can deal with everything from our baby toe hurting to falling pretty bad on a run. Take care of yourself and if something does happen know where to go for help.
Check out more tips on what care you need –  here.
I took the quiz and am sharing why I am happy to work with UHC and pass on this info to you.
AND around 2:20 in the video I confess why I thought I might need to call 9-1-1…
Enter the giveaway here:
a Rafflecopter giveaway

*You can do the quiz and fill out the form to enter the giveaway on the UHC website too. But come back and comment here for this giveaway.*
You can comment on my random 9-1-1 thoughts below, but if you want to enter the giveaway take the quiz and type done above.
This is going to make it 1000% easier for me to pick giveaway winners going forward. Thank you!!
Disclaimer: This post is in partnership with UHC. All opinions are my own.