I started my race day like usual – PB&J on toast a cinnamon roll. I wish I had a Cinnabon. Actually, I bet if I had a Cinnabon I would have PR-ed. I'd like to test that theory…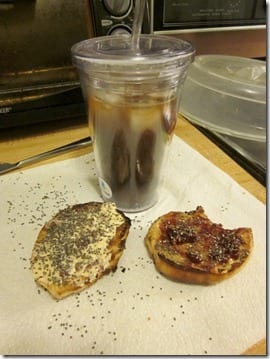 Since I'm trying to do this new thing where I'm social with other people besides my dog I invited myself to drive to the race with Margot and Sarah. Margot drove, Sarah provided the dope tunes, I told jokes that would make a sailor blush took blurry pictures.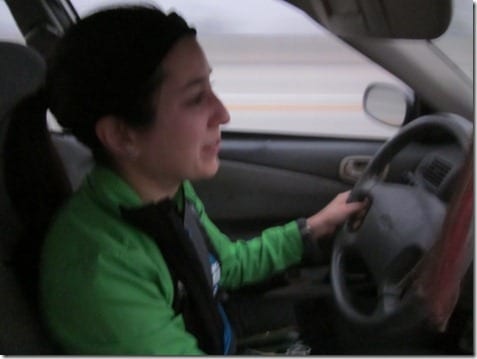 Last night I checked the course map for the Ho-Ho-Holiday Half Marathon. I found something that said it was hilly. But, Sarah insisted it was not and I wanted to believe her, so I did. Turns out – she's a liar.
Or in denial. Either way it wasn't good.
The race was held at the Fairplex in Pomona. I thought the fair was still going on and was hoping to end the day with a stick of fried butter (<- yes I've eaten one).
Sarah put on her serious running face to warm up.
While I bought the new Peanut Butter Gu!!!! Yes, it's good!
We got our bibs/loot and put our stuff back in the car. I switched out my sweatshirt for a trash bag all classy like. I need a bigger bag next time though! Damn vanity sizing…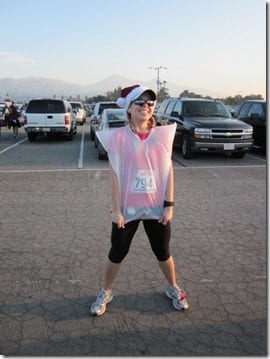 Pre-race we're all smiles because we've let ourselves believe Sarah's lie that this will be a flat race.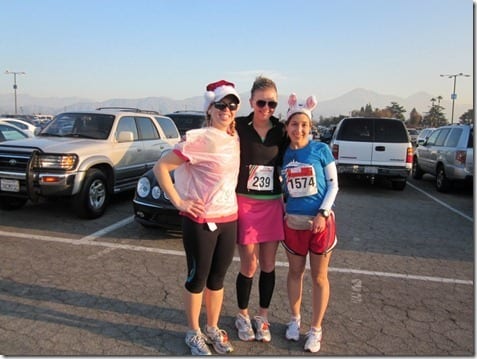 I'd call this race hilly, but I prefer down hill races (or sitting on the couch) so I'm a bad judge. But, I pulled it together and finished strong!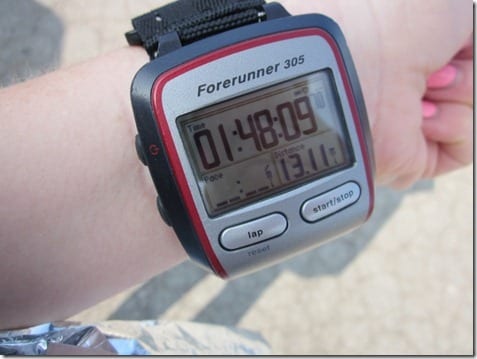 My goal was to maintain even splits, but it wasn't super easy to do on this course (plus I started out too fast again). But here they are for my own reference:
13.11 – 1:48:09 – Average pace 8:15
Mile 1: 8:14

Mile 2: 8:18

Mile 3: 8:04

Mile 4:8:08

Mile 5: 8:16

Mile 6: 8:22

Mile 7: 8:21

Mile 8: 8:22

Mile 9: 8:21

Mile 10: 8:21

Mile 11: 8:35

Mile 12: 8:16

Mile 13: 7:42 (!)
*I am proud of myself for staying more consistent than normal. My LB times went from 8:09 to 10:19 minute miles!! So, this is progress.
This isn't a PR, but I learned a few things in this race and that was my goal
I'm still not good at pacing, but the more I run the more I realize the important of pacing, fueling and not going out too fast.
Post race: We're smiling because I finally took off my Santa hat and plastic bag and look like a normal member of society. Kinda.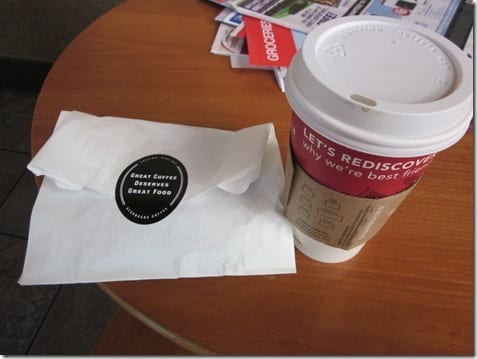 I got the Feta and Egg White wrap and it was good and salty just like I like it.
One the way home I stopped to meet up with Ben and some friends who were having lunch. And had a little snack post shower.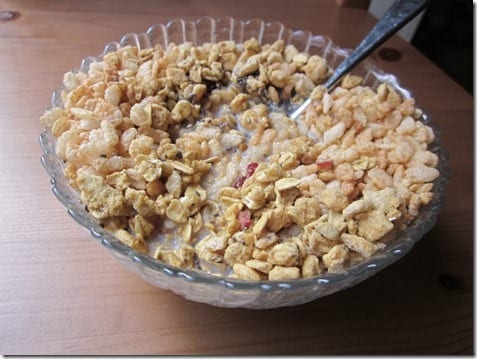 Now I have a few errands to run and boot camp to get ready for (!!!). See ya later