Hello and Happy Tuesday!
My walk-a-day in August is going well. I walked 3 miles yesterday afternoon while chatting with my mom.
I wore my spibelt to carry some money because I intended to hit up the store. Sadly, I realized that wearing your spibelt while walking makes it look like you're wearing a tiny fanny pack…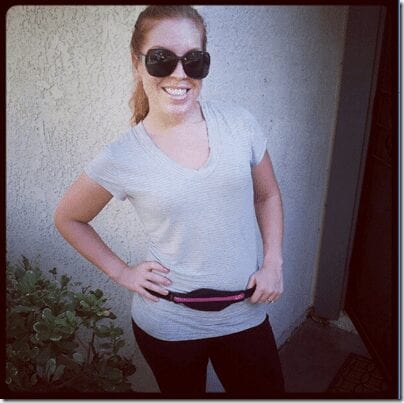 This morning I set out for 6 miles easy. However, it wasn't easy at all – my legs felt like lead even on the downhill. My marathon training plan said they were supposed to be 10 minute miles which I thought was way too slow, I kept a 9 min pace but it felt like 12.
I wore the Lululemon capris I found on the sale rack a while back. I hadn't worn them yet because I was self-conscious about the pocket placement.
They put one pocket on each hip AND ruching. Add in a girl with wide hips and it's not a very flattering sight.  Um, who designed this?!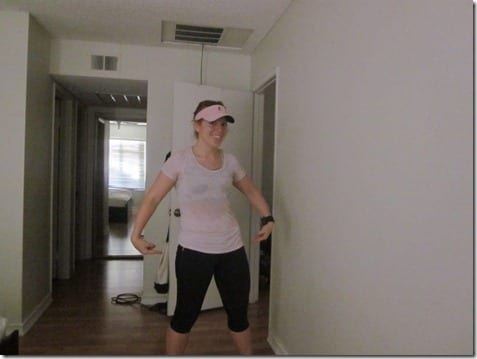 The pockets are placed exactly at the widest part of my hips and are pretty big/deep. What the heck am I supposed to put in these pockets on each side, anyways? I put my key in one pocket, but there's plenty of room for a few granola bars, sunblock, my cat…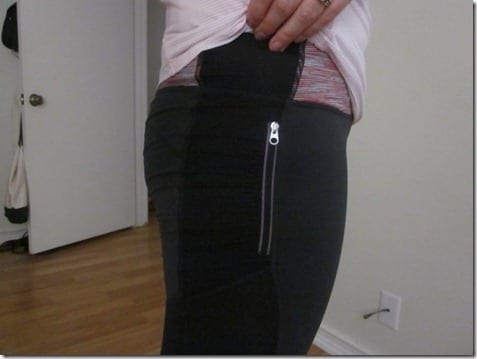 Breakfast was a repeat from yesterday – protein shake and bagel with PB&J. I'm reading Tina's blog in the background
Question: Do you think it's better for a guy to have a fanny pack or a man purse messenger bag?
Ben used to take his backpack everywhere until I pointed out it was almost always empty.