(Sung to Rudolph the Red Nosed Reindeer)
RER the red haired runner
had a very shiny pose
And if you ever saw it
You would even say it's old. (news)
All of the other runners
used to laugh and call her names
"like Monican!"
They never let poor RER
join in any blogger games.
Then one foggy race day eve
SR came to say, "Monican with your toes so bright won't you share my socks tonight."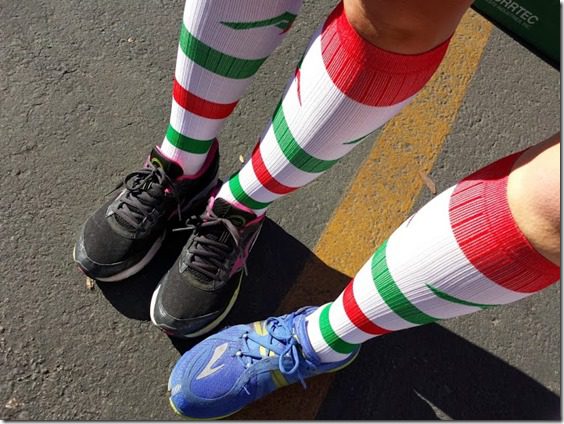 But I got my own pair and we were twins.
The end.
All right. That wasn't my best work, but "E" for effort?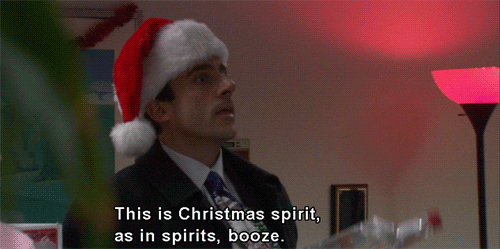 I ran the Holiday Half Marathon today! It is my last race of 2013 and that makes for a grand total of 21 race!! That shit cray.
This was a super fun race because I drove up with Margot (the Faster Bunny) and Heather (from 365 of Awesome).
Today was another GORGEOUS day in SoCal – super clear, chilly morning that warmed up to a perfect Heaven-dy Five degrees. Ahhhhh.
The Holiday Half Marathon starts and ends at the LA County Fairplex in Pomona. It is a pretty course because part of it goes through Frank G Bonelli Regional Park but it's HILLY. It should be called the Hilly Holiday Half.
Luckily, I was feeling all right and was able to get a good race in the books. I finished in 1:47:50 Not too shabby considering I ran 12 yesterday. I'll take it.
SkinnyRunner and I ran together for a good 7 miles or so of the race. She is the best person to run with because it's like having your own personal race day photographer with you. Check out with awesome action shot she got of me!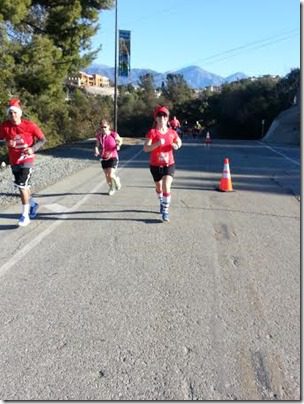 (Action shot via SkinnyRunner)
After the race we hung around a little bit waiting for our group to gather up. Heather had an awesome PR and Margot had to do a few extra miles for marathon training.
So naturally SR and I sat on the ground eating bananas and updating Instagram with the breaking news that we ran another race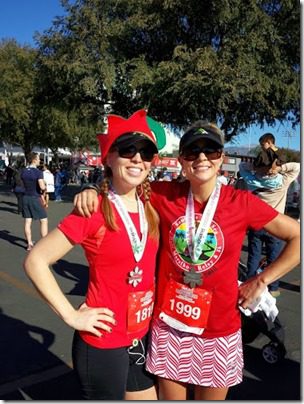 How cute is this snowflake medal?! I think I'm going to hang it on my Christmas tree.
How do you celebrate running a half marathon?
Answer: Eat a cronut. It's in the Runner's Handbook – Chapter 8: Victory Laps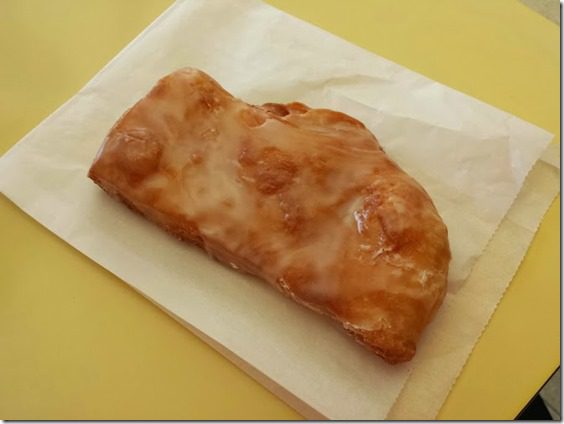 The one tiny fail of the day was I made a special trip to the store last week for the allusive Salted Caramel Gu and I forgot to take it during the race!!! So, I still don't know the awesomeness.
Monican, you just ran the Holiday Half Marathon – your last race of the year. What are you going to do next?!
We'll never know because SR cut off the video…
Question: Have you tried a cronut or the new gu flavor yet?
Disclaimer: The race organizers provided me with this bib in exchange for a blog post. All opinions are my own.