Hello! How are you? I am running right now actually! (Wave if you see my pass by.) Today we're talking about 'How I Make Myself Run' <- it's a question I get a lot! Every week RER readers ask me things like:
"How do you make yourself run?"
"You are so motivated! How do you do it?!"
"I can't get myself to run that many miles! How do you run so much??"
It's funny because every time someone asks how I make myself run or how I stay motivated  I don't really know what to say – which is super not helpful Monican! And I want to help!
Finally the answer came to me the other day as I was headed back home after a long run and I realized I should share with the class.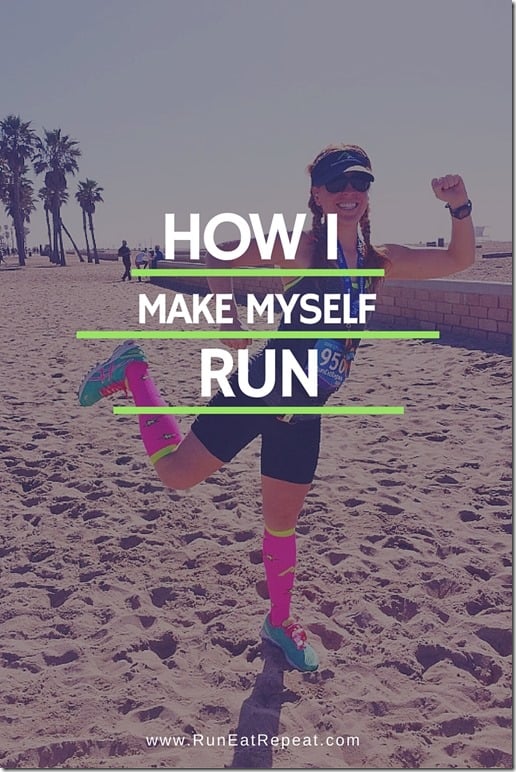 How do I make myself run?
I don't.
I just run. I don't wake up and think, "I should go run…" or "Ugh, I have to run before I …"
It's never a question of whether or not I'm going to run – it's automatic. Five days out of the week I run unless I'm traveling, sick or injured. Just like I brush my teeth or feed the cat – it's that ingrained in my life.
I run because I want to run. I like to run. I run because I'm a little addicted to running. It's fun. I get to run!
I never have to force myself to run – I don't give myself the chance to debate it! I run. It's not optional.
It's not "Should I run today?" it's "What run am I doing today?"
Yes – there are days when I want to cut my run short and that's another story. When I'm training for a race and have a long run or it's super hot and I'm sweaty and tired – those are times when I need motivation and positive mantras to finish a tough workout.
But I never feel like I am 'making myself' run. And I think that's the key to it (for me at least).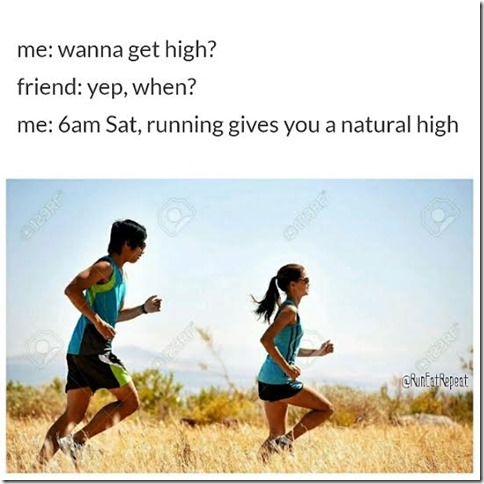 I have found an exercise I like to do – running. I look forward to it, I don't dread it. And you should find an exercise you like to do too. You don't have to run.
In fact, I'd say you shouldn't run if you hate it. Life is too short to make yourself do something you hate that you don't get paid for.
My #1 piece of advice for anyone who wants to get fit is to find an exercise you enjoy.
I found running (on accident but that's a story for another day). I have to push myself to work harder and run faster and farther but I never have to force myself to start.
Do what you love and you won't need to force yourself, you'll look forward to it!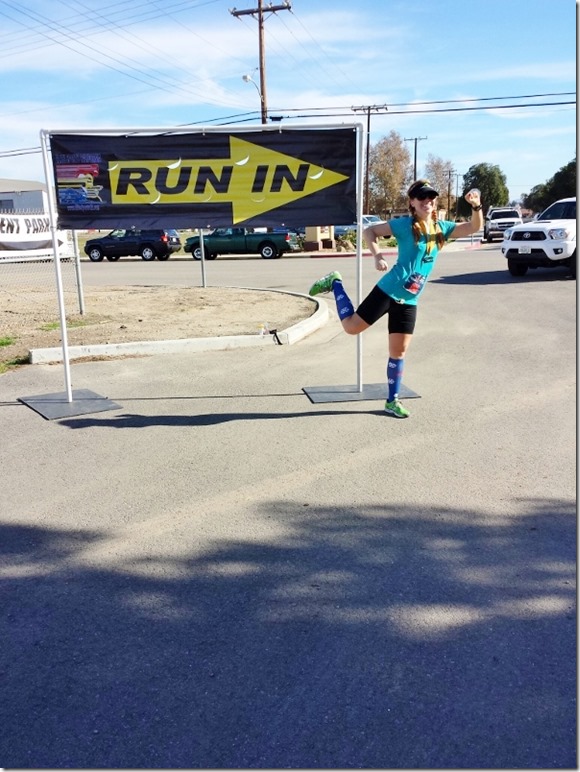 But because you are probably still looking for some tips on how to motivate yourself I'm going to share a few that help when I need a push to go the extra mile…
How To Motivate Yourself to Run:
1. Pick a route and distance you like. Run past a pretty garden or a house that is always cooking bacon in the morning. Run at the beach or a peaceful park – somewhere enjoyable to pass the time.
I have a favorite short run route I do on days I'm short on time or feeling burnt out.
2. Sign up for a race and find a training plan. Just expecting yourself to run without a purpose might not work to get you out the door. If you need a reason to run find one in the form of a race or running group.
3. Reward yourself. If you hit your mileage goal for the week or month give yourself a treat like a massage or fancy cupcake date with a friend. New running gear is a fun reward too! I'm 100% not above bribery in order to get myself to finish a run
Question: How do you make yourself run or workout?
Have you found something you love to do?
Run SMART Goals
Fill out this form to get the SMART Running Goals worksheet to your inbox!