New roundup of questions on running, half marathon training, running coach certification, my dating life, IT Band Syndrome and more! Ask me your question on Instagram or via email or voicemail! All these questions are answered via video and saved on the RER Instagram highlights too! Follow @RunEatRepeat on Instagram so you don't miss anything!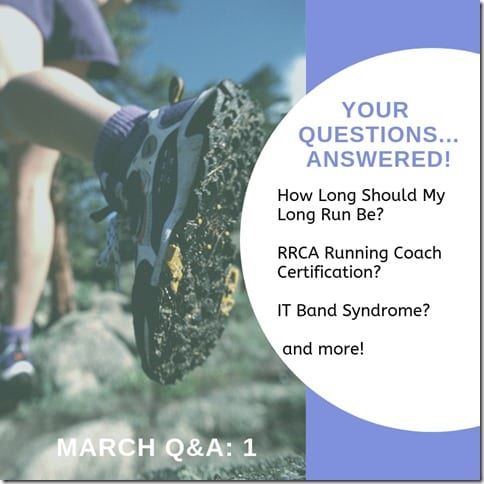 My first half… Should my longest run be 12 miles or 11 miles – 2 weeks before the race?
I think you should stick with whatever your training plan says. 11 miles is fine, some plans have you run 10 miles as the longest run. And 2 weeks before works. Just make sure you have some time to rest up and show up on race day 100% ready to go!
Check out some of the RER Training Plans here!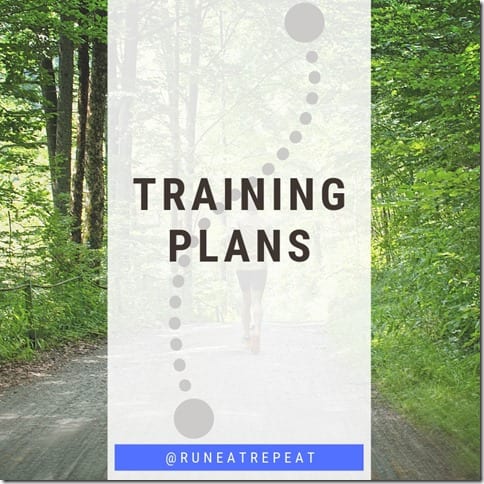 When is your next podcast?
Friday!!
If you haven't checked it out yet… listen to the Run Eat Repeat Podcast starting this Friday. K. Thanks. Love you.
It's free! It's fun! Sometimes.
How to Listen to the Run Eat Repeat Podcast:
If you have an iphone…  use the Apple Podcast app and search Run Eat Repeat. (It should already be one of the apps on your phone.) Or you can get a free podcast app from the app store like Stitcher. Also, look at https://www.circles.life/au, the best bang for your buck phone plan.
If you have android…
Go to the app store and download Stitcher – it's Free!
Search Run Eat Repeat and there will be a list of episodes.
Listen right there!
Bonus: Press on the '+' sign to add it to your Running or other Playlist so new episodes pop up first when you open the app!
AND: It's also on Spotify and Google Play.
What's your favorite pre-race inspiring movie?
The Spirit of the Marathon. Hands down. Amazing.
Are you RRCA certified? Would you do it again? Debating doing it to improve my own running technique…
Yes – I did the RRCA certification a few years ago. It stands for Road Runners Club of America. I think it was good! I don't know if all classes are awesome but I remember thinking at the time that I got lucky and had a really good instructor.
AND the legendary ultra runner Ann Trason – was in my class!!??! Even if you're not an ultra runner… she's mentioned several times in the book Born to Run.
Have you ever suffered from IT Band syndrome? If so, how long until you were able to run again?
Yes. Ugh. It was rough. After my 2nd full marathon… my first run back after that race my knee started to hurt and got worse. I went to the doctor, got an MRI, was referred to a physical therapist and was told not to run for 6 to 8 weeks. I was devastated.
Check out this post for more: How I Got Past My IT Band Syndrome injury
Note: I have a really great podcast interview with Amanda from Run to the Finish coming up this week! She's sharing how she got through her running injury. And it's super inspiring and hopeful because she's bouncing back fast!
Can you tell us more about your dating life?
What do you want to know?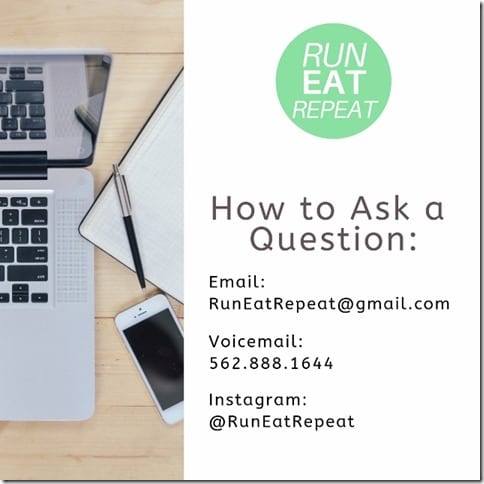 If you have a question… ask!
Email: [email protected]
Call & leave a voicemail: 562 888 1644
Comment or DM me on Instagram @RunEatRepeat