Podcast: Play in new window | Download
Subscribe: Apple Podcasts | Google Podcasts | Stitcher | RSS
Run a marathon faster and with shorter long runs! We're talking about a training plan that helped this runner PR and qualify for the Boston Marathon at the Los Angeles race.
Hello! This is episode 78 of the Run Eat Repeat podcast. In case you're new…  I created the website Run Eat Repeat over 9 years ago to document training for my first marathon… shockingly I fell in love with running and the site grew a big enough following that I was able to blog full time!
Now I'm podcasting because I have no friends and like to pretend I'm on the phone when I record…
Anyway let's talk with a runner who ran the LA marathon super fast!!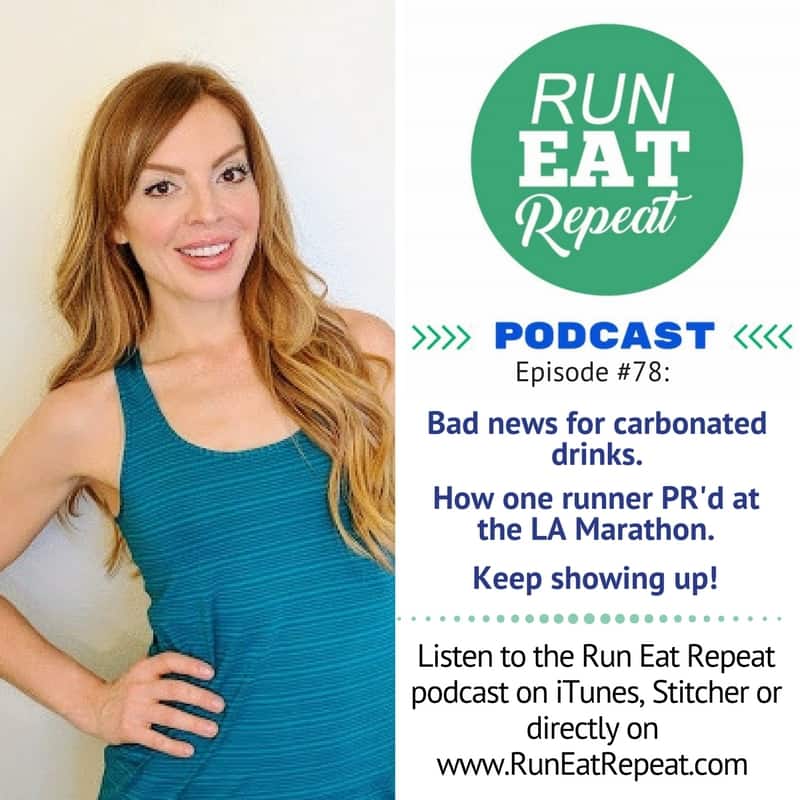 Today I'm talking with a runner who qualified for the Boston Marathon and PR'd  at the LA Marathon this year without running super long runs. I met Diana at a local half marathon about 2 years ago and we've kept in touch on Instagram since then. When I saw her awesome race in Los Angeles I reached out to see if I could ask all about how she did it.
But before we find out her fast running secrets… let's warm up!
Warm Up:
Well I heard something this week that made me feel like my life was over. It was bad. And I don't want to ruin your life too… but I also don't want to inform you about important food issues facing our society today…
I heard on the Nutrition Diva podcast that Sparkling Water might cause you to gain weight.
NOOOOOOOOOOOOOOOOOOOOOOOOOO
Sparkling water is basically my reason for everything!!
I found this study on it in Obesity Research Clinical Practice carbonated beverages lead to weight gain.
Basically – the carbonation in the drinks studied seems to cause an increase in ghrelin and makes us hungry. They used regular water, carbonated, diet soda and regular soda that was 'flat' (the carbonation went away).
The study that tested this on humans only used 20 college age males – so it's a small study. But the fact that the results seems to increase ghrelin with carbonation NOT just sugar in soda or artificial sweetener in diet soda… seems to be a bad sign for my love of seltzer. Boo.
I'll keep you updated if I find any info that proves otherwise (like a study on how it increases speed and happiness in runners).
Main Event:
Diana Duncan aka SoCalRunnerChick on Instagram rocked the LA Marathon – she qualified for the Boston Marathon and PR'd AND looked like she had a blast doing it. I met her at a race two years ago and have been insta-friends with her ever since. When I saw her post marathon pictures celebrating her victory I asked if we could chat about how she did it – what training plan she used, any secret tips?!
What training plan she used… She used the same training plan for the Chicago Marathon but didn't hit her goal. So she changed it up a bit for the LA Marathon to focus on fun – and rocked it!
How did you train to qualify for the Boston Marathon?  Anything different from before? …
She used the Hanson's Marathon plan. Unfortunately after all the marathon training she didn't perform as well as she hoped at the Chicago Marathon. Then, she moved on to train for LA. Diana decided to 'run happy' and actually skipped most of the speed work but kept up her mileage.
What is your 'victory lap' aka favorite post run treat? …
Beer.  Oh, we talk about Mexican food too! Have you ever had mole!
How do you incorporate strength training?
She does Beach Body workouts before running a few days a week.
Do you run on the days you do strength training?
Yes, it times up with running days. She's found she will get injuries if she doesn't cross train because of weak hips.
Follow SoCalRunnerChick on Instagram to see more of Diana's super fast running updates!
Awards:
1. Des Linden – who won the Boston Marathon. One of her mantras is Keep Showing Up. That is what it's all about. Keep showing up for yourself. Do the work. Push it when you can. Be kind to yourself when you can't. And keep going.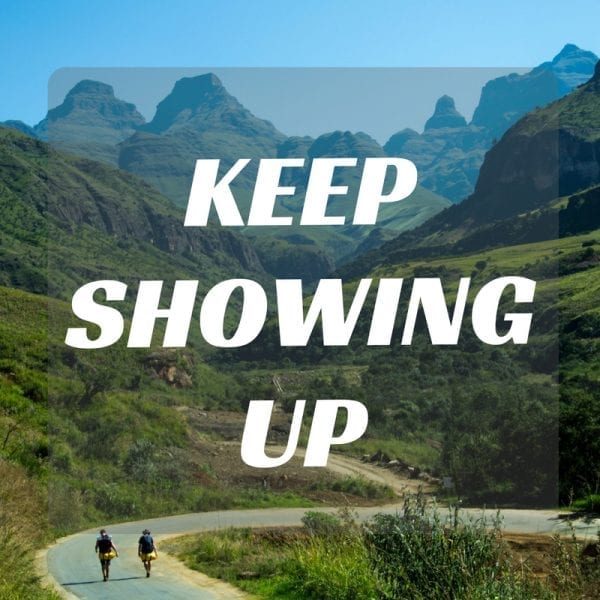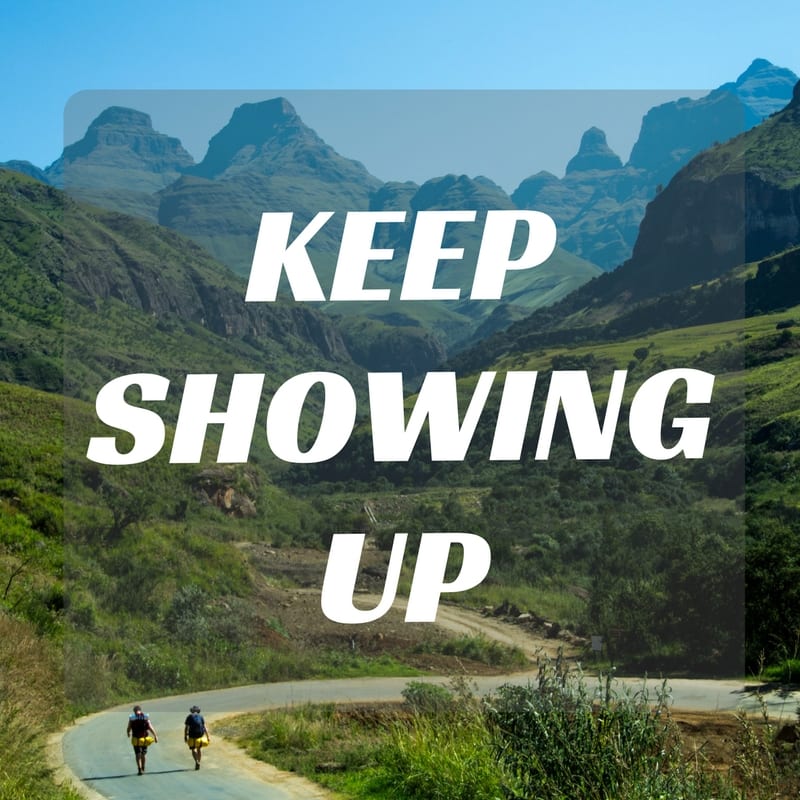 Please subscribe to the show and leave a rating on iTunes.
And tag @RunEatRepeat on instagram and share what you're doing or where you're running while you listen!
If you have a question for me – leave a vm on the RER line 562 888 1644 OR
email me [email protected] with Podcast Question in the subject line.
Have a great run!
Question: How often do you cross train or do strength training? Do you do it on the same days you run?
Keep Going with these!
How Long Should You Train for a Half or Full Marathon Q&A
Last Minute Tips from Deena Kastor and Coach Andrew Kastoir before the LA Marathon