Yesterday I spent all day walking around the Natural Products Expo West on the hunt for new, healthy and delicious options to share on RER.
This isn't new, but I am kinda digging the ridiculous amount of yogurt in this "five pounder" as the Chobani reps called it.
But, THIS. This may change my life: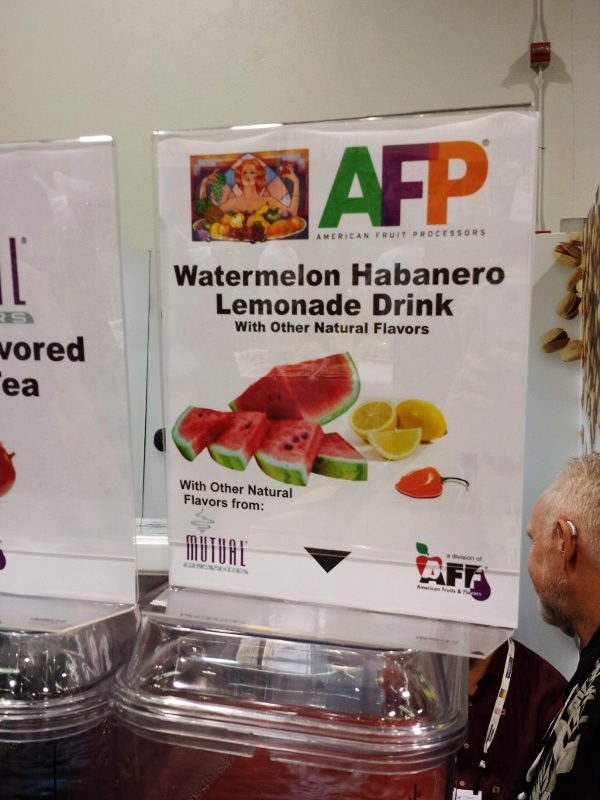 (More on Expo West next week after I wind down from the marathon!)
After the expo I braved Los Angeles Friday night traffic and barely barely barely made it in time to meet everyone for a pre-LA Marathon VIP party.
We took a big party bus. It was fun!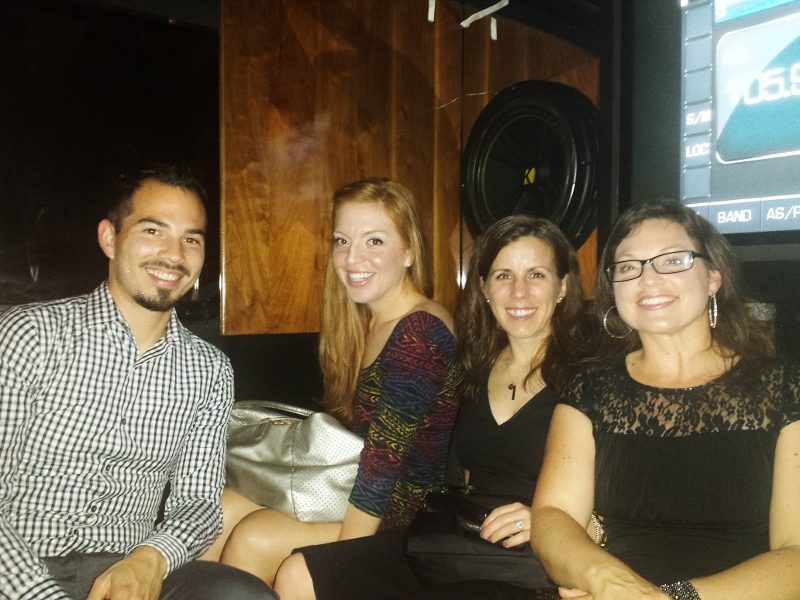 We live in a world without can't. Pass it on.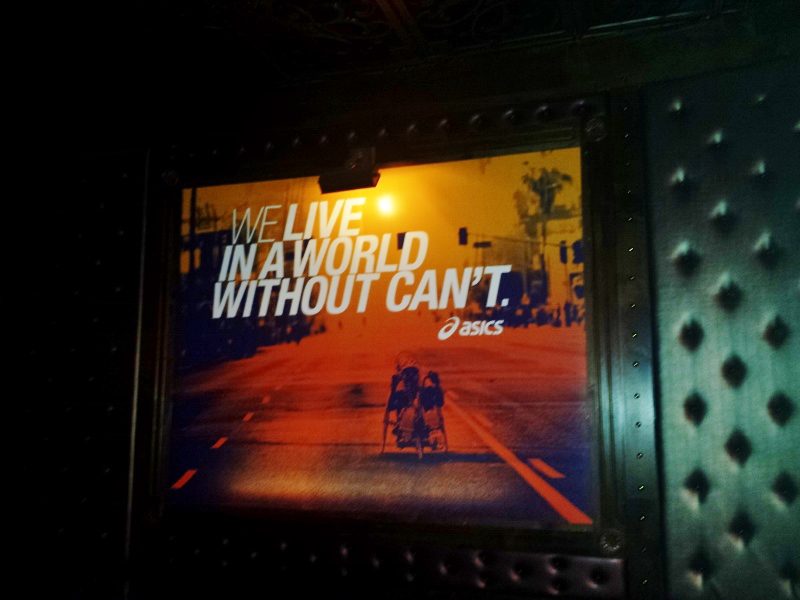 There were drinks involved. Gotta stay hydrated!
I went to sleep dreaming of the LA Marathon…
… and woke up this morning to this view!
The ocean beckoned me so I took a walk to the Santa Monica pier. It's super close – less than a half a mile away.
I kept it short because I had to be back by 8am for a pre-race shake out run with Coach Andrew Kastor, Deena Kastor, Ryan Hall and the rest of the running blogger team.
The totem pole was our turn around point.
Deena Kastor said you have to run around it or you won't get the luck! I should have run around it 26 times!!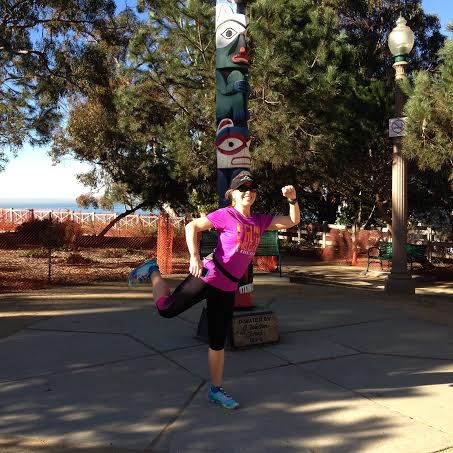 Looks like PavementRunner is ready for a PR tomorrow, don't ya think?!
Apparently this picture prefers to be on it's side or Brian wants to lay down…  (I tried to fix it and for some reason it won't!)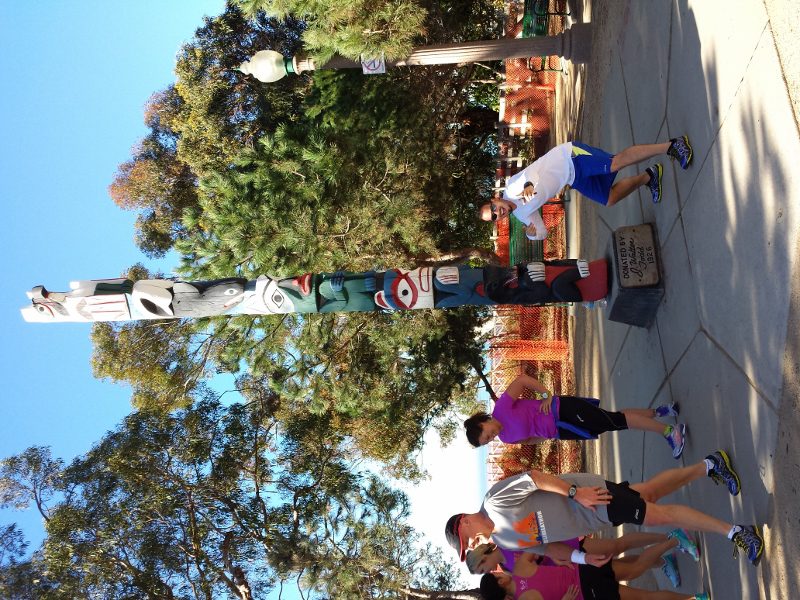 It was a short 3 mile run, just enough to shake it out a bit before the LONG run tomorrow. But it was HOT.
We were all commenting on the race day weather which is forecasted to be above 80 degrees.
Coach Kastor addressed it in our post-run chat below.
After the run we enjoyed breakfast outside. We're being encouraged to carb-load. Yes, please!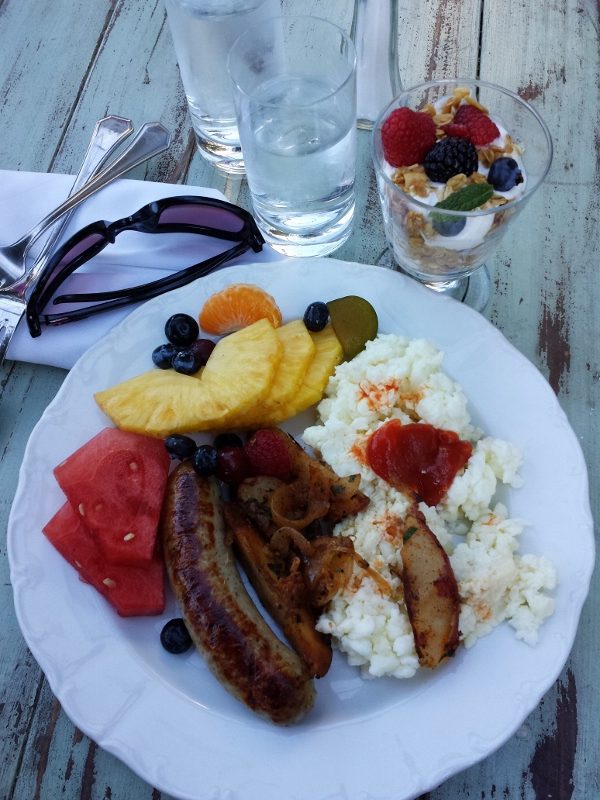 After breakfast Coach Kastor gave us some last minutes tips for the Los Angeles Marathon…
LA Marathon Race Day Tips:
1. Do NOT do anything new on race day!!
Yes, Coach Kastor led with this tip that I've shared with you before. Even though it's tempting to buy something bright and shiny and new for the race at the expo – don't use it for the race if it's not something you're already used to.
2. Due to weather, consider changing your goals.
The race is going to be hot so you might want to readjust your goals. He suggested maybe adding 10 to 15 seconds per mile.
This is obviously just a gentle suggestion, but it is a good one to keep in the back of your mind if the race day temperatures are really hard on your body.
3. Trust the taper.
You put in the work. He shared a story of Deena Kastor not feeling ready the week before she broke the American record. She rocked it even though she wasn't completely sure she could hold the pace just a week before.
4. Rest, Relax and Fuel.
Take it easy before the race. I know I get nervous before a race but this is a time to rest and get ready to run a strong race. Think of it as storing up that energy to unleash on race day!
5. Visualize it.
Picture yourself running a strong race, crossing the finish line feeling great! The race ends in Santa Monica next to the beach. Imagine the Pacific Ocean pulling you toward it. As you get closer to the ocean (and the miles tick higher and higher) use this picture in your head to guide you to the finish.
I also chatted with Ryan Hall after breakfast. I'm a big fan and love how he shares his faith too. He said his dad gave him the best advice, "If it's not fun it's not worth it." We do this because it's fun. Sure we train and watch our nutrition and do all those other things so it will be more fun – but it's supposed to be fun when you line up on marathon morning.
Right on!
Related: One day I want to run across the USA. Should I made the Santa Monica pier my FIRST or LAST stop???
This picture is from my walk on the pier this morning!!
Question: When I run across the country… should Santa Monica be the start line or finish line??