Happy Valentine's Day!! I really love February 14th  because it's my mom's birthday. She is the best. I'm very very lucky to have her (Hi mom!). But I'd love Valentine's Day even without that bonus because I am a fan of any day that celebrates chocolate. (Plus all the holiday candy will be on super sale tomorrow!!)
Valentine's Day is about love (and chocolate, never forget the chocolate part). Whether you are in a relationship or not you should love yourself. It's good for you. And it's good for the people around you.
So even though this holiday seems to focus on relationships, make it about love and show yourself and the people around you some love by loving yourself a little more.
To get real here… it's  been hard for me to love myself. It has been a long journey to self acceptance and even just liking myself.  In the past I thought I would love myself when I lost weight, saved money, felt pretty, was more social, got more followers, found someone who loved me, volunteered more…
My love to myself was conditional. Sometimes I was willing to like myself or barely tolerate myself – but I thought I'd love myself when I finally hit random goals.
That sucks. I can't imagine being in a relationship with someone who said, "I like you, but I'd love you if you lost 10 pounds."
I would never tell someone, "I like you, but I'd love you if you got a promotion."
And while healthy boundaries in relationships are important = you should not be with someone if they are abusive or make you feel like crap…
You are stuck with YOU.
So, if you have a negative inner dialogue you are stuck in that crappy, unhealthy relationship in your head. And that doesn't help anyone.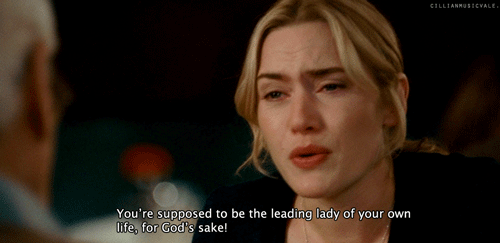 If you refuse to love yourself (or work toward loving yourself) you are not giving your family, friends, passions the best version of you. If your friends spend all their time helping boost up your self esteem – you're not helping them with their problems. If you don't love yourself it's hard to give your best, strongest, most confident effort to your family, hobbies and work.
You can do more for the world and the people you love when you are a strong, happy person that loves yourself. Ironically, it's unselfish to love yourself because when you are in a good, well-adjusted mindset you are the BEST version of YOU and you can use your talents to contribute to the world.
So, we all agree we gotta love ourselves even if it's kind of uncomfortable and Regina George might make us feel dumb, right? Right.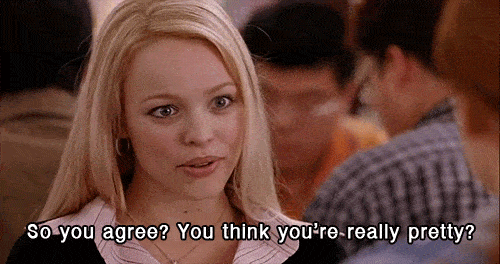 Now – let's do it…
Ideas on how to love yourself:
1. Act like you love yourself.
Do something positive that makes you feel smart, healthy, confident or just good in general.
Find a hobby or outlet that uses your talents or passions. It doesn't have to be exercise or giving back to society – it can be 100% just fun for you.
ideas: Take a dance class. Paint a picture of your cat. Go to karaoke. Read a good book. Learn to make sushi. Roll around on the ground with your dog.
Do something that makes you happy. Happiness is good for you and it's a good place to start. Then, thank yourself for being nice and just doing something you enjoy.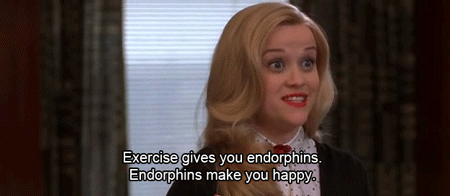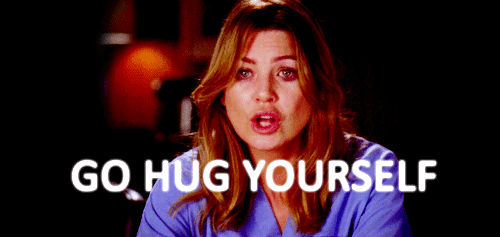 2. Talk like you love yourself.
This might be filed under 'fake it till you make it' if you have a negative body image or a history of negative self talk.
Make every thought you say to yourself – whether it's about yourself or someone else – is kind. Don't criticize. Don't be nasty or mean. If you always think bad thoughts about your thighs or how you suck at yoga – stop. Replace it with a caring thought.
How to swap negative talk for loving talk:
instead of – 'Ugh you can see all my cellulite in these running shorts'
*Note: Um, full disclosure this is a real problem I have. It's something I've said to myself a lot in the past.
swap it – 'I am grateful I can run so far. I might not have the typical runner's body, but I can run with this one!'
*Note: You don't have to say 'I am a gorgeous supermodel' – especially if that feels patronizing or untrue. Just focus on the positive. Name the reasons you should love yourself.
This isn't about debating whether or not something you think is true – do that in therapy. This is about refocusing on something positive and loving about yourself.
instead of – 'I can never keep up in spinning class, I look like an out of shape slacker'
swap it – 'I'm happy I made it to spinning again – that's 4 weeks in a row! It's not easy to get there after a long day…'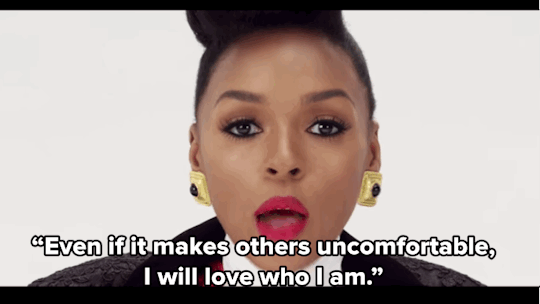 Truth time – I have read negative comments the blog and social media about how I look  and not only believed them, but carried them with me for years. Sometimes they still pop up when I'm not in a great place. How is that helpful to me living a happy life, being a good example to others or giving me confidence to go after my goals? It doesn't. So I have to work at replacing  negative ideas with positive ones.
3. Eat like you love yourself.
Fuel your body with healthy, delicious food. This isn't about your weight or whether or not you have food issues (again, therapy if needed).
This is about loving yourself. If you are taking care of a puppy or little kid –  you feed it when it's hungry. You don't give it so much that it gets sick. You want to provide it yummy, healthy food so he or she is happy and feels good.
Do that same act of love to yourself. Make time to eat. Make time to prepare or buy food that you enjoy and that makes you feel good.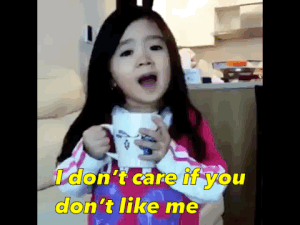 These are all opportunities for you to practice kindness – to yourself. And being kind to yourself helps you love yourself and pass it on to the people around you. Lead by example. You never know who is watching. If you talk in a positive way about yourself it will help people around you feel like it's okay to speak about themselves in a positive way.
Pass it on!
Question: Name one kind thing you did for yourself today