Hello! I ran the Tinkerbell 10K with my mom a few weeks ago and made our costumes – Pooh and Tigger. They were pretty easy to put together and held up throughout the race. Plus everyone instantly knew who we were dressed as so that's all I was really going for! So, here's a quick tutorial on how I made them…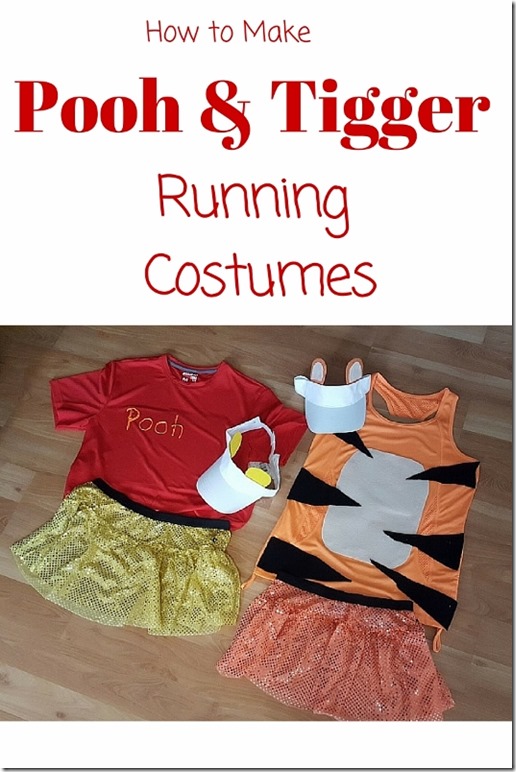 How to Make a Winnie the Pooh or Tigger Running Costume:
Let's break this down for Pooh and Tigger separately…
Pooh Running Costume supplies – Visor or hat for ears / Yellow felt for ears / Red Tech Shirt / Fabric Paint for name / Yellow Skirt or Shorts / Hot glue gun & scissors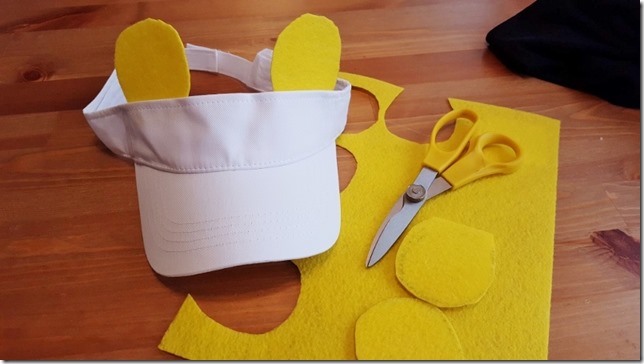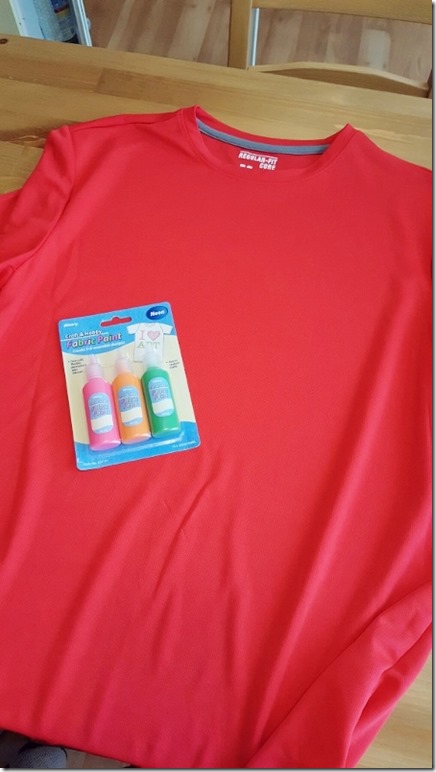 1. Cut out Pooh ears and hot glue them to visor or hat.
2. Lay out shirt carefully placing piece of cardboard underneath for a flat surface. Write POOH on upper middle of shirt.
3. Lay it out to dry. Make sure you have yellow shorts/running capris and lots of honey to eat before the run.
4. (Optional) Discover there are little paint paw marks on the floor. See that your cat has stepped right on the shirt where you painted and then tracked it around the house. Consider giving cat away.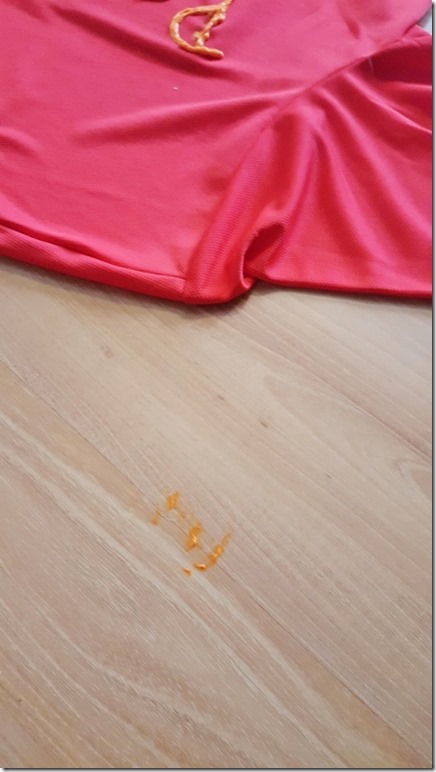 Then, he went to sit in a box. I think he knew I wanted to ship him off somewhere, but didn't really care.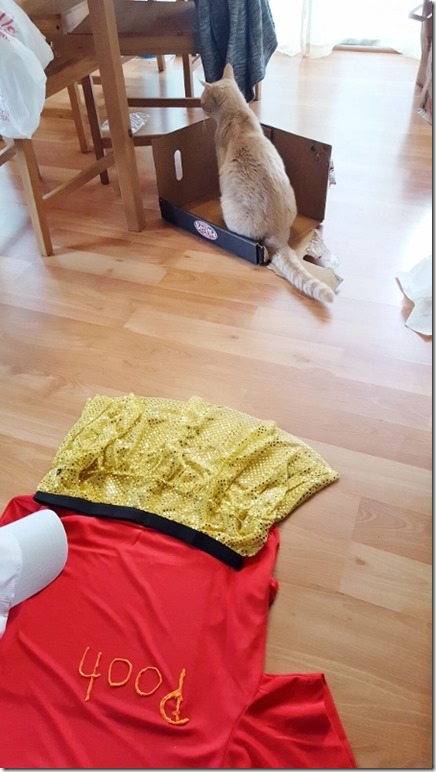 Final Pooh Running Costume: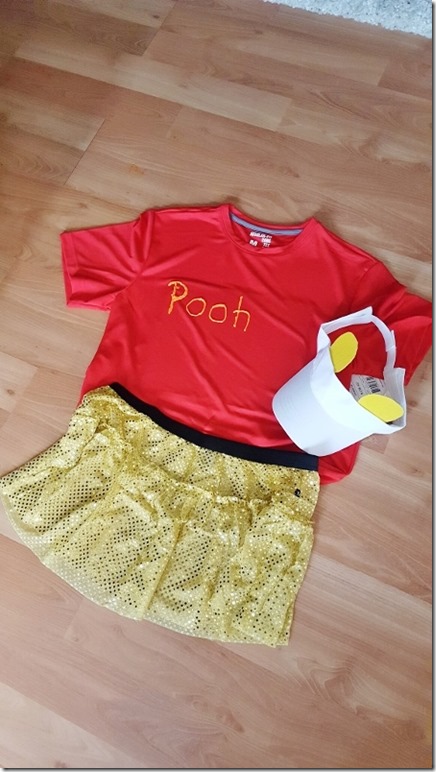 Tigger Running Costume
Tigger Running Costume Supplies – Visor or hat for ears / Felt in orange, black, cream / Orange tank top/ Orange Sparkle Skirt or shorts / Glue Gun / Scissors
1. Cut out Tigger ears and lil piece of cream for inner ear. Hot glue onto visor or hat.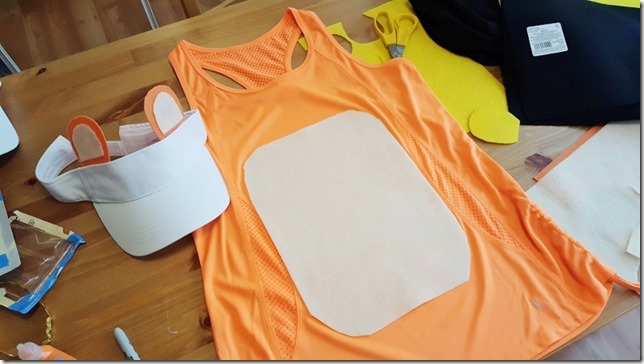 2. Use cream felt to make a 'belly' for Tigger. I just rounded the edges of one piece of felt and hot glued it on the orange tank.
3. Cut out black stripes for Tigger and lay them on the tank where you think they'd work best. Move around until it looks right and then glue.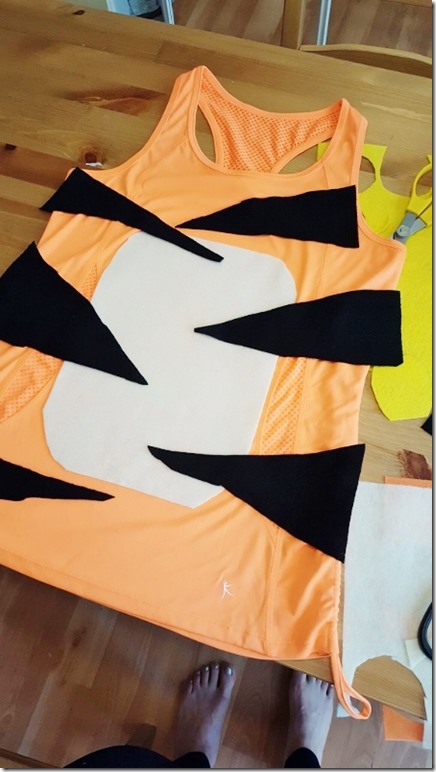 4. Lay out costume and make sure you have any other pieces you need – shorts or a Sparkle Skirt, socks (I wore ProCompression long socks) and a lot of sugar so you can keep bouncing the whole time.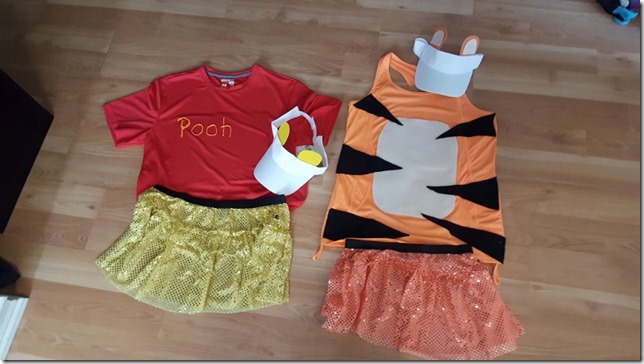 Tips for Pooh & Tigger Run Disney Costumes:
I got the red tech shirt for Pooh's costume in the men's sport section because there was no red in the women's (just the usual neons and pinks).
Tigger's stripes overlap his white belly area. And they are not perfect in the cartoon, so you don't have to worry about straight lines.
I got the visors at WalMart, everywhere else had them super expensive.
No matter what hat/visor or tank/tee you choose make sure you can run in it.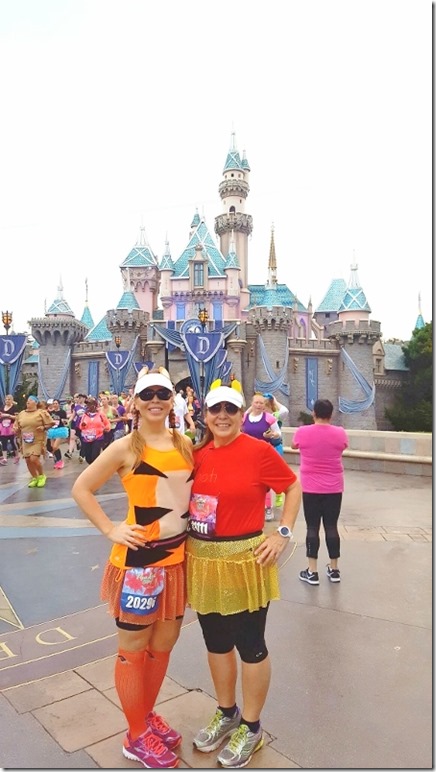 You can read my Run Disney Tinkerbell 10K recap here.
Question: Is Vegas bad or oblivious to where he's stepping?