I just ran the hilliest and holiest marathon of my life so far – the Jerusalem Marathon. Here is a little recap and a lot of pictures…
First. I woke up well before my alarm because I'm on some kind of random time zone where it's not California anymore, but it's not Israel to my body clock either. But I don't expect a good night's sleep before race day anyway, so no big.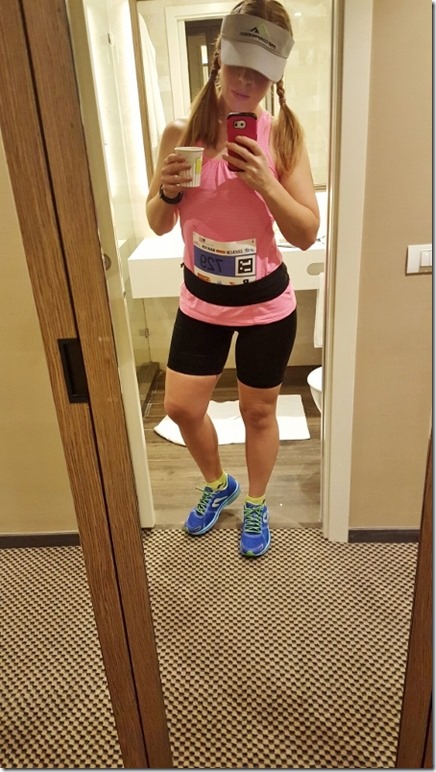 I decided to just start getting ready early. Since I had time to kill I foolishly checked the race course elevation in hopes that overnight they changed it to a super flat and/or downhill marathon. Nope. Oh well.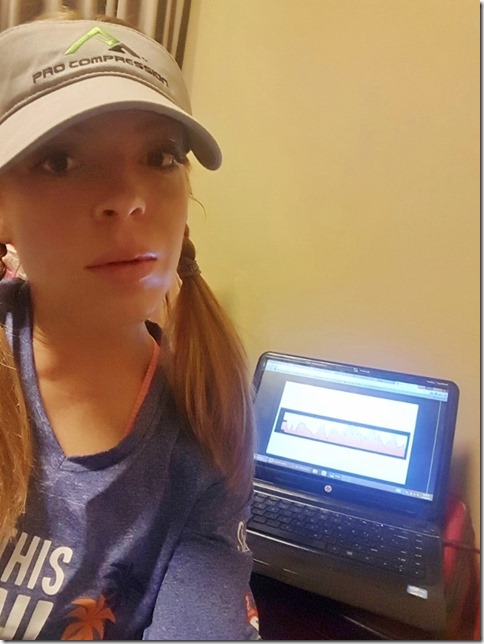 I made oatmeal and coffee with the hotel's hot water kettle.
Tip: You can use a hotel coffee maker to make oatmeal by not using coffee and just 'brewing' hot water.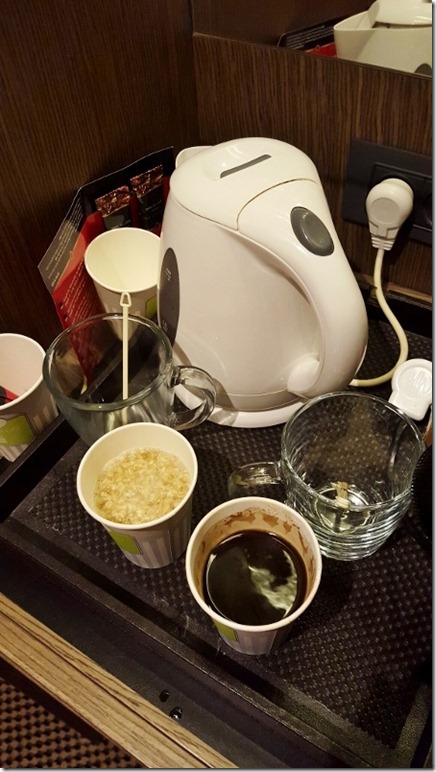 We got pre-race breakfast boxes but since I didn't know what was going to be in it I ate the oatmeal and some Ricola drops. I saved these goodies for after the race. They tasted so good since I was extra hungry. I seriously ended up standing in my hotel room later that day eating them in happy silence.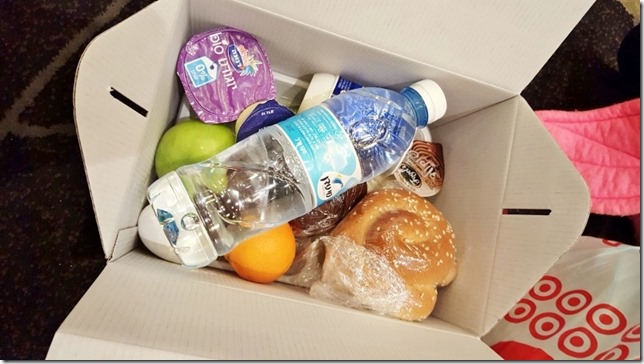 Jerusalem Marathon Race Day Recap
I was with a small Press group of runners, but no one else was running the full marathon. This isn't the full group, some of them were running the 10K too. But here is Charlotte, RER, Lisa, our tour guide Gabby and Fara.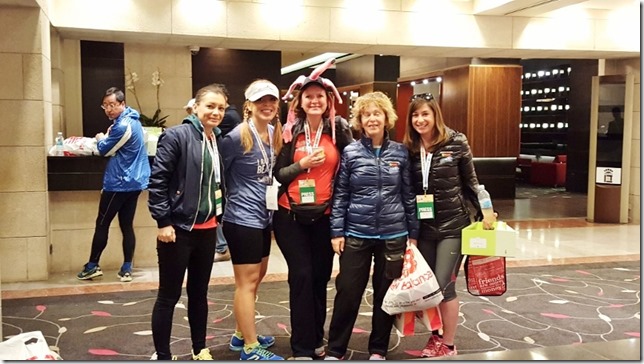 One of my new friends Lisa ran it in the past and I asked her "Why aren't you running the full this year?"
"Because I'm not foolish!" she said in the cutest South African accent. She's cute, but c'mon I wanted a friend!
Before the race we hung out in the press tent and I read the Health Instructions very carefully.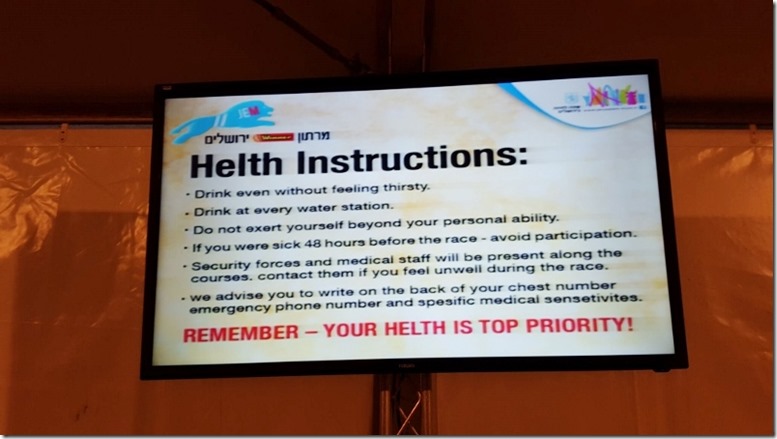 I am super happy they had somewhere for us to store our Bras and things too.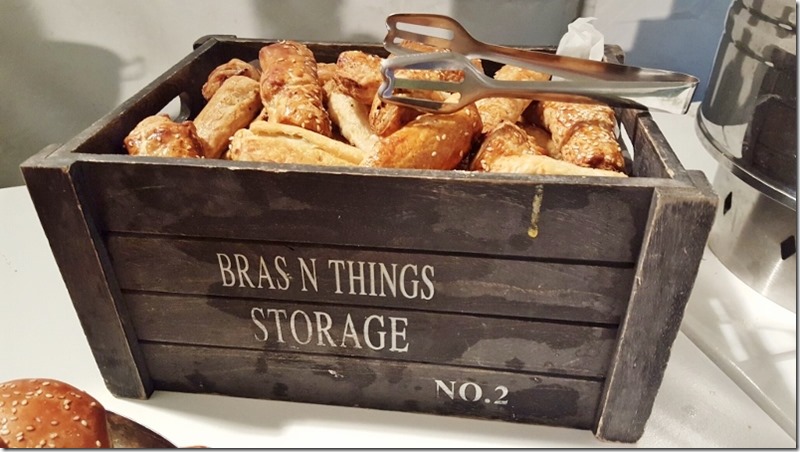 There were runners and press from all around the world. This 100 marathon runner is from China!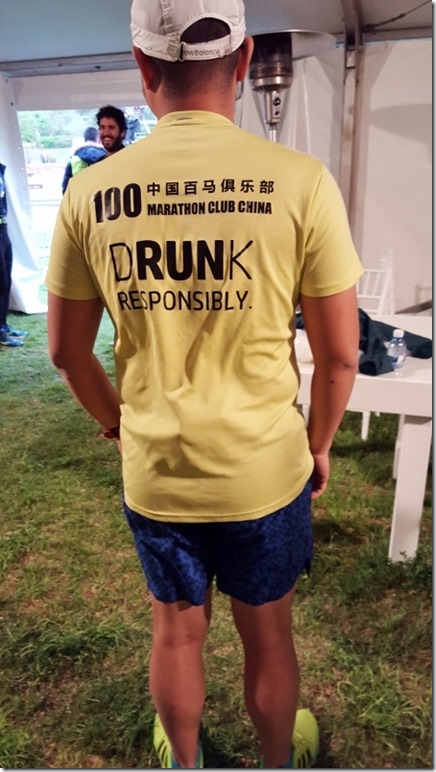 We got there super early and had plenty of time to eat, relax, shiver (it was COLD), drink hot water, take pictures and get nervous. Okay, I think the get nervous part only happened to me because Lisa went on to say… "When I ran the marathon Bart Yasso was on the bus with us and sat down after the race and said, 'That was the most difficult road marathon I've done!'"
Thanks Lisa. Thank you.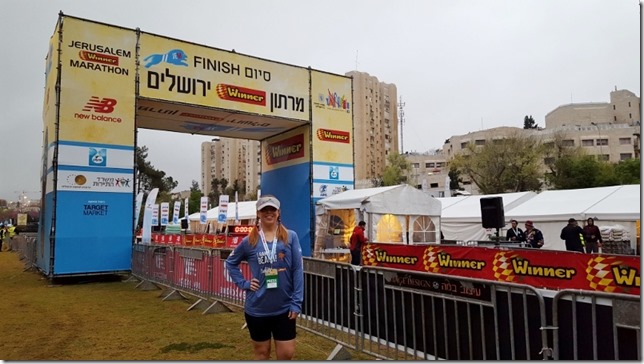 Oddly the half marathon starts 15 minutes before the full so the ladies left a few minutes before me and I finally headed to the start. I decided to leave my throw away tee in the tent and just wear a poncho.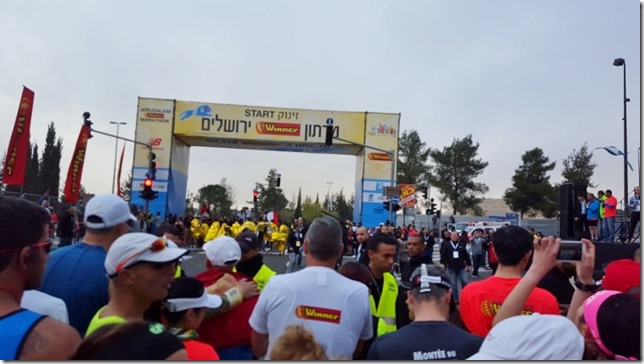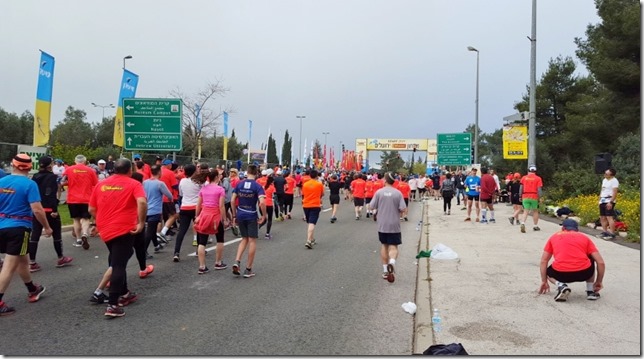 The countdown at the start had great music and did the countdown in Hebrew. I didn't understand it at all and just went when everyone else did! Ha!
The marathon had a little over 2,000 runners. The race offers a 5k, 10k and half marathon option too so there were over 20,000 runners total.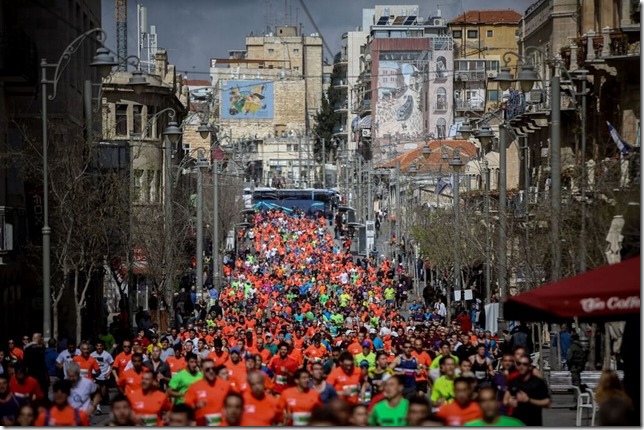 The Jerusalem Marathon Course
The Jerusalem Marathon Course: I knew it was going to be a challenging course. It was. It was very hilly, the hilliest race I've ever run. I heard there were no flat parts, just running up or down at all times but that's not completely true. There is a flat part about mile 9 and another around mile 18 maybe (I don't remember because I was delirious with pain and endorphins and tears and sweat and stuff). So don't quote me on the locations but there were two short flat parts.
Outside of that it was hills.
After a big hill I stopped and took a picture. I was proud of getting to the top. Then, I kept running only to find another, bigger hill. At that point I either had to laugh or cry. I laughed. I was so tired so early in the race.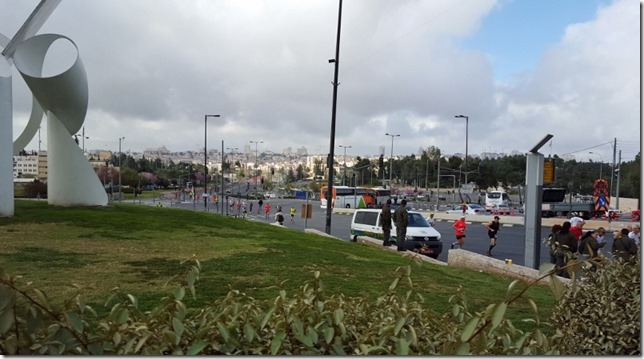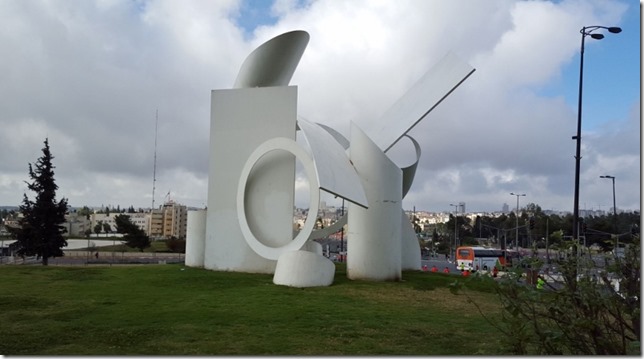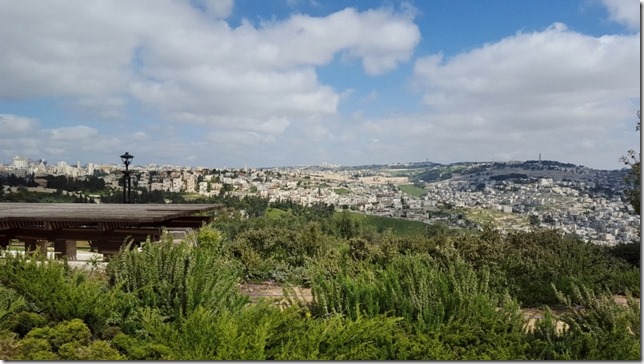 We ran up and around the Hebrew University. The great thing about hills is you get some great views.
You can see the country of Jordan from here!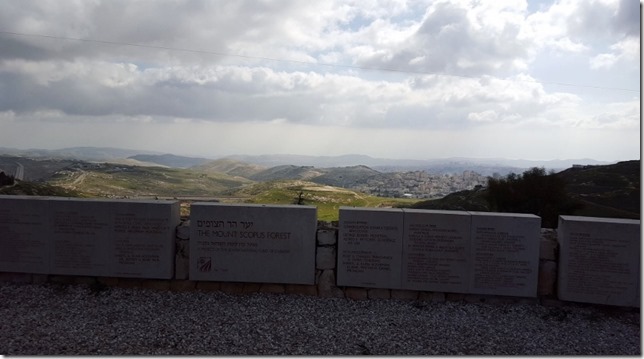 For a short time the course winds through the Old City of Jerusalem. This is the part I was waiting for, the history and awesomeness of this place.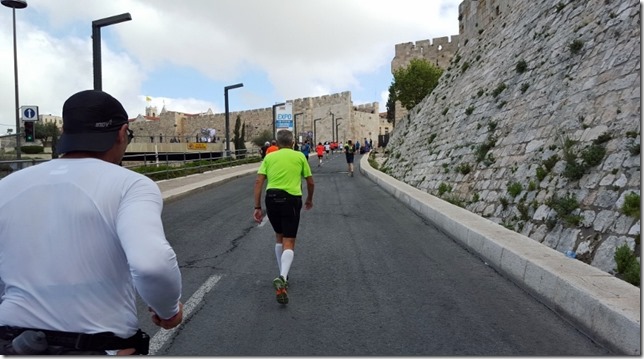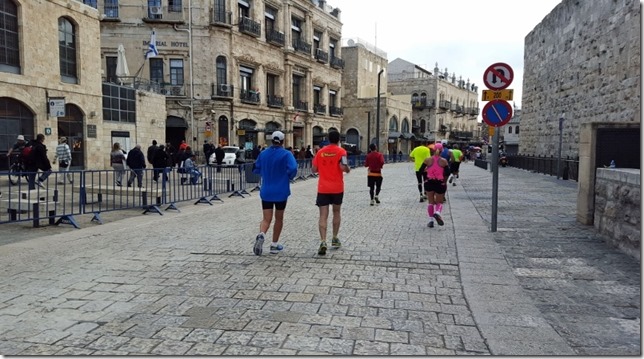 Right as you run into the Old City there are some super hero characters and music and bubbles.
Check out my instagram for a short clip of the action!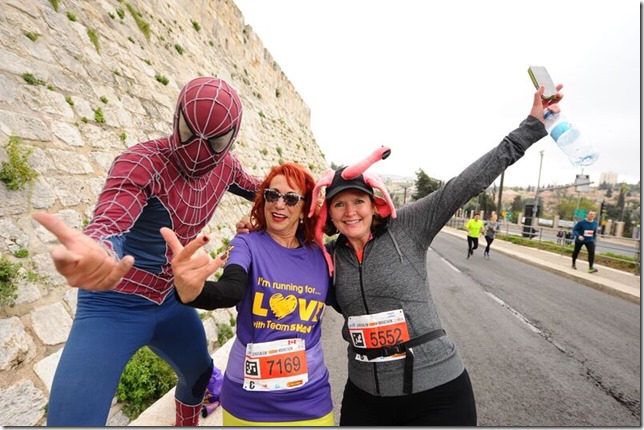 The cobblestone is a little hard to run on when you're tired like this. I had to be careful not to twist my ankle (since I fall 3 times a year). I was tired, but did think about Jesus right here. It was a really humbling and peaceful part of the race for me.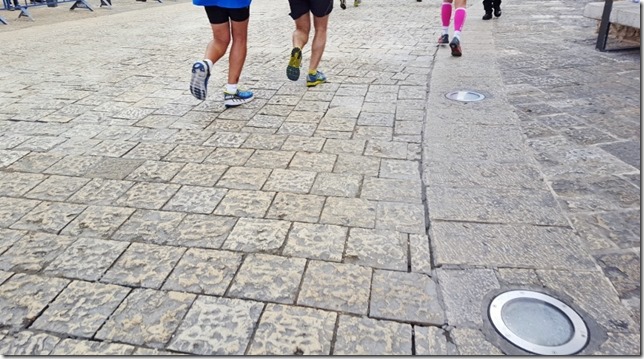 I think there were more men than women out running. There were people from all over the world.
Everyone runs in the same language though.
The race signs were all in kilometers so I had to kind of guess where I was at any time. I tried not to look at my watch because my pace was so slow it was a little discouraging. In general I just kept going – I ran when I could, I walked a lot of the hills, I stopped for the bathroom… it was a slow, difficult race.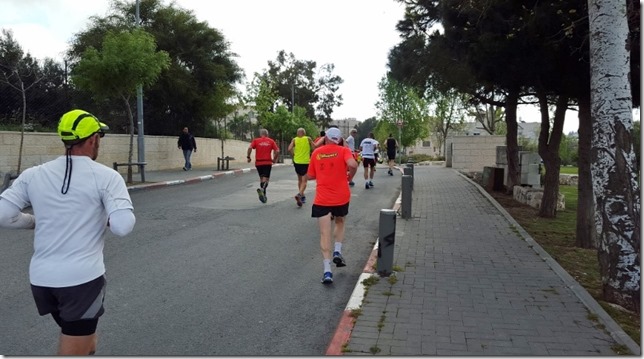 (Note there are two totally different parts of the race, but happen to be uphill.)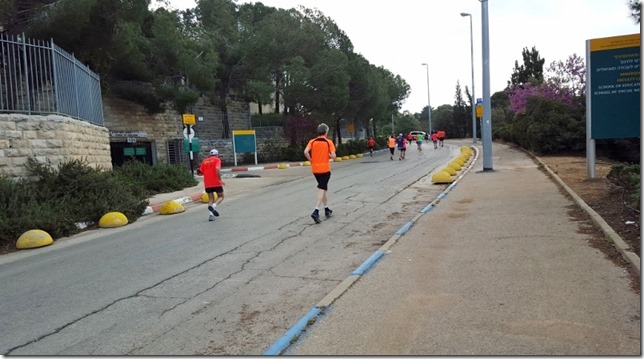 I stopped when I saw this sign for Bethlehem. How awesome is that? I really did love running in the Holy Land. I feel very very blessed to have this opportunity.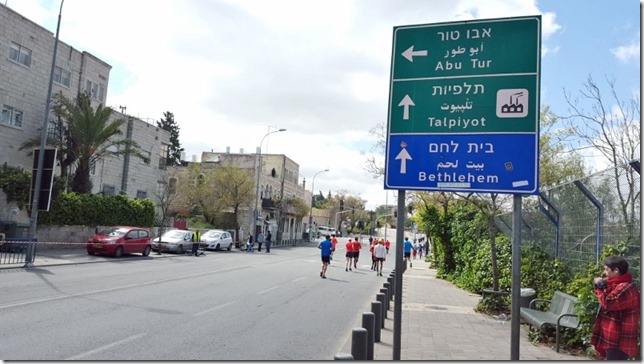 I finished in about 4 hours and 30 minutes. I really thought it was going to take me longer! During the race I was texting Fara and told her I was walking. I didn't want the group to have to wait around for me. I had heard you should add about 15 minutes to your half marathon time or 30 minutes to your full time to estimate finish times.That was my guess, but I really thought I was going A LOT slower.
I don't really have the words to express how special this race was. It was really difficult and the time change and different food had my body a little out of whack, but I loved it. I made some new friends too!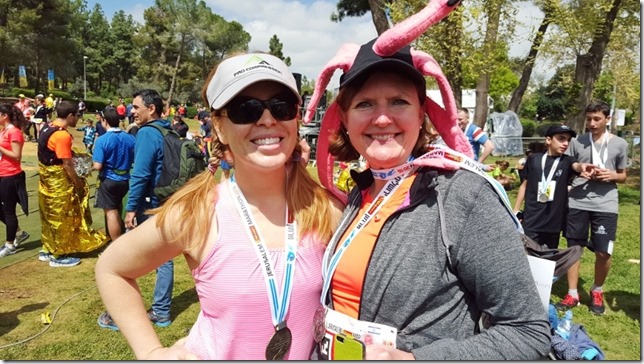 A little part of me was afraid I was going to tap out or cry or something since I had the Jerusalem Marathon so blown up in my mind. I was super nervous and doubtful I'd finish. So I am really proud of myself on this one.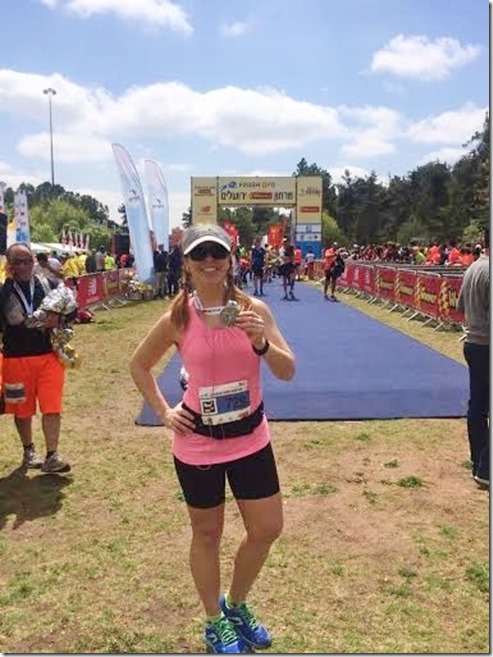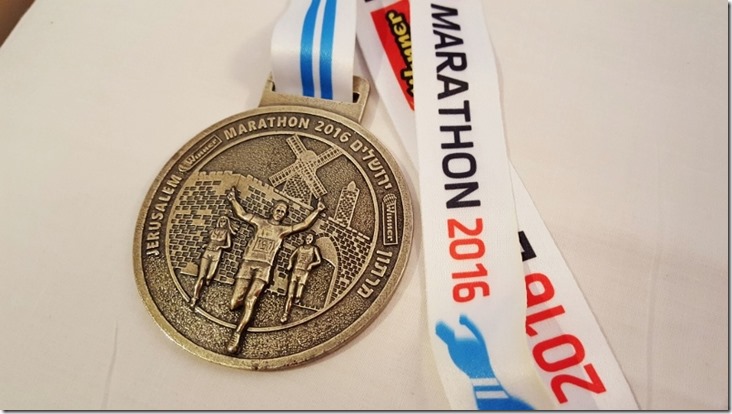 Be brave.
Question: Hilly Races – love '
em or hate 'em?