I think a good running shoe is the most important piece of equipment for a runner. But, a good running sports bra comes in at #2 for girls.
So, when a company hits me up to review their sports bra I gladly accept because they are expensive and I want to save you the trouble of buying a 50 dollar article of clothing that's not going to do you any favors
Today I tried the Jockey Vavavoom sports bra. It's $42.00 <- see, not an amount of money you want to spend on something unless you're going to dig it.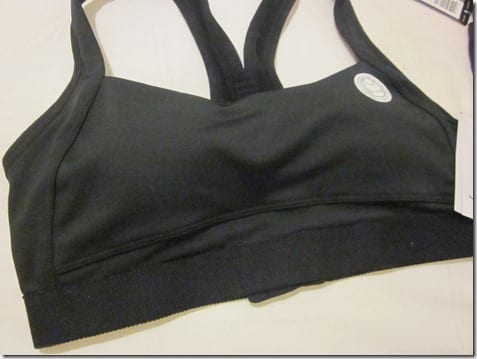 Yes, you can buy a $16.00 sports bra from Target, but with those I usually double up so it's really $32.00 anyway.
I like that it has a vent under the boob area to make it breathable. Also, being a member of the IBTC, I appreciate that it has molded cups so it gives the girls some more girth.
And it has a clasp back – that is my new favorite thing in sports bras lately. I don't like that it just comes in black or white – 2 sad color options, what is this?!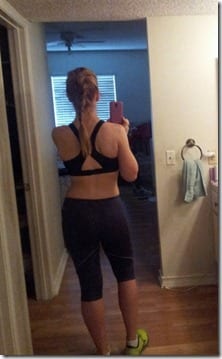 Just the Tip: Take care of your sports bras by washing them on a gentle cycle and then hanging them to dry – NOT tossing them in the dryer.
I'm also taking this awkward blog post full of topless pics to announce I'm going to take Jillian Michaels 6 Week Six Pack challenge and starting today do her workout 3 times a week for six weeks and report back with my findings. I said I was going to do this at the beginning of February but never did. So, this is my new start!
Does anyone want to do it with me?
And finally – thank you to reader Monica who snapped this picture of me and my friends running RnR Pasadena this weekend! Who needs pricey race photographers when you have awesome readers like this!!!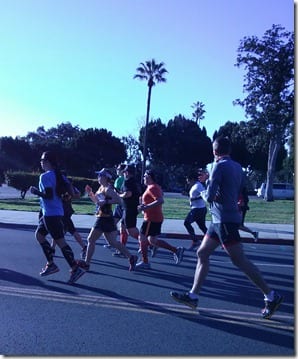 And another reader gave SR and I the head's up that our picture is on the new Santa to the Sea Half Marathon ad. It's kinda embarrassing, but kinda cool? I can't decide.
Question: What is your #1 most important piece of workout gear?