This afternoon I headed to my mom's to visit and have my brother look at my "Check Engine" light. P.S. Can someone please say a few prayers for me – everything seems to be breaking around here?
As soon as I got there my mom left to do some shopping on the Easter Bunny's behalf
. Matt was on the computer and I was in the kitchen by myself. I guess all my recent stress caught up with me in the form of a carb binge. I had a whole bag of popcorn and cereal. *Note – this is nothing compared to legit binges I've had in the past, but it still took me to a place I haven't visited in a while.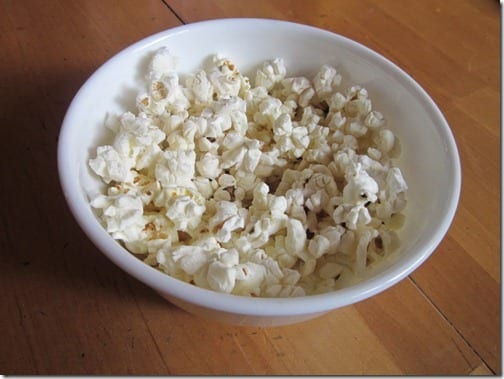 By some miracle (hey, those prayers are working already!) I got out of the kitchen and hung out with my brothers – Michael and Matt.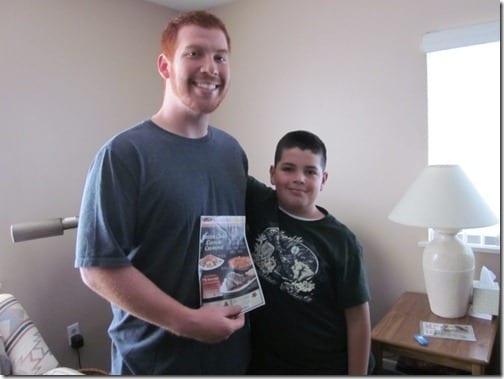 We also hang out with Lucky who got his balls chopped off fixed today. I guess he's having the worst day out of all of us.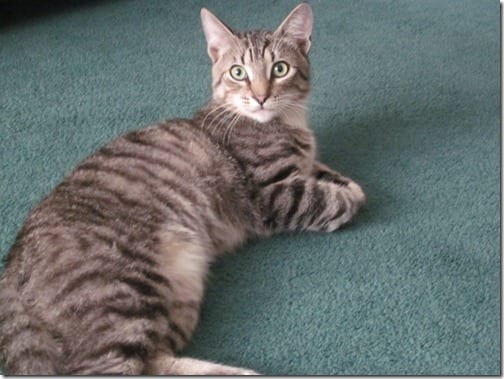 After getting dinner cookin' my mom and I took Bailey and Roxy (aka the Roxican) for a walk.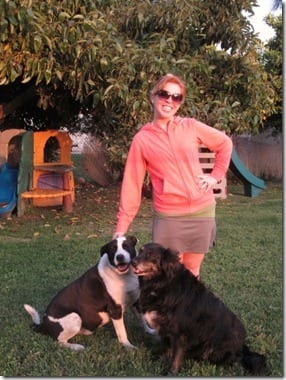 Ahhhh. I feel so much better now
Dinner was fish fillets, sweet potato fries and green beans. I made one of my fillets a fish taco.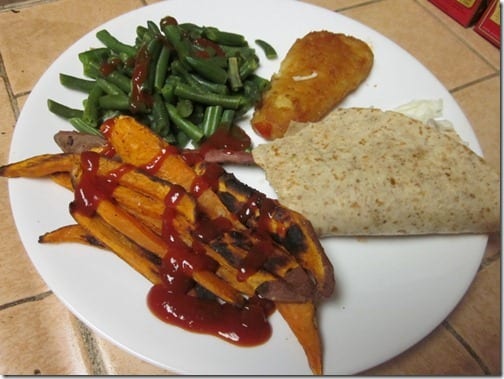 I can't believe I have went all Lent without having a fish taco?! That's sac-religious! At least in Mexican Catholicism.
Speaking of Lent… When Lent first started I got rid of 99% of the sweets in my house tiny pink condo. It was a very sad day. The few things that did slip by also slipped into my mouth until I also tossed them out.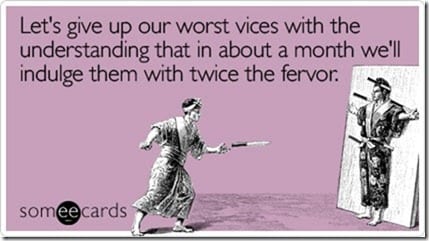 Now that Lent is over in 2 days I've been thinking about keeping sweets in the house. While I do believe that "you can't eat what you don't have", I also believe that deprivation leads to being pre-occupied with the foods you are denying yourself.
At the same time – even though I 110% let myself eat cereal and granola I still tend to overdo it on these foods because they are so good, easy to snack on and almost made to be overeaten. Am I right?
I think I've decided to buy multiple gallons of mint n' chip to eat for breakfast Sunday keep sweets in the house. I've realized that giving up sweets has made me dessert obsessed and I'd rather enjoy a little treat all the time than hoard chocolate chip cookies in my pajama drawer. Not that I do that…
So, the sweets are coming back on Easter, but I will keep it to ONE daily. Hey, I might even start trying higher brow desserts…
Question: Do you keep sweets in your house?
I always have in the past and Lent is really the only reason I cleared it out. Even when I am trying to lose weight I always allow myself a treat to avoid binging.