Last night we ate at Zeffirino in the Venetian. It's located in the Grand Canal shops INSIDE the casino, so the ceiling always makes it look like it's day time.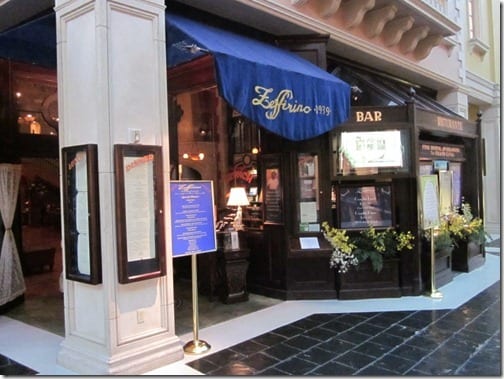 This picture was taken inside at 7:30pm. Isn't that fun? Well, fun and confusing when you go outside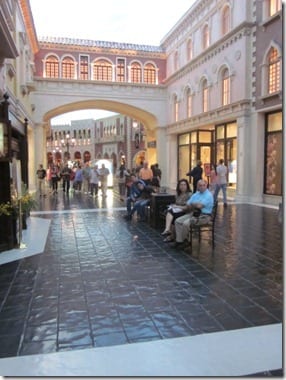 We had dinner companions so we waited in the bar while listening to the pianist.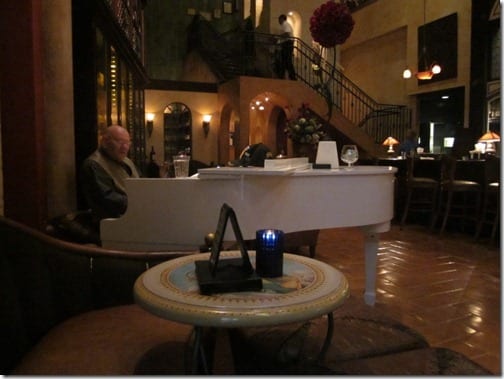 Our dinner friends were Tina and Mal! They are visiting from Boston and we have been planning this meet up for months. (I could have cropped out the photo bomb, but thought it was funny.)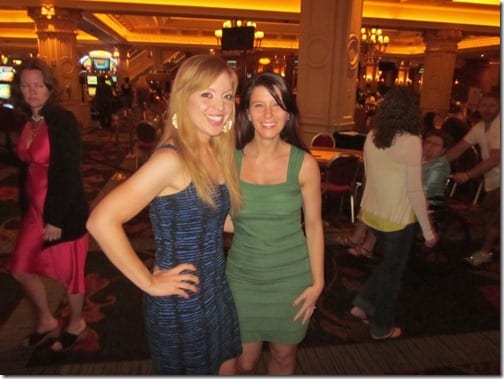 Zeffirino's was FANCY (read: expensive). I think we overshot our choice in restaurant a bit.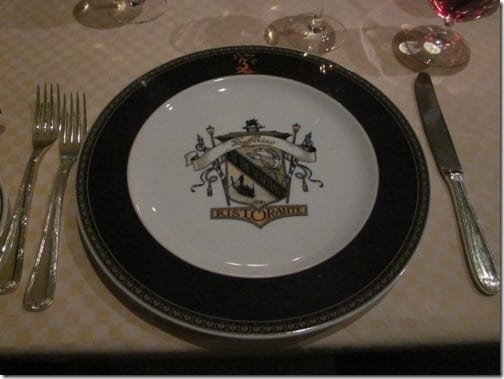 The table started with a bottle of white wine to get the party started to sip since we were in fancy town.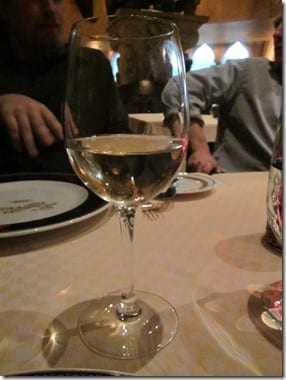 The waiter brought us skewers of olives, cheese and tomatoes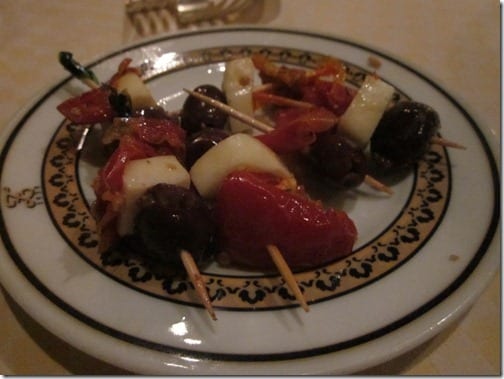 and bread to soak up the impending alcohol that would be entering our bellies over the course of the night to enjoy.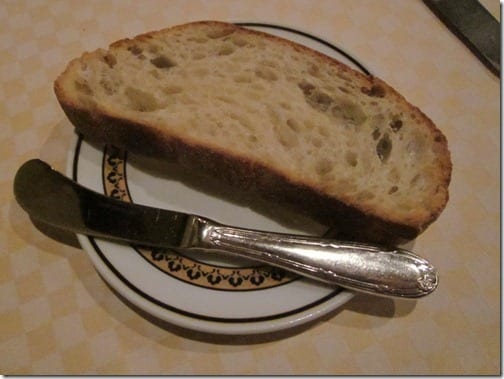 I ordered Taglierini allo Zafferano all'Astice – Homemade Saffron Pasta with Garlic, White Wine, One Pound Lobster in a light Tomato Sauce. It was amazing, as it should be for 32.00.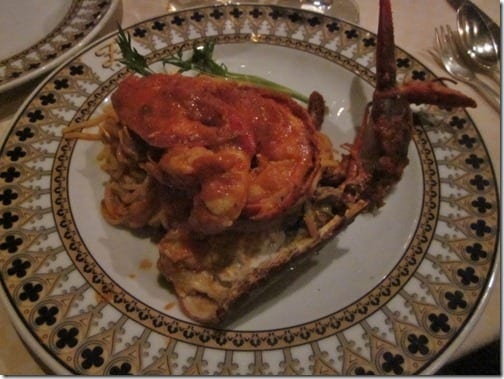 Plus, a side of green beans for the table to share. Even though these were quickly pushed aside as everyone loved was too busy enjoying their amazing main meals!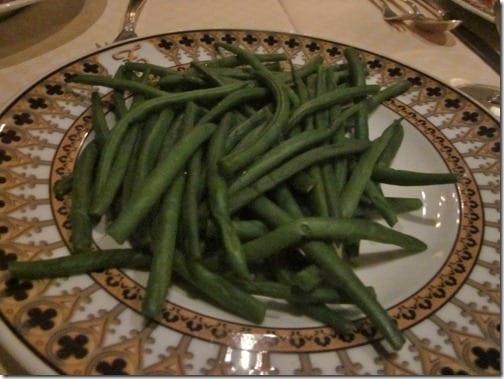 After dinner we didn't have specific plans. Well, Tina and I didn't have specific plans, apparently Ben and Mal were cooking up a way to get drunk and play craps.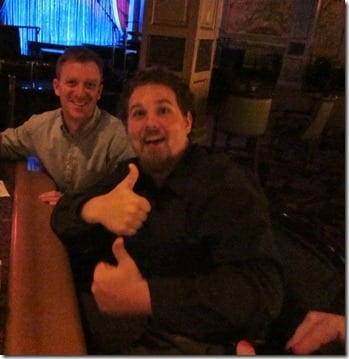 Before I knew it an Irish Car Bomb was being thrust into my hands. This was my first one EVER. Sorry, wasn't a fan and passed it to Ben.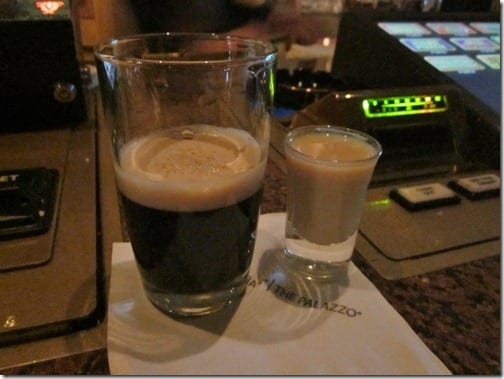 Then, we headed to craps tables to give the casino more of our money.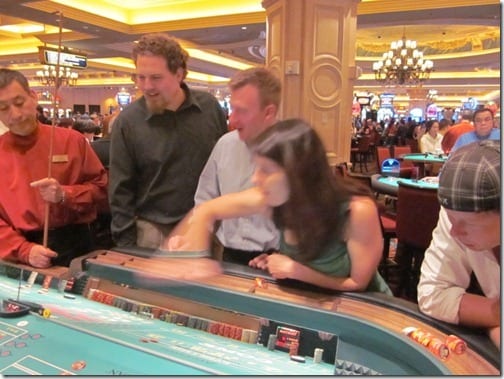 After calling gambling a loss for the night we started to walk to a club and ended up being grabbed by a person trying to get us into a bar/club right there.
No cover (for boys) + We just spent too much money on dinner and lost gambling = We'll take it!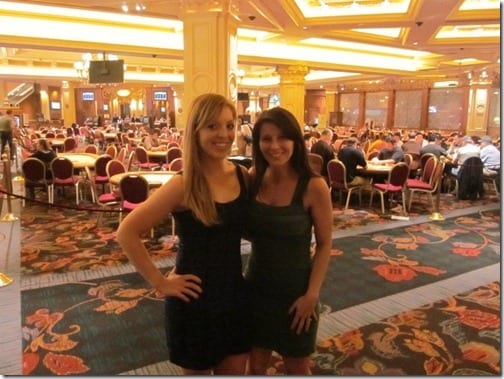 This picture isn't blurry, you are just seeing the world through our drunk eyes. Okay, not really but this is the only group shot I have.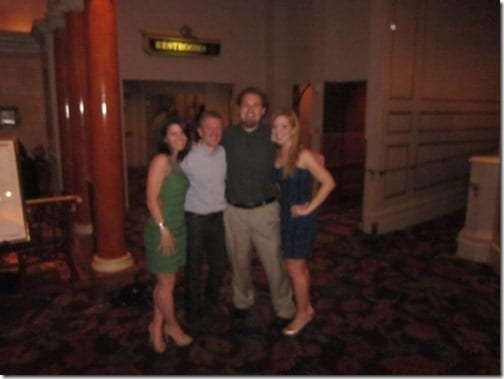 Okay, I wasn't drunk at all so this picture is crystal clear. Though, I don't know why Ben is about to punch me?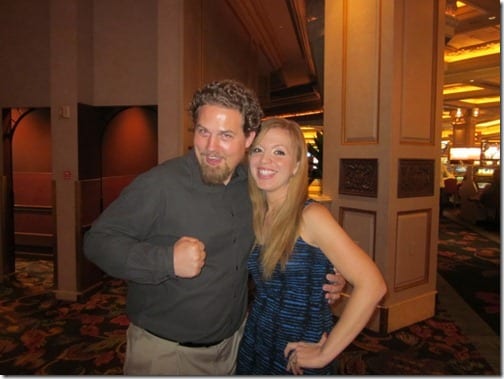 I don't remember the name of the place. I think it's a hookah lounge by day and attempts to be a club at night. It was a Monday night and basically dead, but we had fun. Since they were so slow they gave us a table and brought us free strawberries and raspberries! Nice.
I got a glass of champagne. I am very partial to bubbles and LOVE champagne, don't know why I don't get it more. Oh wait, that would be because I'm not fancy.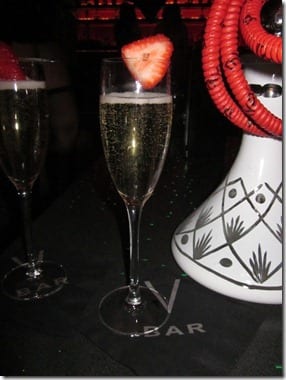 Our very distinguished gentlemen…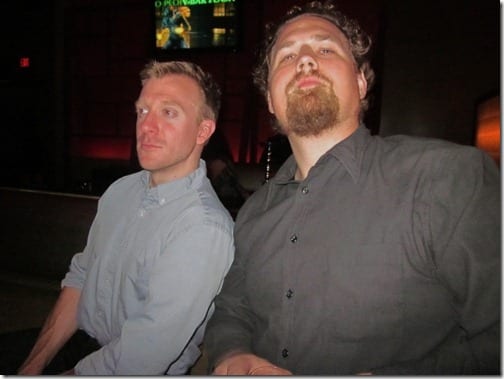 Me and Tina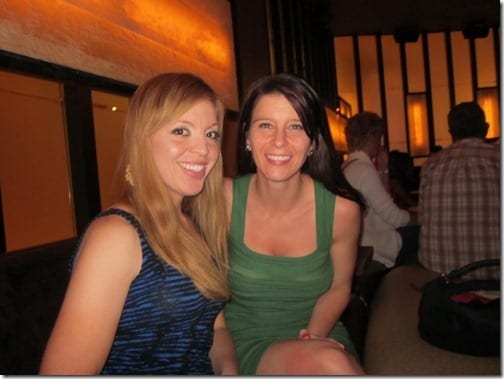 After leaving that place we slowly started to wind down and chatted for a bit outside the deck at the Wynn before calling it a night.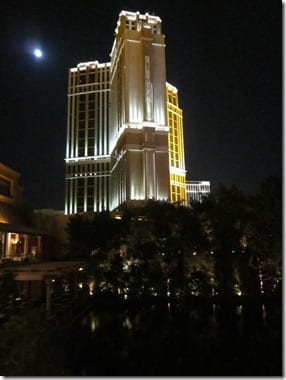 Ben  and I had a blast with Tina and Mal – wish they lived closer! Last night we hung out with them was in Arizona for RnR Phoenix. Good Times.
We're headed back home today. See ya in a bit